Dhōs Non-Alcoholic Spirits
| November 10th, 2021
Three distinctive "spirits" for cocktail flavors with no alcohol and fewer calories
---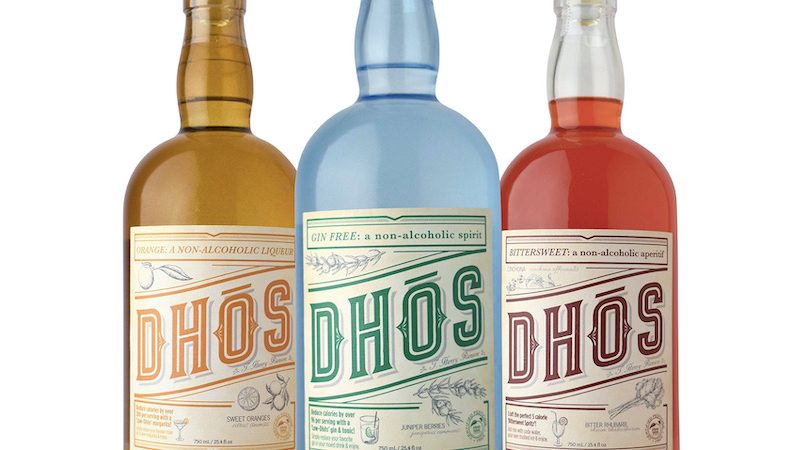 People who care about health but still enjoy life's epicurean pleasures can applaud the rising business of alcohol posers. These new liquids can just about pass for the real thing. However, you can hop behind a steering wheel after enjoying them and you're less likely to do something you'll regret. On top of that, many of the substitutes boast fewer calories, and all are healthy alternatives to alcohol. One of the entries in the NA market, Dhōs non-alcoholic spirits, comes in three distinct flavors to provide a multitude of NA cocktails – also known as mocktails.
All three Dhōs products are said to be hand-crafted at an organic farm and distillery in Oregon. They are certified pesticide free, and made with natural flavors and no sugar.
Dhōs Bittersweet
To my palate, the Dhōs Bittersweet is an Aperol poser (but, again, with no alcohol, and with only five calories per serving). The official description explains:
The Dhōs Bittersweet reflects the traditional flavors of bitter rhubarb, brulée of oranges, cinchona, gentian root, and bitter herbs. Exotic and floral with layers of spice and fruits of baked oranges, watermelon, dried strawberries, kumquat, and ripe yellow cherries that all fill the glass with wild complexity. The spice notes are a combination of fresh vanilla bean, bitter roots, dried and fresh green herbs, and crushed field flowers. The texture is smooth and silky with a balanced richness that leads to the spiced finish featuring flavors of rhubarb, cinchona, vanilla, herb, and burnt citrus oil.
Given the powerful, tongue-tickling flavor of the Bittersweet, a simple mocktail can be made simply by adding it to soda water or seltzer. It is slightly sweet (like Aperol, it's sweeter than a Campari poser would be), but if it's too bitter for your palate, try it with a tonic water.
Dhōs Bittersweet Paloma
2 oz. Dhōs Bittersweet
3 oz. grapefruit juice
Lime wedge
Lime wheels for garnish
Add the Bittersweet, grapefruit juice, and a squeeze of the lime wedge to an old fashioned glass. Top with ice and stir. Garnish.
Dhōs Gin Free
Gin tops my list of favorite spirits, so I was thrilled find that the Gin Free is a worthy substitute, especially considering that it is zero calories! The official description is:
The aroma presents vibrant essences of fresh pine, juniper berries, dried citrus, candied lemon, fresh spearmint, chalk, and wet earth. Dhōs Gin Free offers a unique combination of hot and cooling sensations on the palate, starting with warming spice and fading to a refreshing menthol and licorice root on the finish.
There is a coriander and fennel seed spice and intensity in the aroma that fades to flavors of wintergreen and spearmint that persist on the palate in a traditional gin-influenced fashion.
The easiest way to use the Gin Free in mocktails is as simply a substitute for gin, as in a Gin & Tonic. You can mix the Gin Free with the Bittersweet for a Phony Negroni.
Dhōs Gin Gin
2 oz. Dhōs Gin Free
3 oz. ginger beer
Lime wedge
Lime wheels for garnish
Add the Gin Free, ginger beer, and a squeeze of the lime wedge to an old fashioned glass. Top with ice and stir. Garnish.
Dhōs Orange
I didn't try the Orange, but I would imagine it has the same fresh taste and guilt-free enjoyment of the Bittersweet and Gin Free. Like the Bittersweet, the Orange is only 5 calories per serving.
Naval oranges, tangerines, as well as Curaçao oranges add a particular touch of bitter spice character and pithy sensation in the aroma. Secondary flavors of sweet vanilla, fresh citrus blossoms, and orange sherbet develop on the palate with a hint of menthol and spice adding depth to the dominant fruit qualities … Bitter citrus pith, cucumber, and watermelon rind add a slightly green exotic quality to the concentration of citrus flavors and provide a segue to the long lingering finish of warming spice and cooling menthol.
Blend the Orange with a bit of soda or tonic water for an easy, satisfying mocktail.
Dhōs Margarita
2 oz. Dhōs Orange
3 oz. sweet and sour mix
Lime wedge
Lime wheels for garnish
Add the Orange, ginger beer, and a squeeze of the lime wedge to an old fashioned glass. Top with ice and stir. Garnish.
Cup of Comfort
1.5 oz Dhos Orange
.5 oz honey simple
.25 oz fresh lemon juice
2 oz hot chai tea
2 dashes Dhos Bittersweet (optional)
Star anise and lemon peel for garnish
Prepare the tea and keep it warm. Add the cold ingredients to a heat-resistant glass or a mug and stir. Add the tea. Garnish and enjoy.
Find more recipes on the Dhōs website, create your own, or trying substituting in your favorite cocktails.