Timeless, Classic, Boomer Music
| August 3rd, 2018
Boomtown Richmond radio offers tunes and community connections
---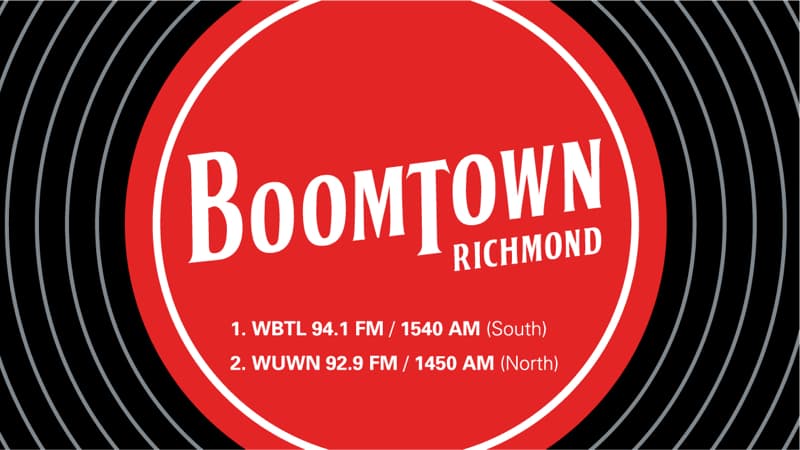 Baby boomers know that the music of their youth was objectively stellar. A new local radio station features music from the '50s ,'60s, '70s and '80s – rock 'n' roll, pop, and soul – with personal touches that elevate the station and its listeners. Locally owned Boomtown Richmond differentiates itself with:
Tailored programming. The program format was created by Richmond radio legend Jeff McKee of Jeff and Jeff, a popular '90s Richmond morning show. "We are playing artists who were genuine and influential in creating a new sound, a new culture, a new music," explains McKee. "Their sound is authentic because it was authentic with basic instrumentation, untreated vocals and simplistic recording and producing efforts. Music is common ground that unites all people from all backgrounds, and just like back then … it's a strong voice about real life, current issues, love and society as a whole, that's why it's timeless."
An accessible studio. The disc jockeys spin their tunes at Regency Mall, visible to mall visitors. The studio welcomes drop-in guests to see their tie-dye foyer and collection of music and concert posters.
Live local jocks. Longtime Richmonders may recognize Boomtown disc jockeys: McKee joins with Robyn Bentley weekday mornings; Sharon Wingfield plays midday; and Kay Thomas manages drive time.
Blend of old technology and new. Four radio stations carry the Boomtown signal: WBTL at 1540 AM and its FM translator at 94.1, serving south of the James River; and WUVN at 1450 AM and its FM translator at 92.9, serving north of the river. The programming will also stream online at BoomtownRichmond.com or through the Amazon smart speakers ("Alexa, play Boomtown Richmond").
Supporting the community. Says owner Mike Mazursky, "We are going back to the ole days of radio when the management, staff and on-air personalities cared about the music, the listeners and their community." In addition to hosting events, Boomtown is partnering with other local organizations (including BOOMER magazine).
Since hitting the airwaves this spring, the station has gotten a positive response from a diversity of listeners. "Boomers love our music because it's the music they grew up with, but we are finding that young adults are loving it, too, as they are discovering the very base root that is the origin of music today," says McKee.