Cabaret in Richmond
| February 23rd, 2018
A contemporary production of a 1960s classic
---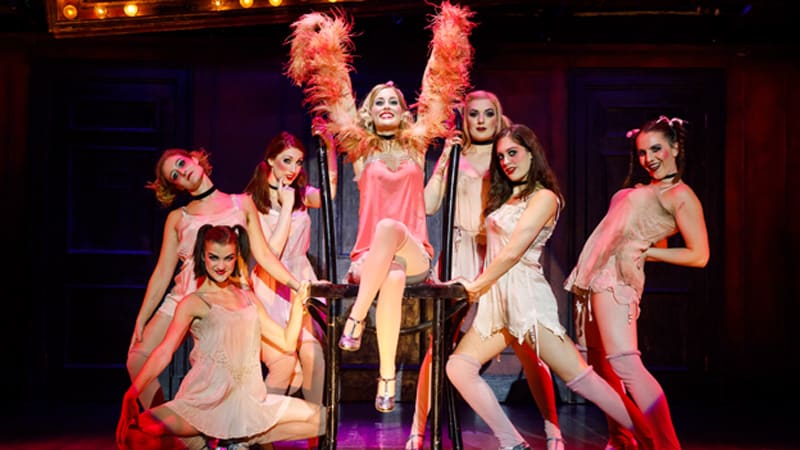 The original Cabaret hit Broadway in November 1966, a runaway hit. The musical made its way to London in 1968, starring Judi Dench as Sally, where it ran for 336 performances.
The plot is set in Berlin in 1931, as the Nazis are rising to power. The center of the action is the seedy Kit Kat Klub. Two romances weave their way through the show: American writer Cliff Bradshaw and English cabaret performer Sally Bowles, and German boarding-house matron Fraulein Schneider and Jewish fruit vendor Herr Schultz. The master of ceremonies at the Kit Kat Klub emcees the play's action. Coloring the plot are the dark politics of 1930s Germany, foreshadowing the storm clouds on the horizon.
After theatrical revivals in the Big Apple and London in the '80s, a 1993 production from Sam Mendes at the Donmar Warehouse in London brought a new twist to the show. The Mendes-Donmar version introduced an edgier emcee, asexual but sexually charged. These sexual messages and others in the new version reflect society's changes over the intervening decades—but, more significantly, these modifications are more obvious and open about Nazi evils. A 1998 Broadway revival built on the Mendes-Donmar version, with Rob Marshall as co-director and choreographer.
RICHMOND PRODUCTION
This Richmond production of Cabaret reflects the 1998 Broadway version, further tweaked by the Roundabout Theatre Company in 2014. Those who saw the original will note more innuendo, a re-orchestrated score and other modifications.
In a review of a similar production, Chicago Tribune critic Kerry Reid said, "In a way, what this production does best is set up the lines between delusion and self-knowledge and let us see the human costs of confusing the two."
Cabaret features some of theater's most memorable songs, including "Cabaret," "Willkommen" and "Maybe This Time," with high-energy singing and dancing. But the energy and rousing performances are overshadowed by the audience's knowledge of history. It's not a feel-good show, but we can come away more determined to keep the evils of history from repeating itself.
Cabaret plays at the Altria Theater in Richmond from Feb. 23-25 as part of the Broadway In Richmond 2017-2018 Season. Tickets are on sale and start at $33 (plus applicable fees) and may be purchased online, at www.BroadwayInRichmond.com, by phone at 1(800) 514-3849 (ETIX) and at the Altria Theater and Dominion Energy Center box offices. For mature audiences.