Creative, Clever and Caring
September 27th, 2017
Canstruction competition at the Science Museum of Virginia
---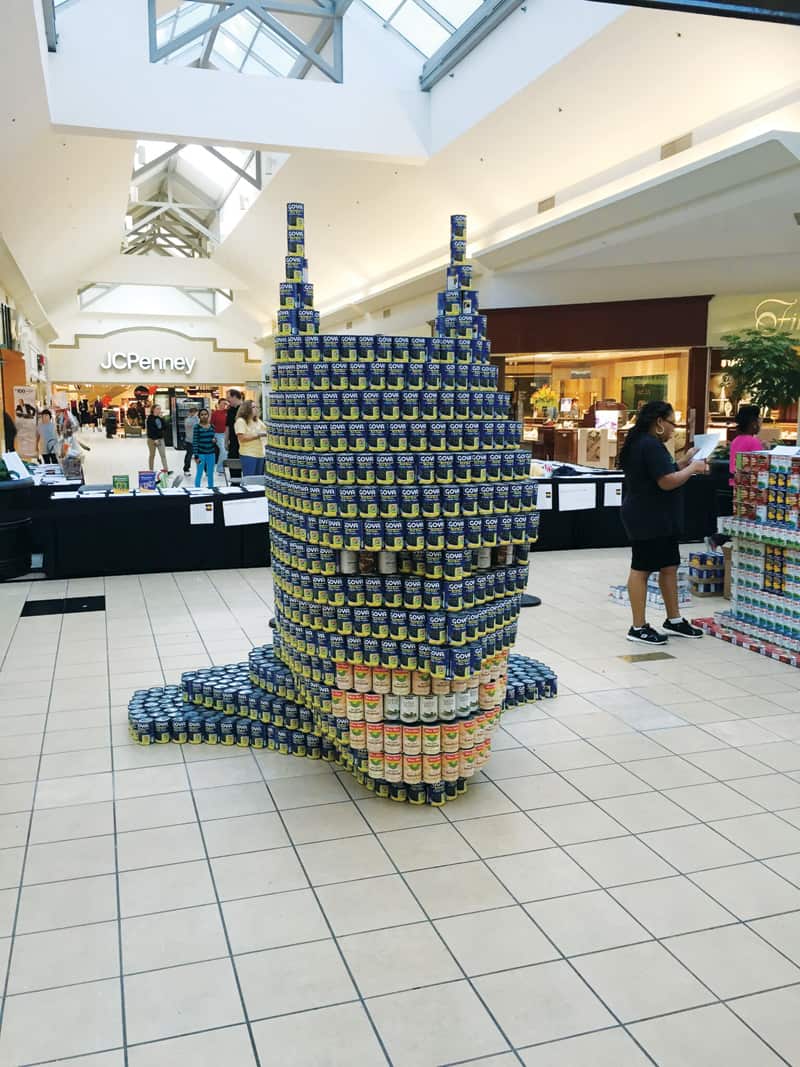 Imagine an 8-foot-tall butterfly sculpture made entirely of canned goods, no adhesives allowed, the cans providing the structure and the labels providing the colors. Imagine cans making a 12-foot-tall football, 14-foot-tall cornucopia or 9-foot-tall jack o' lantern. Picture the challenge, enjoyment and satisfaction of those who designed and built the sculptures. Now imagine that all the cans later go to FeedMore to aid food-insecure individuals.
, based on the theme "Exploring the Galaxies." Teams will vie for trophies in six categories: Best Meal, Best Use of Labels, Structural Ingenuity, People's Choice, Most Cans and Best Original Design. The finished structures will be on display through Oct. 14.
"This year, six teams are competing, all of which are architecture firms," explains Krystal Reid, project architect for Gresham, Smith and Partners: Gresham, Smith & Partners; Glavé & Holmes; Dewberry; Commonwealth Architects; BCWH; and Wiley Wilson.
"Canstruction is a fantastic charitable event which showcases the creativity of architects while vicariously helping to stock the FeedMore local food bank," says Fernando B. Viego, president of The American Institute of Architecture Richmond chapter (AIA-RVA). "This event is a fantastic opportunity for the public to learn more about design and at the same time support a wonderful tax-deductible local charity. This is a win-win-win for AIA-RVA, FeedMore and the local community."
The Richmond Canstruction is organized by FeedMore and AIA-RVA and hosted by the Science Museum. "The Museum celebrates the wonder of STEM [Science, Technology, Engineering and Math] every day," says Courtney Moyer, SMV director of communications. "Canstruction is a fantastic event that not only creatively brings attention to the beauty of engineering but also provides a tangible benefit to the community."
A group of architects and engineers in New York introduced these competitions in 1992. In 2016, Canstruction events around the world donated 11½ million pounds of food to local food banks, contributing to the more than 50 million pounds donated since 1992.
Admission to Canstruction is included with Science Museum of Virginia admission, with a 50-cent discount to guests who bring in a nonperishable food item to donate. SMV.org