10 Tips for Caregiving from a Distance
| October 31st, 2018
Challenges and solutions
---
The realization may creep up slowly or crash down in the wake of a sudden illness or injury. Whatever the circumstances, if you believe that a loved one needs assistance with daily living, you will experience a myriad of emotions and struggles in finding the right solutions – even more so if you are providing caregiving from a distance.
According to a National Council on Aging report, approximately 5 million to 7 million caregivers in the U.S. (about 15 percent) were long-distance caregivers – a number that was projected to double by 2020.
Of those, the majority still work and have their own family obligations. "On average, long-distance caregivers live between 300 and 450 miles away and spend about four to seven hours traveling one way to the care recipient," states Cathy Jo Cress, a geriatric home care management instructor based in San Francisco.
Some tasks are easy to conquer across the miles, like paying bills. It's the hands-on care – the daily monitoring – that often provokes frustration and a sense of inadequacy in distant caregivers.
Though these tips can be useful to anyone looking out for a loved one, they're especially important in easing the minds of those far away. 
KNOW WHEN HELP IS NEEDED.
Knowing when it's time to enlist help or to move Mom or Dad into a care facility is even more difficult from a distance.
To determine what kind of care a family member really needs, you need to know whether Mom can still live independently or if she needs assistance – and just what level of assistance is necessary? Does she merely need help with activities of daily living (ADLs) or does she need skilled nursing care? Is she open to a move or determined to stay at home? Is she unable to perform daily living activities? Did she need to be placed in nursing homes that use nursing home software to manage multiple things which she is unable to do?
If possible, schedule a visit to assess for yourself and/or get an objective evaluation from a professional. (See suggested resources below.)
KNOW WHEN TO BACK OFF.
As "helicopter parents" were labeled for hovering over every aspect of their child's life, so have some experts labeled "helicopter children." Out of concern or guilt, adult children can micromanage, lecture and otherwise treat parents like children. Such behavior can drive a wedge in the relationship and take away a parent's dignity. Hovering – even if by phone – may be even more tempting when you can't get firsthand assurance that Dad's doing fine.
To stay grounded, be open to the possibility that your decisions may not always be best. Realize that you may be conflating your parents' safety with your own peace of mind. Listen deeply to your parents' feelings – empathy is golden.
MAKE MODIFICATIONS FOR AGING IN PLACE.
If Mom decides to stay at home, modifications from simple to complex can keep her safer, even if she already has physical challenges. If you can't be there to do the work yourself, reach out to a certified Aging-in-Place specialist, who can suggest and make necessary modifications. Go to the National Association of Home Builders (NAHB.org) and search for "CAPS Directory listing" for information and resources.
LET TECHNOLOGY HELP.
Scientists haven't duplicated Star Trek-like teleportation, but recent advancements diminish the effects of distance.
Some new technologies monitor the opening and closing of doors, windows, refrigerators and more. Some track activity – or inactivity – and real-time health information. Devices can set reminders for medications, walking the dog, calling a family member and other routine chores. Digital pill dispensers help ensure people get the medicines they need but no more.
Inexpensive security cameras give long-distance caregivers the ability to use smartphones and computers to keep an eye on their loved one. Security systems can alert residents and external contacts – including first responders – to smoke, carbon monoxide and other emergency incidents.
Devices such as Amazon's Echo Spot and Echo Show enable videophone calls and can be set to enable a camera for external access. Such voice-activated devices throughout a home can enable communication even if a person can't get to the device.
---

---
Monitoring a loved one is not about "spying" but about safety and peace of mind. "To track how someone is doing … is very important," says Elizabeth Mynatt, executive director of the Institute for People and Technology. 
STAY IN TOUCH.
Listening – not judging, scolding or patronizing – provides the foundation for open lines of communication. Whether connected by a landline, accessible mobile phone or email, keep the airwaves flowing. (If your parent has dementia or is otherwise vulnerable to scammers, use security filters for screening incoming phone calls and emails.)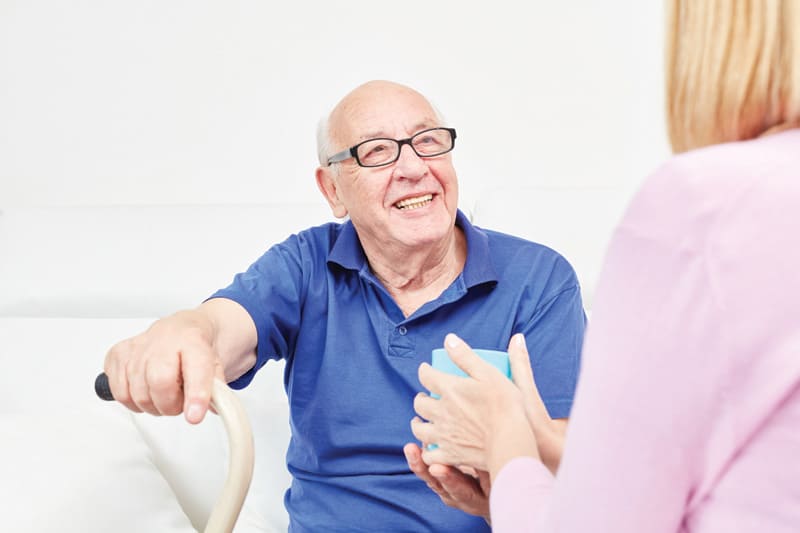 ARM YOURSELF WITH KNOWLEDGE.
If your distant loved one has medical conditions, school yourself on the basics of the condition, the treatment and the natural progression. Know the possible effects of prescriptions and how they may interact with each other.
Consult with Mom or Dad's primary care physician or health-care team and schedule conference calls as needed. Just remember: a HIPPA (information release) form will be required before you're able to have access to medical records and stay up-to-date with medical visits, test results, changes in medications and so forth.
Consider hiring a qualified medical care coordinator who can act as your virtual proxy, providing objective insights into your loved one's health and treatment.
KNOW THE COMMUNITY.
Familiarize yourself with local resources and services. Private and government-funded organizations address issues such as adult day programs, food and nutrition services, housing options, in-home care, transportation and legal assistance. The internet simplifies finding the resources, but taking a few days to visit local organizations and make contacts can provide extra peace of mind.
UTILIZE GOVERNMENT RESOURCES.
Government-funded programs offer a variety of additional services:
Department of Health and Human Services' directory of reputable, objective and trustworthy services: Eldercare.acl.gov/Public/Index.aspx
Other federal resources for seniors and their caregivers: org/federal.htm
Centers for Medicare and Medicaid Services: gov
Administration on Aging of the Administration for Community Living, which provides services and programs designed to help older individuals live independently in their homes and communities: gov/about-acl/administration-aging
Department of Veterans Affairs: gov and Page XX of this issue of BOOMER, which provides an in-depth look at veterans' benefits.
MAKE CONTINGENCY PLANS.
At any stage of life, the best-laid plans can change on a dime. A worsening condition, a fall or an illness may present additional challenges and requirements for more professional care. On the other hand, a return to health or an unsuccessful housing placement might mean taking an entirely new direction. Having detailed Plan B's can help you shift gears more smoothly.
ASK FOR HELP.
Introduce yourself to your parents' neighbors, health-care practitioners and advisers, and to staff at the church or other organizations where they're active – these contacts can be invaluable, especially in a crisis.
When shouldering the responsibilities of caregiving, you'll likely need plenty of help to balance the three-legged stool: watching out for your loved one's quality of life; fulfilling your responsibilities; and maintaining your own health and peace of mind.
---
As an Amazon Associate, Boomer Magazine earns from qualifying purchases of linked products.