Celebrate! RVA
| September 11th, 2018
Every child deserves a birthday party
---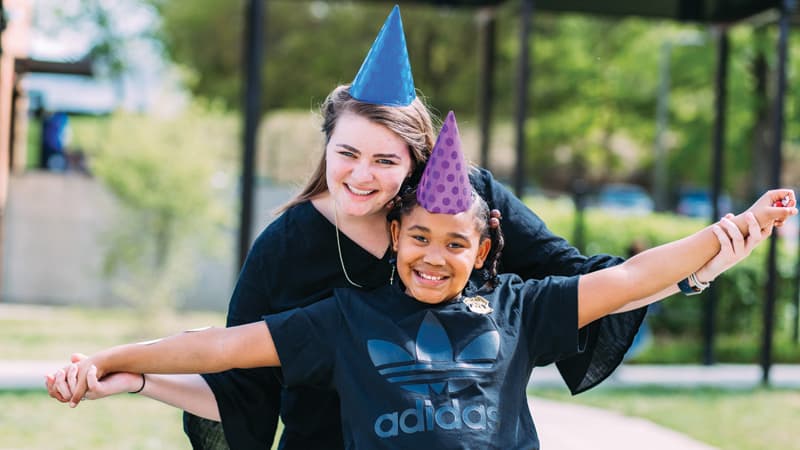 I can remember with clarity – and such joy – my eighth birthday. It was the year I celebrated at my one and only birthday party. Back in the early 1970s in rural Ohio, working class families grew up lean. Birthday parties were once-in-a-childhood, and I can still vividly recall my favorite gift that special year. A stuffed animal. A bunny with a light blue head and a polka-dot-patterned body, and I adored it. It is birthday memories like that – and pure joy – that Celebrate! RVA is bringing to disadvantaged children and Giving Back to those in our community.
Celebrate! RVA believes every child deserves a birthday party. Executive Director Julia Warren founded the nonprofit five years ago after a simple but heartbreaking conversation with a young boy at a Richmond elementary school. "I asked him when his birthday was, and how old he was. His response: 'I think I was born when it was cold outside.' It struck me," recalls Warren, "that his life had not been celebrated. He had not been made to feel worthy, loved and to feel joy. I wanted to change that."
CELEBRATING EACH CHILD'S LIFE
Celebrate! RVA's birthday parties are memories in the making for children across Richmond. The parties include gifts for the birthday child, games and activities like a balloon artist or face painting, and let's not forget the cake and ice cream. "We have corporations and individuals who sponsor the parties, providing everything we need, including the party supplies and the volunteers," explains Warren.
In the beginning, Celebrate! RVA threw singular parties for individual children. But there is such a need that parties are now monthly group celebrations for as many as a dozen or more children. That requires a lot of help. Each birthday party needs 15 to 20 volunteers. "What I've learned is that everyone has a connection to a birthday and how it made them feel," explains Warren. "It's something very tangible that our volunteers and supporters understand."
Celebrate! RVA will serve more than 1,000 children between the ages of 4 and 12 this year. Warren says it's amazing the impact the birthday parties have – on the children who are celebrated and for the volunteers who are there from start to finish. "Following one party for children who'd been traumatized and were fearful of being touched, these kids reached out for a hug from one of our volunteers," exclaims the nonprofit founder. "That's the impact of two hours of joy."
Volunteers don't need special training, but they are asked to bring lots of enthusiasm and joy to the party. Volunteers can register through the website. People can also register to sponsor a party or donate party supplies.
Warren, too, has a favorite childhood memory. As you might guess, it is one of her birthdays. "We had a tea party and my mother brought out her wedding veil. I will never forget looking around the room and feeling so loved and safe. That's what I try to give our kids."
I'll see you at the party. I'll be the one with the blue stuffed animal bunny! 
---
WANT TO VOLUNTEER?
These worthy organizations need your help.
SHOWING KIDS THEY MATTER
HOW IT HELPS: Celebrate! RVA provides birthday parties to disadvantaged children in a safe and fun environment.
HOW YOU CAN HELP: Sponsor a child or birthday party; volunteer at a birthday party; donate birthday supplies; attend annual fundraiser, Celebrate Soirée, on Sept. 14, Boathouse at Rocketts Landing, 7 p.m.
WEBSITE: CelebrateRVA.org
CONTACT: Visit the website, call 804-405-3773 or email Hello@CelebrateRVA.org.
THE HEALING POWER OF ART
HOW IT HELPS: Art for the Journey provides art classes and programming to disadvantaged people including those in prison, assisted living or permanent homeless housing and those with mental disabilities.
HOW YOU CAN HELP: Become a volunteer artist, attend or volunteer at the 3rd Annual Art for the Journey Gala: A Road Less Traveled on Oct. 11 at 5:30 p.m., U of R Jepson Center.
WEBSITE: ArtfortheJourney.org
CONTACT: Visit the website or email Melba@ArtForTheJourney.org.
A MOST VALUABLE GIFT
HOW IT HELPS: United Network for Organ Sharing matches lifesaving organs (heart, lungs, liver, kidney, pancreas, intestine) from deceased donors to patients in need on the national waiting list.
HOW YOU CAN HELP: Be a community volunteer or attend the annual awareness and fundraising event, United for UNOS 10th Annual Soirée, Oct. 5 at 7 p.m., 700 N. Fourth St.
WEBSITE: UNOS.org
CONTACT: Visit "Get Involved" on the website or email Mandy.Ames@UNOS.org.