Changing Snack Options for Road Trips
| July 28th, 2023
Today's travelers tote along the kids, the dog … and the jerky
---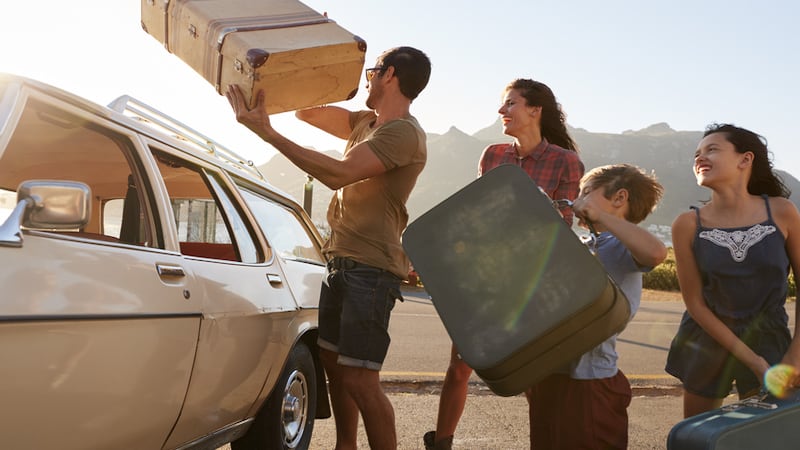 Humorist Greg Schwem recalls youthful travels with his family while noting that snack options for road trips have changed. Teriyaki beef jerky, anyone?
---
The luggage carrier perched atop the SUV in front of me on a Chicago interstate one recent July afternoon reminded me of two facts:
Never get behind a vehicle with a luggage carrier if you are trying to read upcoming road signs.
Summer vacation season is upon us.
As I peer into cars on our nation's highways and see everything from bare feet pressed against backseat windows to dogs with facial expressions I interpret to mean, "Is my owner EVER gonna stop for a bathroom break?", I can't help but rekindle fond memories of car trips encompassing my youth. I could relate to the feet, but not the dog. We were cat owners, and cats do not accompany their masters on family vacations; nor do they have the desire. When we returned from excursions, no matter the length, our cat always seemed disappointed.
Today my sister and I reminisce about those trips with a combination of nostalgia and horror. How, we wonder, are we still walking Earth's face when our car was piloted by parents who began each vacation day with cigarettes and had devoured at least one pack each by the time we pulled into a roadside motel with neon signs proclaiming VACANCY and POOL?
Our lone break from the haze, and the harmful chemicals contained therein, came when Dad found a shaded rest stop at the 250-mile marker, also known as "halfway" on Schwem trips, and we commenced a picnic lunch. Often the fare was greasy fast food purchased just before the stop; on day one Mom probably packed sandwiches and threw in other items from the refrigerator that, if left unattended during our trip, would be a fine hue of green when we returned.
Although our vacations included plenty of heart healthy activities — tennis, golf and the occasional hike come to mind — it's a wonder we had the lung capacity to engage in any of those pursuits once we arrived at our destination. "Healthy vacation" was an oxymoron in my family.
However, in today's health-conscious world, that phrase is now chock-full of truth, right down to road trip snacks. While cheese balls, M&M's and oil-soaked potato chips may always have places in minivans, now you can also expect to see healthy alternatives vying for space, including homemade trail mix, yogurt in tubes, and beef jerky.
Wait, what? Jerky? A food item that contains a silica gel packet? Absolutely, according to Kristyn Ristaino, managing director of Avalon Communications and PR director of Old Trapper beef jerky since 2019. The company recently celebrated its fourth consecutive year of double-digit growth.
"Moms like it because it's not candy or chips," said Ristaino, who cites mom bloggers as her source. She added that moms feel confident in the snack not only because of its portability but also due to its clear packaging.
"You can see what you're actually getting," she said.
Jerky has also become a favorite snack among dudes, specifically those who leave the kids behind on annual hunting and fishing trips. While men gravitate (naturally) toward the hot and spicy variety, traditional beef jerky remains the company's biggest seller.
"(Jerky) is keto-friendly," adds Ristaino.
I chuckled at the idea of my father, in between puffs of Kent cigarettes, vowing to indulge only in ketogenic-friendly foods at rest stops. Although, who knows how many extra miles we may have been able to cover had he been familiar with the term "meal replacement"? Another favorable quality of jerky, Ristaino said.
While rising gas prices have caused travelers to pump the brakes on car trips in 2023, those who do hit the highways will take their hunger pangs with them. Will those cars contain the sweet aroma of teriyaki or peppered beef jerky?
If the alternative is smelling bare feet from Ohio to Texas, I think I know the answer.
---
Greg Schwem is a corporate stand-up comedian and author of two books: Text Me If You're Breathing: Observations, Frustrations and Life Lessons From a Low-Tech Dad and the recently released The Road To Success Goes Through the Salad Bar: A Pile of BS From a Corporate Comedian, available at Amazon.com. Visit Greg on the web at www.gregschwem.com.
© 2023 Greg Schwem. Distributed by Tribune Content Agency, LLC.

---
Like laughing? Check out more Schwem, Boomer articles on laughter or the baby boomer humor of Randy Fitzgerald.
---
As an Amazon Associate, Boomer Magazine earns from qualifying purchases of linked books and other products.