Chesterfield County Honors Purple Heart Recipients
October 9th, 2018
The county becomes a designated Purple Heart County
---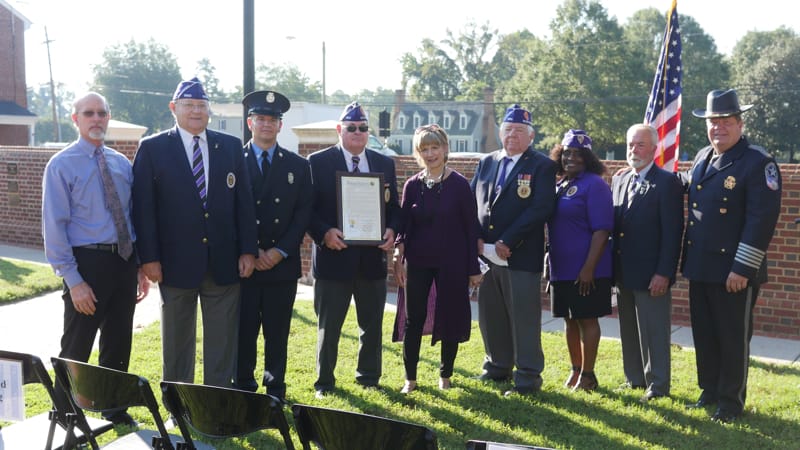 Chesterfield County held a ceremony on Oct. 3 to honor the county's Purple Heart recipients and recognize its declaration as an official Purple Heart County.
The Purple Heart is a combat decoration, our nation's oldest military medal. It was created by General George Washington in 1782 as the Badge of Military Merit and first awarded to three soldiers in Newburgh, New York. The Purple Heart medal and recognition are awarded to members of the U.S. armed forces who are wounded by an instrument of war in the hands of the enemy, or posthumously to the next of kin in the name of those who are killed in action or die of wounds received in action.
The Purple Heart Trail, organized by the Military Order of the Purple Heart, creates a symbolic and honorary system of roads, highways, bridges, monuments, states, cities and counties that pay tribute to those men and women who have been awarded the Purple Heart. Virginia became a Purple Heart State in 2016. Chesterfield County joins nearly 1,500 other local governments nationally that have adopted resolutions or proclamations to designate Purple Heart localities.
The Board of Supervisors adopted a resolution designating Chesterfield County as a Purple Heart County at its Feb. 28 board of supervisors meeting. The ceremony to declare Chesterfield County's status as a Purple Heart County was held at the Veterans Memorial Wall, in front of the county's Historic 1917 Courthouse.
Attendees at the ceremony includes (in photo, left to right) Steve Elswick, Matoaca District Supervisor; Sam Fonzi, Purple Heart recipient; Wayland Hudgins, Chesterfield County firefighter and Purple Heart recipient; Richard Wise, Purple Heart recipient and commander of the Chapter 1965 Military Order of the Purple Heart Greater Richmond; Dorothy Jaeckle, Board of Supervisors Chair representing the Bermuda District; Herb Delbridge, Purple Heart recipient; Deborah Brooks, Purple Heart service officer; Bill Swineford, Purple Heart recipient; Karl Leonard, Chesterfield County Sheriff.