Come On Get Happy at Latitude Seafood Co.
| October 20th, 2022
Three things to make you happy during Happy Hour
---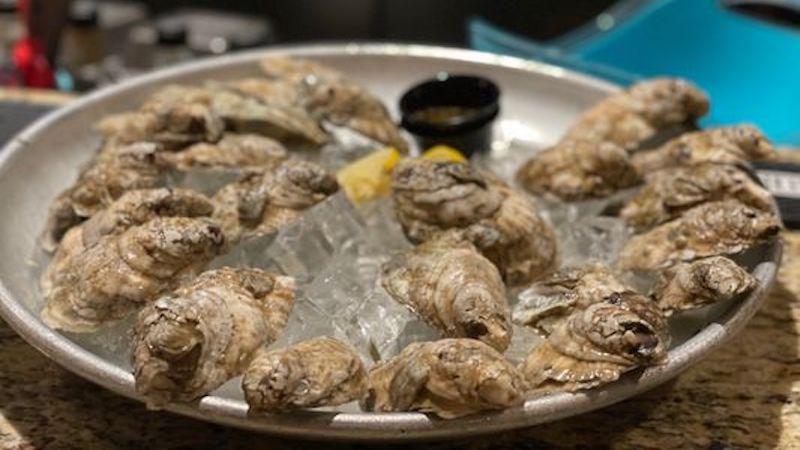 Richmond food and travel writer Steve Cook gives three reasons why Happy Hour at Latitude Seafood Co. will make you sing. Or at least think about singing and other pop culture references.
---
I wasn't thinking about the Partridge Family this morning, but I was thinking about great Richmond Happy Hours. I realize that I haven't written much about Happy Hours in a while. And I thought today might be a good day to tell you about one of my favorite local restaurants when it comes to exceptional Happy Hours. I'm talking about Latitude Seafood Co. While I'm partial to their Westchester Commons location (15532 WC Commons Way, Midlothian), I also have also been very responsibly happy with the Stony Point Fashion Park store as well.
There are basically three things that make Happy Hour at Latitude Seafood Co. so wonderful.
Number one
At the top of my list is price. Yes, I'm a cheapskate (and a cheap date, if you're looking for a distinguished, rapidly aging gentleman who can regale you with stories of his cataract and hernia surgeries).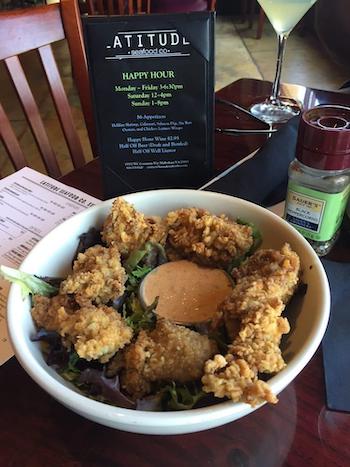 When it comes to price, you can hardly do better than Latitude. Here's the deal: From 3 until 6:30 every weekday afternoon, as well as from noon to 4 on Saturday and 1 to 8 p.m. on Sunday, Latitude cuts their spirited beverages in half, or at least for most items. All beers are half off; all wines by the glass, too. And they also offer half off on all liquor with one mixer. And really, who needs more than one mixer? Who needs a mixer at all, for that matter? Sorry, I'm starting to give my own opinion. But, hey, it's my column. You can give your opinion in your column.
Half off is very nice. Of course, I'll emphasize this again to show my responsible side. Please drink responsibly. You may want to eat responsibly too, because several of their delicious appetizers are reduced to a mere $7 for Happy Hour. These include the raw or steamed oysters, the calamari, the Hellfire Shrimp Dip, and their sensational salmon dip.
So, for point number one, price, Latitude has you covered.
Number two
Now, moving on to number two, which goes hand in hand with price (although price still gets the upper hand from me), and that's variety.
Think about it, when it comes to wine, there's no need to whine. They just don't offer a discount on a glass of an inferior house wine. I've had some house wines that are very nice and I've had others that aren't. At Latitude, they offer some 67 varieties of wine. So, you're going to find something you like and you're going to enjoy it at half off during Happy Hour.
Speaking of variety, they also offer nearly 50 different beers. And, while, the craft cocktails are not discounted, the bartenders are accomplishing some amazing things with 14 handcrafted cocktails. Yes, there's plenty to be happy about at Latitude.
In addition to the food and drink specials, the place has specific specials during the week.
For instance, Monday night is Flounder night with stuffed flounder and mashed potatoes for 10 bucks. Tuesday, you guessed it, is Taco Tuesday. The third T is for Three. Their Tacos are three bucks each on Tuesdays. Check their website for other daily deals and to peruse their tempting menu options.
Number three
Number three on my list may not be as important as price, but I am a firm believer that Happy Hour is only as happy as the people who are serving you and as your fellow diners. I've always found the staff at Latitude to be exceptionally friendly and accommodating.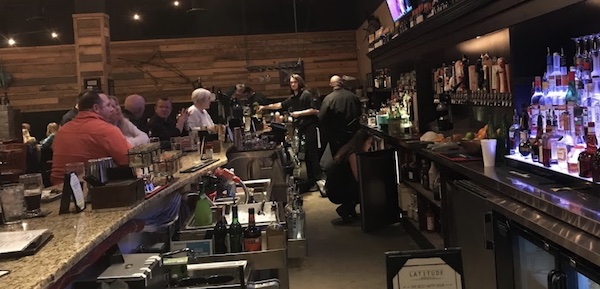 On a couple of visits, I've had the chance to meet and speak with Alan Kyle. Alan is the bartender's bartender. He's been mixing drinks around town for years, and he's been at Latitude since they opened over seven years ago. I think you'll enjoy meeting him.
Since research is oh, so important to me, I had Alan fix me one of his favorites. He chose the Sailor's Punch.
"Most people like rum," he explains. "They also like, sweet, fruity, and the beach."
I can't argue with that. But with the temperature now dipping into the 30s, I ask him what might be good considering winter's impending return.
"Anytime is a good time for this drink," he replies. Again, after a sip or two, I can't find anything to argue about.
Whether I'm having an adult beverage or simply enjoying some delicious seafood, it's fun to sit at the bar and enjoy the camaraderie. During my visits, the servers all seem to get along with one another and with their customers.
And yes, based on my experiences, the customers are happy, too. One guy, who sat on the stool next to me during a recent visit, made a comment that perfectly illustrates my point. "Everyone here knows your name," he says. OK, it may be trite, but trite can be right and he was right. I think he was happy, too.
Latitude Seafood Co., 15532 WC Commons Way, Midlothian
---
Steve Cook has lived in the Richmond area for most of his life, working as a writer and editor and in marketing and radio. He loves to keep abreast of the local restaurant scene and researches the subject voraciously. "I used to think I was a foodie," he says, "but then I realized I just like to eat a lot." He once co-hosted a local Richmond restaurant radio program with BOOMER editor Annie Tobey. Steve completed his first novel in 2017 and says he hopes to read another one this year.
Dig in to more restaurants and other recommendations from Steve Cook