Craft Pizza, Craft Beer in Ashland
| February 10th, 2017
Two approachable American favorites
---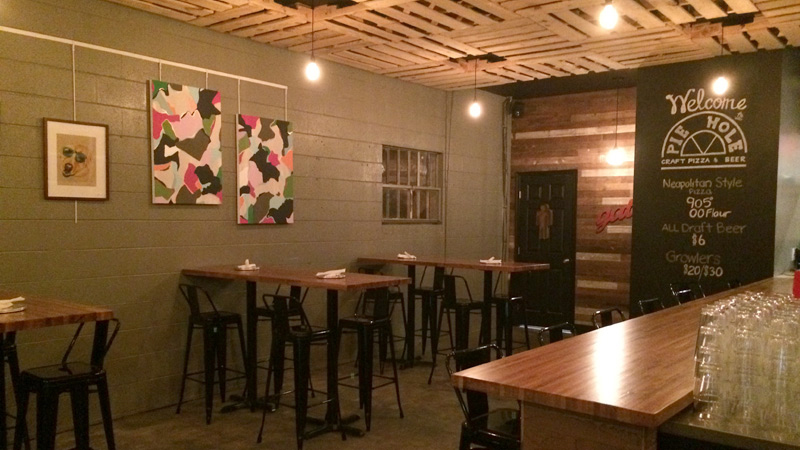 EDITOR'S NOTE: As of January 2018, the restaurant is under new management, has a new name, Tap900, and still serves pizza and craft beer.
A new restaurant, Pie Hole, brings to Ashland two approachable American favorites, pizza and beer, while elevating both. The Neopolitan-style pizza, made with finely ground doppio zero flour, is baked in a 905-degree wood-fired oven; and the beer list features carefully curated craft ales and lagers.
Restaurateur Karen Verdisco is best known locally for Brew Gastropub in Chester. The new venture presents a different face, a little more modest in presentation and substance. The menu highlights pizzas with familiar and friendly combinations – such as Margherita, pepperoni, arugula and prosciutto, and spicy chorizo red pizzas plus vegetale, fig and goat, and pancetta pesto white pizzas. The thin crust, with just a touch of smoky char, is topped with a moderate amount of sauce, cheese and toppings – as Goldilocks would say, "just right."
Pie Hole also offers salads, small plates (think Brussels sprouts, bruschetta, burrata cheese and charcuterie) and desserts.
To curate their beer menu, the Verdiscos are using the beer knowledge and allocation experience of Brew Gastropub beer buyer Joey Johnson. While the Brew beer list often includes an impressive number of rare and hard-to-find beers alongside approachable styles, the Pie Hole 24-tap list will differentiate itself, says Johnson. Beers at opening included familiar ales and lagers in a balance of styles, most from Virginia breweries, plus cider and prosecco. To round out the selection, Johnson has added a handful of bottled beers, including sours, a gluten-free choice and rarer beers.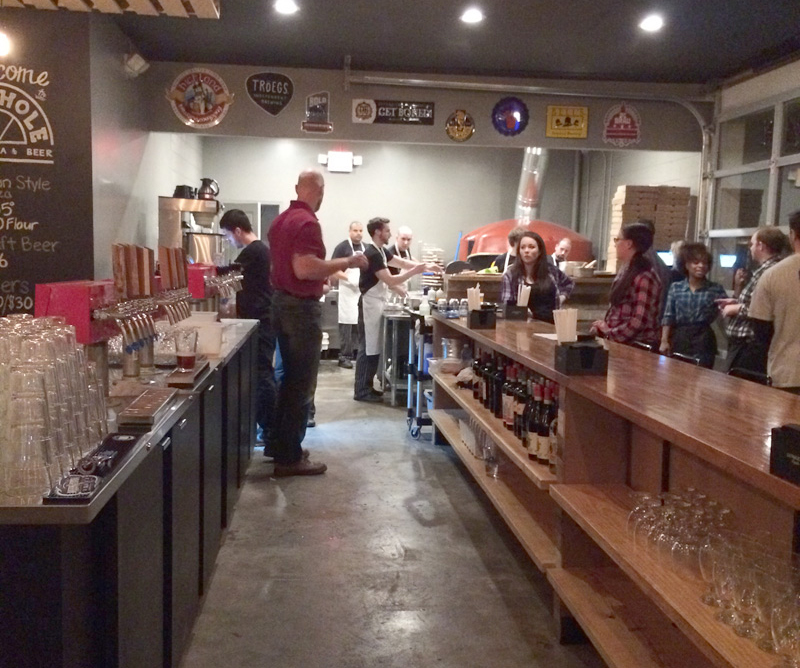 By focusing the taps on more common beers, Pie Hole is able to charge $6 for each beer, with 10-ounce pours for some beers and 16-ounce pours for others. The bar also serves craft cocktails and wine.
Situated in a convenience-store-style building with glass storefront, the restaurant maintains that casual look while adding flair in high-top tables and stools (with some standard tables in front), pallet-style drop ceiling, original artwork, metal brewery signs and a long peninsula bar with a view to the kitchen and pizza oven.
Pie Hole, at 314 England St. in Ashland, is open for lunch and dinner seven days a week. Facebook.com/pieholepizzarva