Cross Grain Brewhouse Officially Opens at Richmond Airport
| August 24th, 2016
---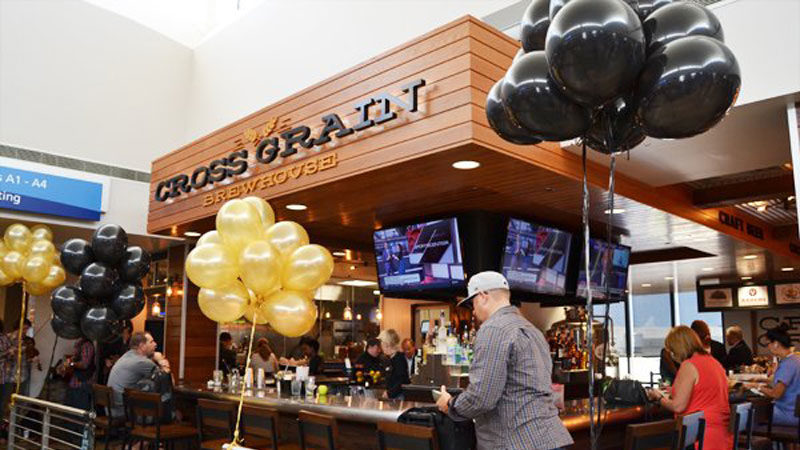 Travelers coming and going through Richmond International Airport's (RIC) Concourse A can now grab a pint of select locally brewed beers at Cross Grain Brewhouse.
Airport officials and staff of the hospitality and food service company Delaware North formally tapped four Richmond area beers and opened the 1,600-square-foot restaurant at a ribbon cutting earlier on Aug. 25.
Starting off, bartenders are pouring from several Richmond-based breweries, including Ardent Craft Ales, Strangeways Brewing, Hardywood Park Craft Brewery and Center of the Universe Brewing. Local brews will rotate through the tap selection.
According to Ryan Lewis, the Richmond airport general manager, the initial options were determined by an online survey that hundreds of travelers participated in.
Cross Grain Brewhouse also offers Richmond- and Virginia-specific food options to go along with those locally brewed beers. On the menu you will find a Richmond Favorites section, which includes such delicacies as corn-dusted oysters with pickled vegetables and The Richmond Melt sandwich with grilled Virginia ham, cheddar and provolone cheeses on rustic bread.
Travelers can expect to see some classic American dishes with a touch of Executive Chef Kyle
Midget's style, such as chicken tenders drizzled with agave glaze and a pulled pork sandwich with jalapeño and caramelized onions topped with cheddar and provolone cheese on a ciabatta roll. Midgett said he also put his spin on the Southern staple shrimp and grits by substituting Shrimp and Hominy Skillet, which is marked as a Richmond favorite on the menu.
But the restaurant isn't new to other parts of the country. Delaware North operates three other Cross Grain Brewhouses in Will Rogers World Airport in Oklahoma City, in Fort Lauderdale–Hollywood International Airport, and in the Boise Airport in Idaho. Brewhouse locations not only cater their beer selection to each region, they also serve area-specific dishes.
The restaurant serves a handful of breakfast items until 10:30 a.m. each day. Options are available for individuals with dietary preferences.