'Dare to Be Fabulous'
| March 27th, 2023
A book to inspire women to reach the summit of selfhood
---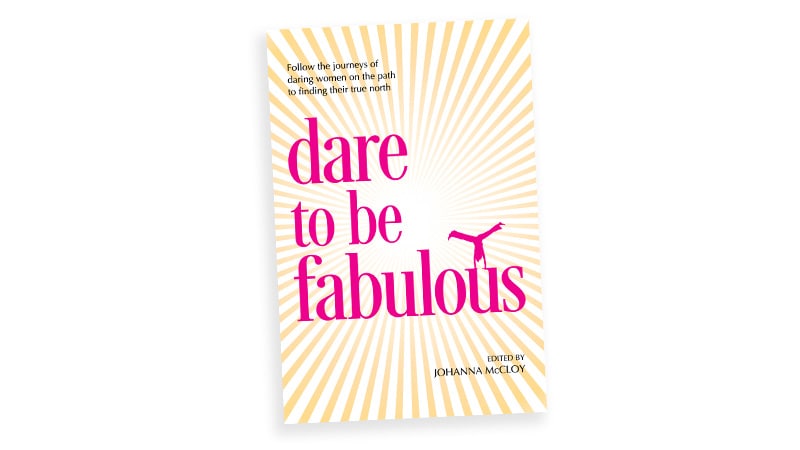 A review of "Dare to Be Fabulous: Follow the journeys of daring women on the path to finding their true north." Edited by Johanna McCloy; reviewed by Annie Tobey. Inspiring women to be fabulous through essays, quotes, and thoughtful prompts.
---
The McCloy women first came to my attention in Lillian McCloy's memoir, "Six Car Lengths Behind an Elephant: Undercover & Overwhelmed as a CIA Wife and Mother." The book traverses McCloy's life after her husband took a job with the CIA. Turns out, a spy's family have to live secret lives, too. They may also travel with their partners to new assignments – for the McCloys, this meant setting up a new home in unfamiliar places like Spain, India, Japan, and Venezuela. Lillian McCloy seemed to handle it all with fortitude and wit.
Apparently, Lillian's daughter, Johanna McCloy, learned from her mother, growing into her own feminine strength and gaining an appreciation for strong women. In "Dare to Be Fabulous," Johanna McCloy has compiled essays from more than two dozen women, words to inspire readers. The essayists range from well-known to everyday, from a variety of backgrounds and professions, with stories both relatable and admirable.
Fabulous essays and essayists
For example:
Gloria Steinem shares an early lesson she learned in becoming a leader of the feminist movement, a lesson in values and demanding respect.
Alexandra Rushfield, a long-time comedy writer and producer who developed a thick skin from years in writers' rooms, where peers could be merciless in their criticism. But the thick skin came with a cocky attitude, and Rushfield learned to find a balance.
Pippy Longstalker tells of becoming a member of a roller derby team and the pride, confidence, and camaraderie that the sport taught her.
Alison Levine summited Mount Everest – eight years after she had failed to reach the summit, just a few hundred feet from the top. She learned from that and other experiences: "It's about the lessons you learn along the way and how you are going to use that knowledge and experience to better yourself going forward." And she realized the importance of the many people who helped her get to the top.
Elisabeth Sharp McKetta confesses to her one-time lip balm addiction and how giving up the balms she had overused led her to realize other unhealthy or useless "addictions" in her life.
Lillian McCloy and her daughters, Johanna McCloy and Kristin McCloy, have contributed essays to the book as well, on a spy escape, canceling a wedding, and the love of animals, respectively.
Adding value
The essays in "Dare to Be Fabulous" are inspiring and relatable, engendering laughter and tears, encouraging readers on their journeys to self-discovery and self-acceptance. But McCloy has bolstered the stories with helpful bookends:
Each essay is preceded by an appropriate quote, also from a fabulous woman.
At the end, a prompt encourages readers to apply the theme to their own lives.
Allison Levine's mountain climbing story, for example, is preceded by a quote from early African American tennis player Althea Gibson: "I always wanted to be somebody. If I made it, it's half because I was game enough to take a lot of punishment along the way and half because there were a lot of people who cared enough to help me." The prompt at the end asks, "What have you achieved that you could not possibly have done without the help of others? List all the people, and the ways they helped make your achievement possible."
One of my favorite fabulous essays sets the tone for the entire book: Jenna Jolovitz on "Isn't That Fabulous?" on what makes a woman fabulous – and what makes you, dear reader, and me absolutely fabulous. Followed by the prompt: "Authenticity is fabulous. How are you 'not the norm'? List five quirks and idiosyncrasies that you have grown to appreciate about yourself."
In "Dare to Be Fabulous," these 27 essays by fabulous women, with complementary quotes and prompts, are sure to help any woman, of any age, get in touch with her authentic fabulous self. Dare to be fabulous you!
"Dare to Be Fabulous"
Johanna McCloy
Bordertown Publishing (Aug. 1, 2022)