David Rogers Is Working Out the Bugs
| May 31st, 2022
The man behind the 'Big Bugs' exhibit
---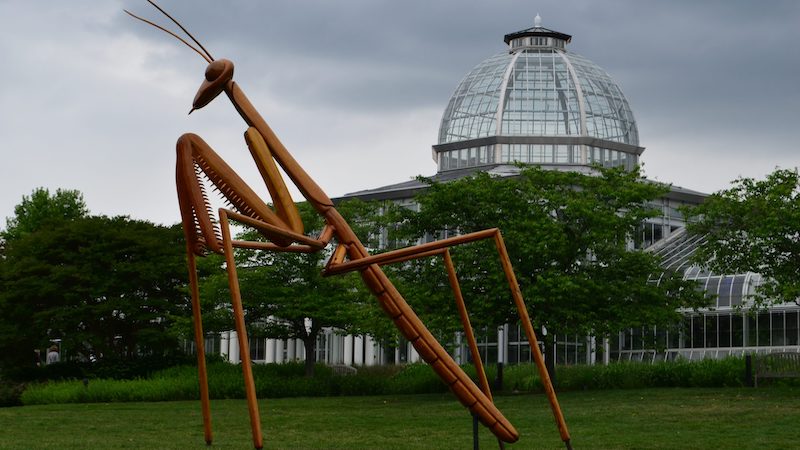 I was offered the opportunity last week to interview David Rogers, the artist from Long Island, New York, whose Big Bugs exhibit opened at Lewis Ginter Botanical Garden on May 28. Now, truth be told, I'm not a huge fan of bugs and an even lesser fan of huge bugs, but since my grandson is into this sort of thing, I thought he might enjoy a little field trip with me.
Admittedly, Rogers' bugs, which include a giant dragonfly on the lake, a beautiful hummingbird, and a 17-foot daddy longlegs, were much more fascinating than I had anticipated.
However as fascinating as were the sculptures, I found the sculptor to be even more fascinating. I honestly wasn't sure exactly what to talk about. I hoped to avoid such trite questions as "How big are your bugs?" or "How long does it take to make one?" But, I admit, I did slip and ask that last one.
Probing deeper
As we began our conversation, with my grandson standing alongside me, I soon realized that this was not going to be a discussion about sculpting big bugs. Although soft spoken and humble, David Rogers is truly a man of tremendous wisdom, someone who has something valuable to offer, and someone who had his own self-doubts early in life but overcame obstacles to pursue his passions.
"I really struggled in school as a young person," Rogers said. "I wasn't a good athlete. I wasn't a good student. I left high school with a bad sense of who I was."
He recalls asking himself, "Who am I? I'm not good at these things that the other kids are good at?"
For a decade or so after finishing high school, his occupation was building rustic furniture. "Everything was form and function. There was not much room for artistic expression," he admitted. That is, until one day while visiting his cousin on his farm in Vermont.
There was this maple sapling, he recalled. "It had been bent over from a storm. It had no branches. My cousin asked me to cut it down."
But Rogers had other ideas. "That branch talked to me. That bent-over sapling said, 'I'm a backbone.'"
In response to the request to cut it down, he replied, "Oh no, I've got this great idea. I'm not going to cut it down. I'm going to build something with it."
Within a few days, he had transformed the sapling into Goliath. That's the name he gave his first sculpture, a dinosaur that he created using the maple sapling as the backbone.
Rogers said the name is fitting. "I had slayed my Goliath. Just as David [in the Biblical account] had overcome his fear, I figured out how to climb over my barriers. From that moment on, I knew what I would do with my life."
Wisdom from artist David Rogers
Rogers noticed my grandson standing alongside me, looking at his cell phone during our conversation. And he offered him some advice, but the advice was intended for more than just one 10-year-old. He said, "I try to tell the young people to put away their devices. Open your eyes and open your ears."
Continuing, he pointed to the cell phone and said, "Everyone thinks the whole world is in there. Those things will turn you into a zombie. Really, the world is out here. It's for you to touch, taste, hear, feel, and see.
I asked him how different his life might have been had he grown up in today's electronics age. "I never would have had my eyes and ears opened," he replied.
Rogers explained the origins of his concept for the giant sculptures. He had been invited to a conference when, unexpectedly, the emcee announced, "Now, let's hear from David Rogers, who is an artist."
Rogers said, "I took a piece of paper, announced to the audience that I built interesting things out of sticks, and I began drawing. It came to me like a bolt of lightning."
As we neared the conclusion of our discussion, I slipped and asked my trite question. "How long did it take to build that?" I asked, pointing to the hummingbird.
In response, he said, "I'll quote someone who I view as a creative genius. He was once asked how long it had taken him to complete a certain project. His reply was, 'It took me 30 years to figure out how to do it in an hour.'"
Since its debut in 1994, his Big Bugs exhibit has attracted audiences throughout the United States. Locally, Big Bugs at Lewis Ginter Botanical Garden runs through August 28 and is part of M&T Bank Pollinator Power which also includes Butterflies LIVE! To learn more about the man and his bugs, visit Big-Bugs.com.
---
PHOTO CAPTION, FEATURE IMAGE: David Rogers' praying mantis sculpture at Lewis Ginter Botanical Garden. Image by Jonah Holland, Lewis Ginter.