Who Killed the Guitar God?
| November 22nd, 2022
The mystery behind the death of Jimi Hendrix
---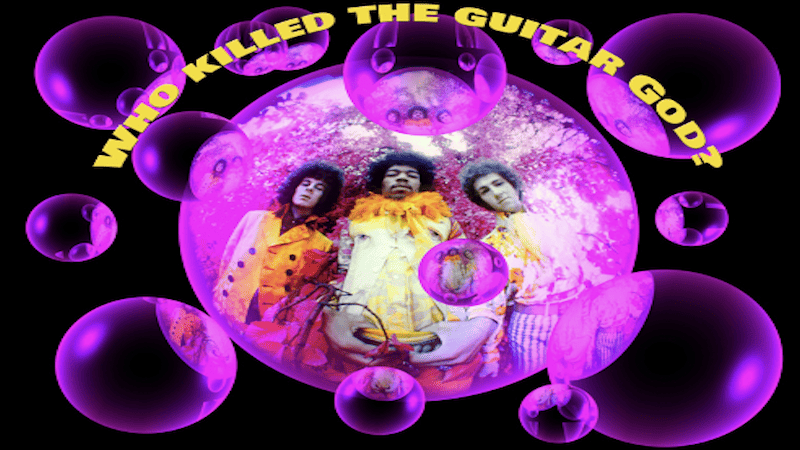 Karl Ferris, Jimi Hendrix's original album photographer/art designer, and David Comfort, author of the bestselling Rock and Roll Book of the Dead, teamed up to solve the mystery of the tragic and violent death of Jimi Hendrix, the legendary guitarist, using new revelations from inside sources. Content and image used with permission.
---
The tragic death of Jimi Hendrix, only 27 years old and considered by many the greatest rock guitarist in history, remains one of the greatest unsolved mysteries. Now, after 50 long years, the case has at last been broken.
The London coroner reported the cause of death as "inhalation of vomit following barbiturate intoxication." Scotland Yard opened a brief inquiry in 1992, but due to "inconclusive" evidence, soon announced the case was "no longer in the public interest to re-open the original inquest." But today, new evidence has come to light, proving that Jimi Hendrix was murdered. But, by whom?
Just before his demise, the guitarist was about to fire his manager, Mike Jeffery, who had launched his career four years prior. Jeffery, the manager of the Animals and other groups, had close Mafia connections and boasted of having once been a British Intelligence agent responsible for Cold War assassinations. Though Hendrix and his group, the Experience, had earned more than $50 million from three albums and relentless touring, they found themselves all but penniless after discovering that their high-living manager, the ex-spy, kept the money in numbered bank accounts in the Bahamas.
In the spring of 1969, an exhausted Hendrix disbanded the Experience. In an attempt to bring him back to heel, a deeply in-debt Jeffery engineered a drug plant and bust in Toronto then, months later, had Jimi kidnapped at gunpoint. The intimidation didn't work: refusing to resurrect the cash-cow Experience, Jimi launched his all-black Band of Gypsies which Jeffery then sabotaged and destroyed after only a few performances.
Following a brief, drug-addled German tour in September 1970, Jimi fled to London, telling a confidante he felt "surrounded by wolves." Who were these wolves? Paternity suit lawyers, breach of contract lawyers, New York Mafia loan collectors, ex-girlfriends, and Jeffery himself, whose management contract was about to expire. Hiding from them all, Jimi convinced Miles Davis's manager, Alan Douglas, to represent him and support his new jazz-influenced musical direction. For Jeffery, losing Jimi would mean disaster: prosecution for his embezzlement and mismanagement, plus bankruptcy, if not imprisonment.
The ex-spy used electronic eavesdropping devices and informants to keep track of his artists. Especially Jimi, who said, "If I'm free it's because I'm always running." In the end he was running with a mysterious blonde, Monika Dannemann. He'd only known her for days and his friends called her a "stalker." But, despite his paranoia, he didn't seem to suspect his girlfriend d'jour might be his manager's informant.
---
Related: The Yardbirds hatched Led Zeppelin and more
---
Jeffery reportedly died in 1973. In 2009, Tappy Wright, an Animals' roadie, published his autobiography Rock Roadie, claiming that his boss, Jeffery, had confessed the murder to him in 1971. "That son of a bitch was going to leave me," the manager allegedly told him. "If I lost him, I'd lose everything!" But then, in a shocking about-face just before his own death in 2016, Tappy confessed to friends that he and two henchmen had, on Jeffery's order, drugged and waterboarded Jimi that night. Informed of the star's secret location in a London hotel by Dannemann, Tappy and his henchmen arrived intending to terrify Hendrix into submission to his manager once and for all. But their "persuasion" went too far: after a fierce struggle, Jimi expired.
Dannemann fled the scene. Hours later, an anonymous call to an ambulance was placed just before noon. The doctor on duty at the local hospital, in a futile attempt to revive the star, tried to clear his windpipe with an 18-inch suction tube. "Red wine was coming out of his nose and out of his mouth," he later testified. "Without the ability to breath he was drowned. It was horrific."
Questioned by police later that day, Dannemann said she had given Hendrix a strong, German brand of Seconal, to help him sleep. But she had no idea how he might have "drowned" in red wine. After Jimi's funeral, she met privately with Jeffery and he promised to market her paintings and provide her monthly financial support. And he precautioned her not to reveal anything about what really happened to Jimi.
But in 1995, after Jeffery's demise, she released a book, The Inner World of Jimi Hendrix. By that time, she had floated many ever-changing, contradictory alibis about what had happened that night. Now, she was intimating murder and possible Mafia involvement. Days before she was to do a tell-all for a London radio station, she was found mysteriously asphyxiated in her car.
As a result of Hendrix's death by what authorities called "misadventure," Jeffery's management contract was renewed by default, he collected on a million-pound life insurance policy, and he took over the Hendrix estate, which generated millions annually.
In a final truth-stranger-than-fiction development in 1973, the ex-spy – days before he was scheduled to return to London to face huge lawsuits relating to his embezzlement, money laundering, and fraud – was reportedly killed in a suspicious airline collision/explosion over France. The "unrecognizable" headless body of the supposed Jeffery was identified by his recovered jewelry. No DNA or dental chart cross-checks were done. And, although the 10-mile radius debris pattern showed all the signs of an onboard bomb explosion, the French authorities still refused to release the aircraft black boxes to independent investigators.
Eric Burdon of the Animals and many other former Jeffery clients wonder if their former manager, the ex-spy and munitions expert, might have deliberately arranged his "death," missed that flight, as he often did, and could be still alive and relaxing on his own island somewhere, living secretly and royally on Hendrix's money long ago hidden away in Bahama numbered accounts.
And so, the Guitar God was gone, but his immortal Voodoo Child refrain lives on: "If I don't meet you no more in this world, I'll meet in the next, and don't be late!
---
Copyright © 2020 by David Comfort & Karl Ferris
All Rights Reserved
About the authors
David Comfort is the author of The Rock&Roll Book of the Dead (Citadel/Kensington), as well as pop trade books from Simon & Schuster and Writer's Digest. His rock blogs were featured in TheWrap and CultureCatch. His recent essays appear in Pleiades, The Montreal Review, Stanford Arts Review, and Free Inquiry. 
Karl Ferris, the British pioneer of '60s "psychedelic" photography designed Jimi Hendrix's first three US album covers (Experienced, Axis, E. Ladyland). He was the photographer of the "British Rock Elite," Eric Clapton, Cream, Donovan, The Hollies.
View Ferris's work in "The Karl Ferris Psychedelic Experience," containing his best album cover photos and session anecdotes with Hendrix, Donovan, Cream, Joni Mitchell, The Hollies, and The Beatles" online at Blurb.com.
Purchase signed Karl Ferris album cover session photo prints by emailing him at karlferris@hotmail.com or through his online portfolio.