Look Deeper: Murry DePillars Exhibit at the Black History Museum
| February 3rd, 2017
The museum's first original exhibit will be on display until June 3
---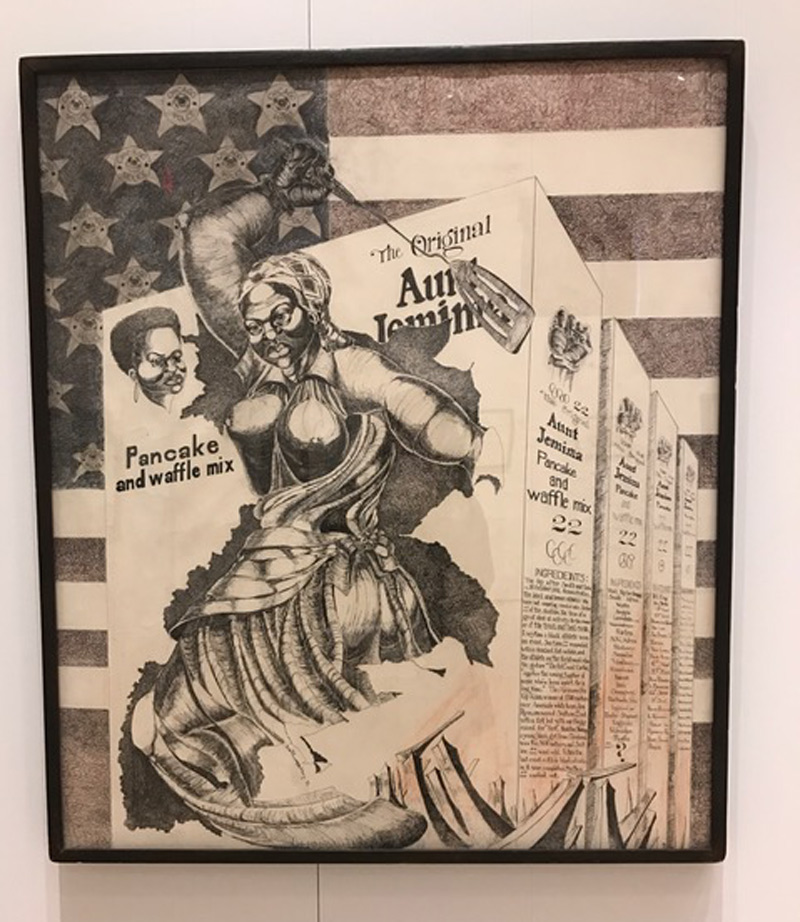 The Black History Museum and Cultural Center of Virginia's newest exhibit, "Murry DePillars: Double Vision," allows you to step into the dual passions of the late Richmond artist and educator.
In the museum's first original exhibit, you'll see 37 works spanning DePillars' entire career 1964-2007. The selected pieces show his unique use of meaningful images and symbols to create multifaceted paintings and pen drawings, covering themes such as the period of American slavery and the civil rights movement. VMFA curator of African Art and Black History Museum board member Richard Woodward suggested spending ample time with each piece to truly understand what the artist was trying to convey.
The exhibit will first flash you back in time to DePillars' early career. Large-scale pen drawings filled with symbolism reflect the artist's commentary on the political landscape and significant events during the late '60s.
For instance, in one you'll see a muscular, enraged Aunt Jemima, the iconic face of the pancake mix and syrup brand, busting out of the box with a raised spatula in hand. An American flag with Chicago Police Department (CPD) badges replacing its stars fills the background. DePillars used the badges to symbolize the flag's stars, which represent the time when cops raided the Black Panther headquarters in Chicago.
Depillars' wife, Mary, reiterated Woodward's point, saying that her husband's art isn't the type of work you can look at once and then leave.
DePillars' ties to Richmond first began with him serving as dean of the Virginia Commonwealth University (VCU) School of the Arts from 1976 until 1995. Prior to his job in Richmond, he earned a bachelor's degree in art education and a master's in urban studies from Roosevelt University in Chicago. He completed his educational career in 1979 with a doctorate in art education from Pennsylvania State University.
The artist's "double vision" is most portrayed in the "briefcase series," which includes smaller, vibrant, colorful works that he created during his downtime on business trips. Woodward said these paintings show a different side of DePillars.
Many of these pieces feature African symbols and geometric shapes and patterns conveying the theme of ancestral Africa. The painting titled "Saltcellar" depicts a simplified version of an ornately carved ivory salt storage container with the two-headed god, Janus, atop. Two silhouettes of partial female figures sit at the bottom of the container. During the 1480s and 1600s, African carvers were frequently sought to carve saltcellars and other objects, according to the exhibit.
Besides the artwork itself, you'll also see the briefcase with samples of his essential supplies he kept for on-the-go painting.
The pieces are on display thanks to DePillars' wife, who lent them to the museum for the exhibit. Check out the exhibit for yourself now until June 3, and don't forget to double back for a closer look. For more information, visit the museum online or call 804-780-9093.