Dining Club: Come for the Food, Stay for the Friendship
| July 16th, 2020
The menu is merely an afterthought for this nearly 30-year-old gathering
---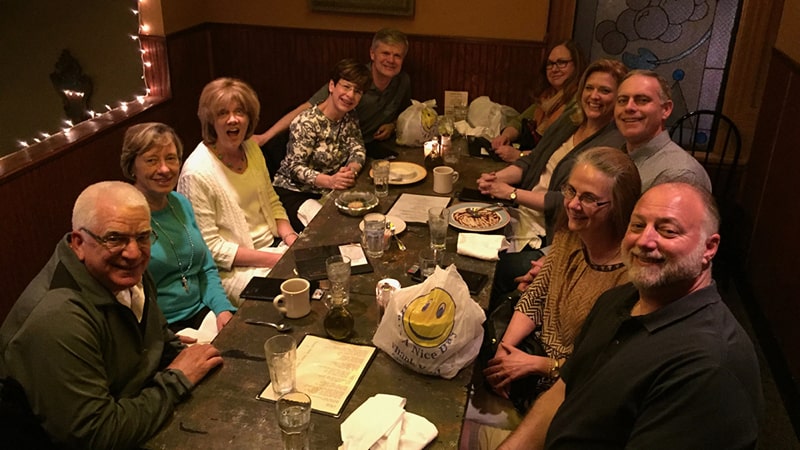 A long-time dining club of old friends has lasted for three decades. Their story can provide inspiration for others looking to maintain social connections.
---
Friends often come and go with the seasons of our lives. Some appear only for a chapter or two, drifting away as our stories evolve; and then there are the steadfast friendships: the people you pick up with like no time has passed; the people you would do anything for and vice versa; the people you can't remember not knowing.
And the people you go out to eat with every month for three decades.
"These really have been my best friends for life," says Janet Garzia about the Red Lion Dining Club, a casual but committed group of friends who have dined out together every month for almost 30 years. "It's just awesome to be part of something. It's changed my life."
TRADITION OF GOOD CUISINE AND GREAT COMPANY
It started in 1993 as a simple suggestion: a couple from the neighborhood suggested dinner out with fellow neighbors as a chance to break out of their restaurant rut (it was much harder to branch out, culinarily speaking, in Richmond back then, let's not forget).
They simply sought a way to try new local cuisine with good company.
Then, the same gathering happened the month after that, and the month after that, and … well, you know the rest: the Red Lion Dining Club – named as an homage to the Chesterfield neighborhood where they all met – was born.
As with many long-running traditions, no one knew how long this club would last or the longevity it would one day reach. But 27 years later, this association of food lovers has no end in sight.
Though a naturally laidback bunch, they do follow a small set of guidelines. In an effort to maintain their goal of trying new spots, the group never repeats a restaurant – except every August, when they vote on their favorite eatery from the past year. And, to support local as much as possible, they avoid chains. "We joke about rules," says Garzia, "but we're up for anything."
As a collection of close friends and amateur foodies, they not only share a fondness for good food, but they also share a fondness for, well, sharing. They often pass bites around the table, often order different things off the menu for a wider selection of tastes and often influence each other's shared sweet tooth (says member Beth Bader, "We ask for the dessert menu before anybody orders … this is a dessert kind of group.").
A dining club after my own heart.
And as of today, the group has dined at nearly 300 local restaurants (so we all know whom to call when looking for a restaurant recommendation).
A DEDICATION TO DINING
Since their first outing in August 1993, the group has seen a variety of life events: marriages, births, graduations, retirements. In between the milestones and busy schedules that life tends to bring, it can be easy for friendships to get shuffled toward the bottom of the list (hey, it happens!).
But this core group of food and fellowship lovers has remained committed.
"When we had our kids … our budget was a little tighter than it had been. But this was a priority," says member Michelle Payne. "We had to scale back on things, but this was one thing we kept … When you find folks like that in your life, you just make it a priority."
And it's that prioritization that has kept the club going for so long. In their 27 years together, in fact, they've never missed a month. From hurricanes to ice storms, they've always found a way to make do. Even a global pandemic hasn't wavered their dedication. This past April, the first full month of social distancing and business closures, according to Bader, the group "Met over Zoom … with desserts." Of course.
THE EVOLUTION FROM CUISINE TO CAMARADERIE
"I realized in that first winter [after moving to Saluda] that it had nothing to do with … the restaurant we were going to. It was about the people … It's just being with each other." During our interview, Beth Bader – who now resides an hour and a half away – reflected on the difficulties of making the long drive for the monthly meetups when she initially moved, years after the group started.
And the eventual realization that the motivation to continue attending came less from the fare … and more from the friendships.
Food brings people together in a way that few other things can – but for the Red Lions, it's more of a side dish than an entrée.
What began as a way to try different local restaurants slowly but steadily evolved into something much stronger. The Red Lion Dining Club became about more than getting to visit different restaurants or getting a night off of cooking; it became more than simply satisfying that shared sweet tooth.
"It's really meant a reservoir of friends that will always be there for me," says Garzia.
And, although nearly every member has moved out of the neighborhood that initially brought them together, their friendships go beyond monthly restaurant meetups: you'll find the Red Lion club at the occasional summer holiday cookout, New Year's Eve ball drop and Christmas gift exchange.
"We've gone through a lot of stages of our lives, and shared a lot," says Payne. "These friends kind of became our family … It's a special group."
---
Award-winning writer Rachel Marsh also enjoys dining out and hopes one day someone else will join her.
---
Seniors Guide: Maintaining friendships over the years