Distillery Mash-Ups of Liquor and Beer
| April 11th, 2018
A touch of beer in your spirits from two Virginia distilleries
---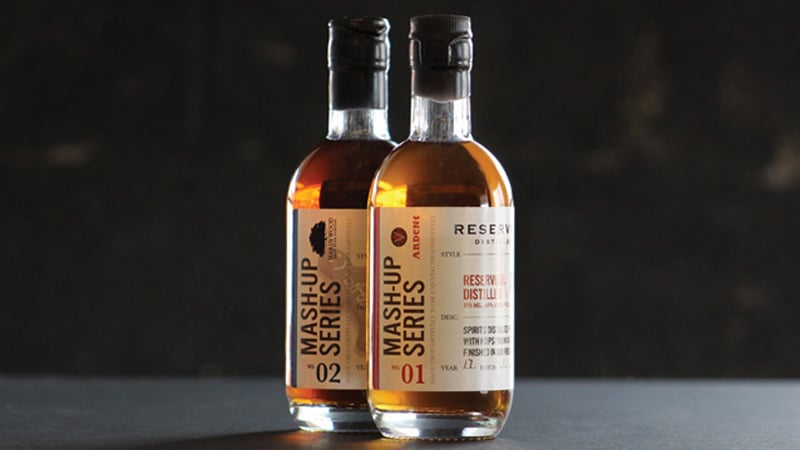 With collaborations common among contemporary craft beverage makers, a new cross-industry mash-up is arising.
Breweries began the trend as two or more combined to create a common beer. By aging beers in previously used liquor barrels, breweries introduced the essence of the spirits into the final product.
Creativity knows no bounds, so craft distilleries have jumped on the bandwagon. In Fredericksburg, A. Smith Bowman aged a whiskey in Hardywood Park Gingerbread Stout barrels. More recently, they took the concept further: Bowman sent bourbon barrels to Hardywood, which filled them with Gingerbread Stout and Foolery Imperial Milk Stout; Hardywood sent the emptied barrels back after aging the beers for eight months; Bowman refilled them with nine-year bourbon and aged it for 17 more months. The result masterfully blended rich flavors of caramel, oak, vanilla, gingerbread and cocoa. (Note that the distillery's John J. Bowman single-barrel bourbon was recognized as "Best Non-Kentucky Bourbon" at the World Whiskies Awards!)
VIRGINIA DISTILLERY COMPANY'S BREWERS BATCH
Working with Charlottesville-based Three Notch'd Brewing, Virginia Distillery Company in Nelson County has released Batch #1 in its Brewers Batch series. Three Notch'd filled whiskey barrels with Stage Road Scottish Wee Heavy-style ale – a malty, sweet beer with caramel, earthy and smoky notes – then returned the empty barrels to the distillery, which aged a whiskey.
On deck is a collaboration with Three Stars Brewing in Washington, D.C., anticipated for a fall 2018 release. Three Stars brewed an Old Stock Ale using two-row barley, Vienna malt, oats and a touch of caramel malt and chocolate malt.
The Brewers Batch Virginia-Highland Whisky joins a lineup of several other offerings from Virginia Distillery Company, including the distillery's flagship Port Cask Finished Virginia Highland Whisky (which recently won "America's Best Blended Malt" at the World Whiskies Awards), Cider Cask Finished Virginia-Highland Whisky and Chardonnay Cask Finished Virginia-Highland Whisky.
Brewers Batch spirits will be available at the distillery (along with tastings of the spirits, cocktails and tours) and in select Virginia ABC stores.
RESERVOIR DISTILLERY'S MASH-UP SERIES
Here in Richmond, Reservoir Distillery has taken those ideas to another level. For its Mash-Up Series, Reservoir distills an unfermented beer. Flavor distinctions come from the beer – stout, Kölsch, doppelbock, gose, barleywine and IPA – and the barrels.
Reservoir is spreading the love to other craft beverage makers, too: finishing whiskey in barrels from Michael Shaps Wineworks; finishing gin from James River Distillery in Reservoir Rye Whiskey barrels; using a grappa-like distilling method for mead from Black Heath Meadery; and distilling Blue Bee's Damson Berry Cider.
Follow Reservoir Distillery on Facebook for updates on available Mash-Ups. Reservoir products are available at the distillery tasting room (serving cocktails as well as spirit samples), with the Reservoir Rye and Wheat whiskies on shelves at select Virginia ABC stores.