Richmond Restaurants: What's New?
August 9th, 2018
Donuts, diners, dairy-free gelato – plus cuisine from France, Laos, and the ocean!
---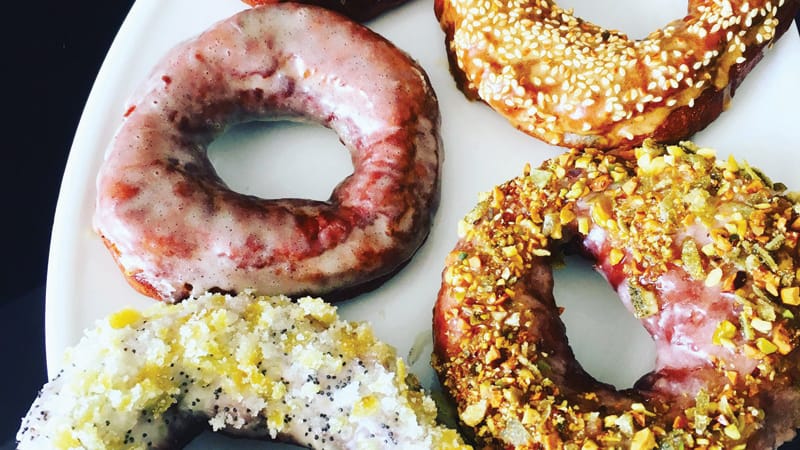 SWAN DIVE
A classy-casual blend
The name, menu and classic décor are packed with humor, but Swan Dive is serious about food, drawing on French influences and Southern roots. Take the croque monsieur – cheesy, open-faced sandwich with chicken, rabbit, sausage or more cheese – or croque madame – same sandwich plus egg. Choose from salads or more sandwiches: Jacques in the Box burger or Long Jean Silver fish sandwich. Expect creative, sophisticated toppings like creamy shrimp and cucumber salad, pickled fennel with orange, and pickled watermelon rind. Save room for cocktails, wine, craft beer, house-made lemonade and limeade (sparkling or still) or dessert. ~ Annie Tobey
805 N. Davis Ave., Richmond
TEMPLE
Laotian Soul Food
In a sea of Asian restaurants comes a fresh new concept: a rustic, Southeast Asian, country-style shophouse (a historic Asian building). Inspired by a trip to Laos, owners Brandon Pearson and Joe Kiatsuranon (of Sabai and other area restaurants) are bringing area diners a great Laotian country-style meal without travel expenses. Pop in and try the papaya salad, one of the many noodle dishes, the sticky pork rice or – as recommended by Pearson – the duck soup: "It's delicious. The duck falls right off the bone." ~ Whitney Kiatsuranon
2713 West Broad Street
EAT 66
Eat 33's new spinoff
The neon signs and '50s décor of Eat 66 take you back to a time when diners were abounding and life was simpler. Like any good diner, Eat 66 serves breakfast all day long with an abundance of Southern plates like omelets, eggs Benedict, and biscuits and gravy. If breakfast isn't really your thing, choose from other Southern comfort dishes, including burgers, meatloaf and fried pork chops. Pair it all off with homemade limeade, lemonade or an Arnold Palmer (or a bloody Mary or mimosa if you're feeling saucy). Warning: you may start looking for a DeLorean. ~ Rachel Marsh
2845 Hathaway Road, Richmond
WEST COAST PROVISIONS
West Enders, look no further for a fresh catch
The sister restaurant of East Coast Provisions in Carytown, this new location continues to offer a wide array of fresh seafood to appease surf seekers. Raw lovers will delight in oysters, clams and an entire sushi bar. Look for shrimp cocktail, fish tacos, calamari or scallops, or keep it simple with grilled fish and lobster tails. Don't overlook the daily specials, sure to keep you coming back for the next creative surprise. Expect gorgeous presentations worthy of food-porn photos. On the turf side of the menu, find burgers, chicken, lamb and hand-cut steaks. ~ Rachel Marsh
301A Maltby Blvd., Henrico
THE WOODEN SPOON CAFÉ
A fresh new daylight dining option
You may quickly feel at home at this Near West End café, with its cozy farmhouse décor and its focus on fresh local ingredients in dishes from scratch. Breakfast features croissants, fruit smoothies, juice blends and omelets. Lunchtime dishes out daily specials like grilled portabella mushroom with mozzarella and Hanover tomato, wholesome sandwiches, salads and soups. Celebrate weekends with brunch, like Texas French toast or Dad's Breakfast. Besides coffee, pair the food with homemade lemonade, herbal sweet tea or other creative fresh blends. Beer and wine license on the way.
5714 Patterson Ave., Richmond
HOT DIGGITY DONUTS
Hot and fresh comes standard
The hot donut smell alone is enough to draw crowds to this pink-themed diner. The six donut flavors (including lemon poppy, sesame chai and maple bourbon) are made fresh upon each order and come smothered in their respective toppings. But don't box them into the donuts-only category: Hot Diggity Donuts also offers specialty desserts, breakfast bagels and dinner salads. They've even got an extensive beverage list, with brunch cocktails, anytime cocktails and shooters, plus beer, wine, cider and kombucha as well as chai and coffee (including single-origin pour over coffee!). ~ Rachel Marsh
1213 Hull St., Richmond
LEGENDS GRILLE
Wing your way to this new sports bar
Six and a half years after opening their doors in Fredericksburg, Legends Bar and Grille has come down to Richmond to grace us with sliders, wings and more. You can root for sports bar food and 36 taps while you catch the action on 16 TVs. Legends' wings have been voted the top 10 wings in Virginia, with a dozen creative sauces to choose from. Other menu options include entrées, grilled meats, flatbreads, tacos and salads. Be on the lookout for brunch and trivia nights, too. – Whitney Kiatsuranon
1601 Willow Lawn Drive, Richmond
NOVEL PRODUCT
O'MY DAIRY-FREE GELATO
Richmond-based business, natural goodness
There's a list of what's not in O'MY frozen dessert: no dairy, soy, GMO products, artificial colors or sweeteners, gluten, tree nuts or peanuts. But then there's the list of what O'MY actually is: a tasty frozen treat made with a few basic ingredients that you can pronounce. The gelato starts with an organic coconut cream and water base, then adds cane sugar for sweetening and other natural flavors to create six options, including root beer float, mint chip and chocolate. Available locally at Ellwood Thompson's, Libbie Market and Good Foods Grocery. ~Annie Tobey
BREWS & BOOZE
COURTHOUSE CREEK CIDER
The Goochland cidery brings its wares to town
Since 2016, Courthouse Creek Cider has been serving and selling its "heartfully crafted cider" from their home base in Goochland. This summer, the family-owned cidery opened a new tasting room in Richmond's Scott's Addition neighborhood, serving the range of ciders, including dry, barrel-aged, bottle-conditioned, sparkling, still, single-varietal, blends, sour, and infused with ingredients such as peaches, hops, ginger, lavender and berries. An outdoor patio and upstairs cider garden are perfect for enjoying a flight, glass or bottle. Be sure to look for inside observation beehive.
3300 W. Broad St., Richmond
(Entrance behind building)