Eating in Williamsburg, VA
| February 13th, 2017
You probably know what sights to see in the Williamsburg area. About an hour from Richmond, you can explore history in Colonial Williamsburg, Jamestown or Yorktown; shop at the outlets or along Merchants Square; and play at Busch Gardens or Water Country.
---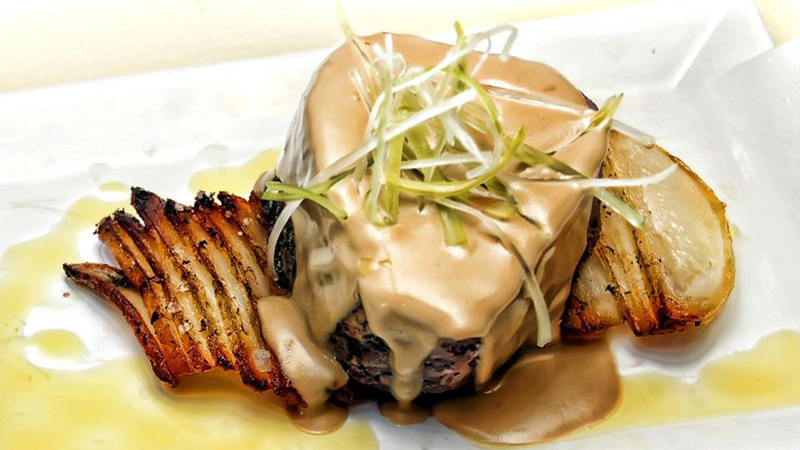 You probably know what sights to see in the Williamsburg area. About an hour from Richmond, you can explore history in Colonial Williamsburg, Jamestown or Yorktown; shop at the outlets or along Merchants Square; and play at Busch Gardens or Water Country.
The top refueling spots may not be as apparent. Besides the legendary Pierce's for pit-cooked barbecue, the town hosts many newer dining destinations, including a name familiar to Richmonders, Peter Chang Café; casual seafood at Oceans & Ale (don't miss the seafood mac and cheese); upscale atmosphere at Fat Canary; and many others.
Food for Thought
"Eat, drink, think." Feast on the words of Robert Frost, Mahatma Gandhi, Joan of Arc, Martin Luther King Jr. and other great minds. Then satisfy your palate and belly with diverse food reflecting American favorites, cosmopolitan tastes and vegetarian preferences. 1647 Richmond Road, FoodForThoughtRestaurant.com.
DoG Street Pub
Think gastropub surrounded by Colonial history. Ponder a menu sprinkled with British influence in fish and chips, mulligatawny and Welsh rarebit, plus burgers, hearty entrées and delightful desserts. Picture a beer list with carefully chosen beers from near and far. Eat, drink, be merry; then visit Hair of the Dog bottle shop for beer to go. 401 W. Duke of Gloucester St., DoGStreetPub.com.
Le Yaca
The Le Yaca concept began during the 1960s in the French Alps. Though the location and ownership have morphed, the idea remains: fine French cuisine served in a dignified setting and masterful dining that confirms why Thomas Jefferson took James Hemings with him to Paris – to enable Hemings to import French culinary skills to the new U.S. 1430 High St., LeYacaWilliamsburg.com.
Craft 31
Steve Lewis of Richmond's Bottoms Up Pizza has partnered with other restaurateurs to offer casual dining to gourmand palates in Williamsburg. Besides gourmet burgers and similar fare, Craft 31 features the thin-crust version of Bottoms Up's signature pies, 31 well-curated craft beers on tap and "boozie shaketails" cocktails. 3701 Strawberry Plains Road, Craft-31.com.
Colonial Williamsburg historic taverns
Flash back into Colonial times in the four re-created taverns, each distinctly different, yet all with 18th-century touches: costumed servers, strolling balladeers and period flavors. Dine at Christiana Campbell's for seafood selections; The King's Arms for genteel service and multiple meats; Chowning's Tavern for alehouse fare and historic brews; or Shields Tavern for approachable American lunch classics. ColonialWilliamsburg.com/do/restaurants.
The Cheese Shop
Who doesn't love cheese? Hand-crafted fresh, semi-soft, soft-ripened, surface-ripened, semi-hard and hard cheeses, blue and wash-rind cheeses – plus meats and specialty food products, more than 120 craft beers and quality wine. Grab to-go or as made-to-order deli sandwich for a picnic or to enjoy in the shop. 410 W. Duke of Gloucester St., CheeseShopWilliamsburg.com.
And speaking of delicious things to do with cheese … ever tried your hand at fondue? We've got just the recipe for you, courtesy of Jen Reviews: JenReviews.com/cheese-fondue-recipe
Williamsburg Tasting Trail
For some spirited fun, hop along the trail of fermented and distilled beverages. All stops offer tastings (for a fee) and packaged products for purchase. The winery and breweries can sell full pours, while the meadery and distilleries by law can pour only a limited amount (but enough to enjoy and help you decide which product to purchase!). VisitWilliamsburg/williamsburg-tasting-trail.
Founded in 1985, Williamsburg Winery has been on the forefront of Virginia grape-growing and winemaking, producing reds, whites and specialty wines. Take a tour and/or enjoy a tasting at the winery or pair the wine with a culinary adventure at the Café Provençal, the on-site restaurant. A new satellite tasting room and wine bar is in the works near Colonial Williamsburg. 5800 Wessex Hundred, WilliamsburgWinery.com.
AleWerks has been brewing award-winning beers since 2006, including seasonal releases such as Bitter Valentine double IPA, Droste Effect chocolate stout and Twenty Knots Belgian-style tripel. AleWerks also brews the historic ales served in Colonial Williamsburg, including Dear Old Mum spiced ale and Old Stitch brown ale. 189 Ewell Road, AleWerks.com.
Two William & Mary grads returned to the area to open Virginia Beer Co. Several year-round beers ring of university ties – Elbow Patches Irish stout, Wrenish Rye and Free Verse IPA. Other beers include rotating Saison (farmhouse) ales and other small-batch releases. 401 Second St., VirginiaBeerCo.com.
Brass Cannon Brewing has returned for a second round after a move and a new 20-barrel brewing system. Look for a year-round brown, amber, IPA, stout and Scottish-style wee heavy as well as seasonals and special releases. 5476 Mooretown Road, BrassCannonBrewing.com.
An ancient beverage has made a comeback. The fermented-honey drink has a wine-like alcohol content and ranges from dry to sweet. A honey-flavor base is complemented by the addition of added herbs, spices and fruits. Try and buy mead at Silver Hand Meadery, 224C Monticello Ave., SilverHandMeadery.com.
Born in 2005 in Sperryville, Virginia, Copper Fox Distillery opened its Williamsburg location in 2016. The business not only distills spirits, it also malts locally grown barley using cherrywood and applewood, for richer spirit flavors. At the tasting room, you can tour the distillery and sample Wasmund's single malt and rye whiskeys and Copper Fox VirGin, made using Virginia botanicals and the requisite juniper (alone or in cocktails). 901 Capital Landing Road, CopperFox.biz/williamsburg/.
Williamsburg Distillery offers distillery tours plus tastings of its liquor or tastings of cocktails made with the liquors. Currently offering Jamestown Gin in the genever style or Yorktown Silver Rum, with bourbon aging for future release. 7218 Merrimac Trail, Williamsburg-Distillery.com.