Fall Line Kitchen & Bar in the Richmond Marriott
| October 6th, 2021
Downtown restaurant paying homage to its Richmond home
---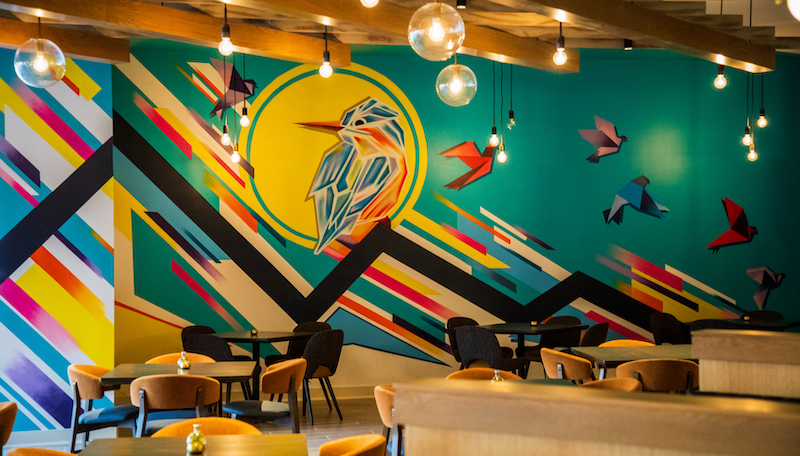 A new upscale-casual eatery in downtown Richmond, Virginia, embraces its home city in the name, cuisine, and décor. Fall Line Kitchen & Bar in the Richmond Marriott pays homage to the city's raison d'etre: the rocky stretch along the James River – i.e., the fall line – prohibited upstream navigation, so European settlers stopped at what would become Virginia's capital city.
Regional cuisine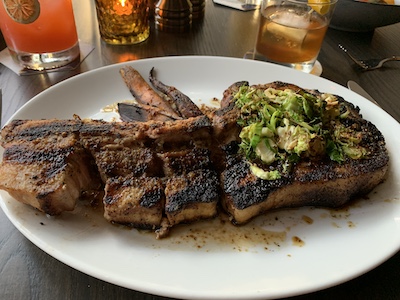 Richmond's Southern roots mean comfort food is right at home here at Fall Line restaurant, and the proximity to the Atlantic Ocean gives seafood a prominent seat at the table. Chef Peyton Powell, graduate of Le Cordon Bleu Paris, brings a mix of classic training and regional appreciation.
Powell was working in the restaurant industry in New York City when he came to Richmond to visit his sister. It was during a meal at The Roosevelt that he realized that Virginia's capital city could give him a fulfilling restaurant career and a less stressful lifestyle.
Examples of the regional-plus-continental focus at Fall Line Kitchen & Bar begin with the starters and stretch over to desserts. Pimento cheese fritters, iron skillet cornbread, lump crab hushpuppies, BLT deviled eggs, and East Coast oysters share the starters bill with burrata cheese, guacamole, and more.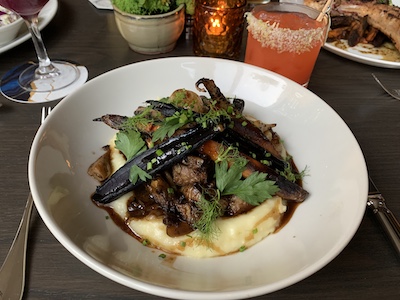 Entrées include Southern fried chicken, appropriately served with mashed potatoes and mushroom gravy, coleslaw, and a hot honey drizzle; a hearty belly-on pork chop; and shrimp and grits. Other entrées range from a double-patty cheeseburger, truffled bucatini, braised wagyu beef, salmon, halibut, roasted chicken, and a vegetarian-friendly wild mushroom Bolognese.
House cocktails offer a tip-of-the-hat to local, too: Lakeside Wheel Club (gin, tonic-infused orange and vanilla soda, and lemon juice) and Maymont Mule (classic Mule plus apricot liqueur). Two featured mocktails provide creative non-alcoholic options.
Fall Line inspired décor
Fall Line restaurant décor draws inspiration from the James River, including a colorful wall mural of a Kingfisher and other birds created by local artist Hamilton Glass. Earth tone accent colors, wooden beams and booths, and lights that speak of the sun, moon, and stars contribute to the vibe.
In addition to indoor dining, the restaurant hosts an outdoor patio and bar seating. Initially open for dinner Tuesday through Thursday from 5-10 p.m. and Saturday and Sunday from 5-11 p.m., Fall Line plans to soon expand hours and offer lunch, breakfast, and brunch.
Visit FallLineRestaurant.com or follow the kitchen and bar on Facebook and Instagram.