Celebrating Virginia Vines – And Then Some
August 1st, 2017
Plenty of opportunities to fill your glass this fall
---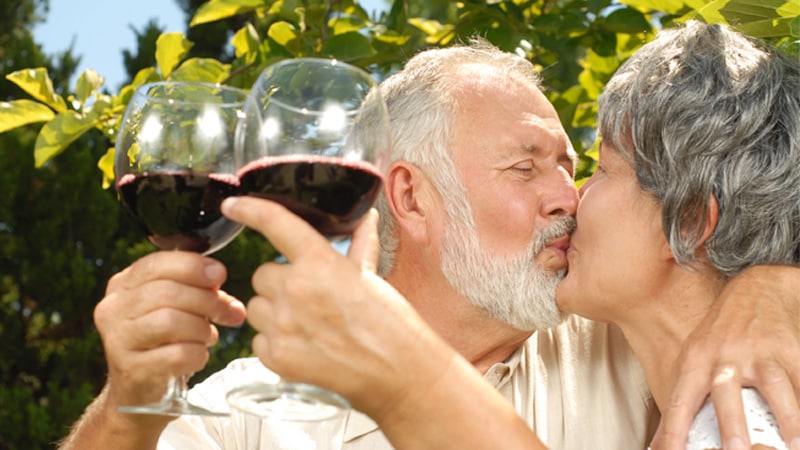 What goes better with the fall season than sweaters and pumpkin-flavored everything?
Wine, of course. And what's the best way to drink wine?
During a wine festival, of course.
We've got your Virginia fall wine festival lineup right here, complete with dates, prices, locations and links.
Cheers, and enjoy!
---
November 18
Thomas Jefferson Wine Festival
We can thank Thomas Jefferson for many important ventures such as the Declaration of Independence, UVA, and most importantly: Virginia wineries.
Show your gratitude for our Founding Father by attending the annual Thomas Jefferson Wine Festival. There'll be an array of local wineries and cideries, food vendors, retail, and live music, all punctuated by Jefferson's very tickled spirit in the air.
Location
1542 Bateman Bridge Road
Forest, VA 24551
Time
11 a.m.-5 p.m.
Prices
$10: Feeling like staying sober
$25: Feeling like getting a head start
$30: Feeling like a procrastinator
$125: Feeling like a VIP
$225: Feeling like a VIP with your other half
---
Stuff ya missed:
September 9-10
Margaritas are rated the number one beverage to drink on the beach. But this September, King Neptune is here to puncture that made-up statistic with his annual wine festival on Virginia Beach. Enjoy live music, food trucks, and local wines from over a dozen vendors.
No salted rims permitted.
Location
31st Street and Atlantic Ave
Virginia Beach, VA 23451
Time
Noon-5 p.m. both days
Prices
$30: Sunday Funday
$35: Saturday Funday
$50: Saturday Funday for you Very Important People out there
---
September 16
Glistening turquoise water! Loads of local wildlife! Postcard-worthy sunsets! Tight-knit communities! Just when you thought Lake Anna couldn't get any better … they went and put together a wine festival.
Check out their one and only annual wine festival, featuring local wineries, local restaurants, and local … locals, all against the backdrop of that dazzling lake.
Location
6800 Lawyers Road
Spotsylvania, VA 22551
Time
11 a.m.-5 p.m.
Prices
$20: For the plan-aheaders (through Aug. 27)
$25: For the dawdlers (after Aug. 27 but still in advance)
$30: For those who procrastinate till they get there
---
September 16
If you're more of an apple than grape person, this festival is calling your name. With not a single grape in sight, 25 cideries will be on premise pouring over 60 different varieties. Look out for your go-to Virginia faves such as Blue Bee, Buskey, Potter's, Cobbler Mountain, and Bold Rock. Or for a little international flair, check out the tastes from Belgium, France, Ireland, and Spain.
Or try them all. It's unlimited, for gosh sake's.
Location
2400 Airport Ave.
Fredericksburg, VA 22401
Time
11 a.m.-6 p.m.
Prices
$10: No cider, thanks, I'll just drive
$30: Early bird gets the wor- I mean, cheaper admission
$40: Really risking the chance of tickets still being available at the gate
---
September 16
Lynchburg Beer and Wine Festival
Not only is this a wine festival featuring over 16 local Virginia wineries, it's also a beer festival with local and national brews on tap, plus ciders. So that means wine lovers and beer lovers and cider lovers win. Oh, and there's a huge array of different cuisines to pick from, so food lovers win too.
In fact, Lynchburg Living Magazine would agree, because they voted it "Best Festival." Can't argue with that.
Location
3176 Fort Ave.
Lynchburg, VA 24501
Time
Noon-7 p.m.
Prices
$25: You're 21 or older and know how to drink responsibly and how to buy your tickets in advance
$30: You're 21 or older and know how to drink responsibly
$15: You're probably at least 16 years of age 'cause you're buying the designated driver ticket
$0: You're 5 or under but still like to party
---
September 16-17
The South African Food and Wine Festival
Shake up your palate with quality, exotic wines from South African soil. Surprise your taste buds with dishes such as "grilled prawns peri peri" and "boerewors sausage." Treat your ears to upbeat rhythmic music from the other side of the equator.
As you might have gathered … this is not your average wine festival.
Location
4675 E. Gray Fox Circle
Mineral, VA 23117
Time
11 a.m.-6 p.m. both days
Price
$20: General Admission
$30: General Admission but forgot to get tickets ahead of time
$5 additional: General Admission and came to your senses that obviously you should add on the wine-taster price
---
September 16-17
Stratford Hall Wine and Oyster Festival
Wine drinkers: sample the wine, visit the craft distillery booths, sample the wine again, repeat.
Non-wine drinkers: browse the antique car show, listen to the live music, nosh on the local and international cuisine, repeat.
Oyster-lovers: scoop the oyster, watch a shucking demonstration, attend a cooking class, repeat.
Families: check out the arts and crafts, visit the miniature farm animals, take a ride on the barrel train, repeat.
If you haven't already guessed … there's something out here for everyone.
Location
483 Great House Road
Stratford, VA 22558
Time
Saturday, 10 a.m.-6 p.m.
Sunday, 10 a.m.-5 p.m.
Prices
$5: "I'm only 7-13 years old"
$10-$15: "I'm only here for the oysters"
$20-$25: "I'm only going to try every single winery a few times"
---
September 23
Chase City Shine and Wine Festival
Arts, crafts, friends, fun, and most importantly: wine. Oh, and don't let the name fool you … the event takes place under two pavilions, so it'll happen whether the sun is shiny or not.
Location
Mecklenburg Electric Cooperative
11633 Hwy 92
Chase City, VA 23924
Time
Noon-6 p.m.
Prices
$15: Arts and crafts seem cool
$20-$25: Wine seems cooler
---
October 6-7
Barrels, Bottles and Casks Tours
Thomas Jefferson loved a lot of things. America. Education. Freedom. Women named Sally. But let's be honest, his one true love was booze.
Less of a wine festival and more of a historical tour with historical beverages, this event takes guests around Poplar Forest plantation, Jefferson's peaceful retirement estate. Throughout the tour, learn about recent archaeological excavations and enjoy specialty spirits and snacks popular during the 19th century.
Location
1542 Bateman Bridge Road
Forest, VA 24551
Time
6 and 7 p.m. both days
Price
$25: Flat rate
---
October 6-8
Fall Wine Festival and Sunset Tour
George Washington had a lot of triumphs in his life; helping to found America, for instance, was probably pretty high up on his résumé, as was having the country's largest distillery. Winemaking … well, it wasn't his greatest achievement, but he certainly gave it a shot. Come celebrate his wine-related successes, and other wineries' wine-related successes, at the Fall Wine Festival and Sunset Tour.
A little bit of history, a little bit of wine. Oh, and George himself will be present. Maybe you can ask him about this wooden teeth.
Location
3200 Mount Vernon Memorial Highway
Mount Vernon, VA 22121
Time
6-9 p.m. each day 
Prices
$40: On Friday
$48: On Saturday
$36: On Sunday (if you're up for it at this point)
---
October 7
Powhatan Festival of the Grape
The only downside to this festival is that you may have a hard time figuring out where to start. Should you start with the live music? Or the artisan vendors selling jewelry, soap, pottery, and art? What about the food? Or maybe one of the 20+ wineries pouring unlimited samples?
Wait … yes, start with the wine. Always start with the wine.
Location
Powhatan Festival of the Grape
3800 Old Buckingham Road
Powhatan, VA 23139
Time
11 a.m.-6 p.m.
Price
$15: The too-young-to-drink-wine ticket
$25: The drink-as-much-wine-as-you-want ticket
---
October 7
You think you're just making the trip to Yorktown, but really you're venturing out to Europe as well. Yorktown shares history with its sister cities, Port-Vendres and Zweibrücken. And during the festival, it'll share its sister cities' wine as well.
Sample French bubbly (real Champagne!), plus German Reislings and Gewürztraminers (Google it).
But Yorktown hasn't forgotten its roots; it'll also have a wide array of Virginia wine to taste.
Location
425 Water St.
Yorktown, VA 23690
Time
Noon-6 p.m.
Prices
$30: Buy jetzt!
$35: Buy später!
---
October 14-15
27th Annual Virginia Wine and Garlic Festival
Pickles and ice cream. Potato chips and chocolate. Bert and Ernie. Some combinations don't seem to go together, but they somehow do. The Wine and Garlic Festival is no exception; a variety of wineries and cideries with unlimited tastings, paired right alongside specialty garlic-saturated cuisine.
Not recommended for vampires or first dates.
Location
2229 N. Amherst Hwy.
Amherst, VA 24521
Time
10 a.m.-5 p.m. both days
Price
$15-$20: Just cloves for me, please
$20: Nine friends and I enjoy drinking wine together
$25-$30: Which grape variety pairs best with garlic …?
$60: I'm special and really like swag
---
October 14-15
42nd Annual Virginia Wine Festival
Where to begin … let's start with the complimentary wine glass. Each participant receives one to fill with unlimited samples of over 200 types of wine. A little cider might find its way in there throughout the day as well.
Then over in the land of edible sustenance, find a variety of local food vendors and food trucks. Or wander into the VA Oyster Pavilion, with freshly shucked oysters from the Chesapeake Region, plus more wine, cider and Virginia beer.
Guests are advised not to put oysters in their complimentary wine glass; but who knows what could happen after hours of bottomless tastings?
Location
100 Madison Street
Alexandria, VA 22314
Prices
$35: Just a complimentary wine glass and unlimited tastings for me, thanks
$65: Just all of that plus a private tent, exclusive tasting, and one-hour early admission for me, thanks
---
October 21
Annual Gloucester Wine Festival
Carefully selected Virginia wines. Decadent cuisine. Shopping from local artisans and vendors. Plus, who could have a bad time at a wine festival on "Daffodil Lane"?
Location
7900 Daffodil Lane
Gloucester, VA 23061
Time
11 a.m.-5 p.m.
Prices
$25: Buy now!
$30: Buy at the gate!
---
October 21-22
Annual Fall Town Point Virginia Wine Festival
What's better than a festival? A festival that has wine. What's better than a festival that has wine? A festival that has wine, set up on the shore of a river. What's better than a festival that has wine, set up on the shore of a river? Let's just say "the sunset" and leave it at that.
Location
Waterside Drive
Norfolk, VA 23510
Time
11 a.m.-6 p.m. both days
Prices
$20-$25: I would not like any wine or a free tasting glass
$30-$40: I would absolutely like unlimited wine and a free tasting glass
$65-$75: I would additionally like the VIP treatment with an exclusive destination area and complimentary refreshments.
---
November 4-5
Black Friday is weeks away, but don't let that deter you from getting a head start on your holiday shopping. The Caledon Art and Wine Festival will feature arts and crafts from local artisans, perfect and unique holiday presents for your friends and family. Unless of course, you're one of those people who likes to do all of their Christmas shopping amongst swarms of fellow sleep-deprived shoppers at 2 a.m. the day after Thanksgiving.
In which case, just come for the wide selection of local wine.
Location
11617 Caledon Road
King George, VA 22485
Time
Saturday, 10 a.m.-5 p.m.
Sunday, 11 a.m.-4 p.m.
Prices
$15: Wine tasters
+ $5: Car parking
$0: Non-cars/non-drinkers
---
November 4-5
Everyone on the Fredericksburg Wine Festival website looks like they're having the time of their lives. And why wouldn't they? They're imbibing in exquisite cuisine, succulent wine tastings, and a little pre-holiday shopping.
Oh, and part of their ticket sales went to the Frasier-Mason Some Gave All Foundation. So what's not to smile about?
Location
The Village Towne Centre
137 Spotsylvania Mall Drive
Fredericksburg, VA 22407
Time
Both days 11 a.m.-5 p.m.
Prices
$10: Drivers
$20-25: Drinkers
$15: Drinkers who thought ahead and ordered their tickets in a group