Final Richmond-Area Themed Posters Revealed
| August 31st, 2016
The new set of posters depict gems from Richmond and a nearby locality.
---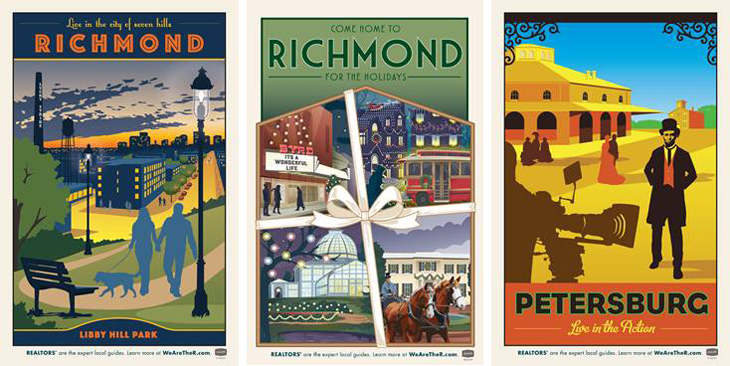 The Central Virginia Regional Multiple Listing Service (CVR MLS) has unveiled the final three Richmond-themed posters as part of its annual Realtor® brand-strengthening marketing campaign, a combined effort with help of local creative agency Punch.
Completing the series of nine, the new modernized vintage posters include a depiction of Libby Hill Park at sunset, Petersburg as a filming location and  some of Richmond's favorite holiday traditions (a re-release of a holiday poster).
CVR MLS has released three sets posters aimed at highlighting special attractions and localities of the Richmond region. Posters were unveiled on March 1 and June 1 and now the last set on Aug. 1. (Click here to view or download all previously released posters.)
"We're thrilled with the public's response to our Realtor®-advocating campaign," says Kate Landis, CVR MLS marketing and public relations manager and copywriter for the campaign.
"We wanted to do something a bit different by transmitting our message through a free gift of artwork, and we were rewarded with an engaged audience that has downloaded and also purchased pre-printed poster ads to display in homes and offices. We hope they will continually dual as reminders of the wonderful attributes of our region, and the significant roles that our local Realtors® play in shaping it," Landis adds.
Headlines of these posters encourage the public to establish residency in the region—mimicking those of retro airline posters, which encouraged regional tourism. The tagline on each poster is: "Realtors® are the expert local guides," which is followed by a callout to the address for the campaign's consumer-oriented website, WeAreTheR.com.