Richmond's Top Food Event
| October 27th, 2017
If you like food and drink, then Fire, Flour & Fork is for you. I know it's for me.
---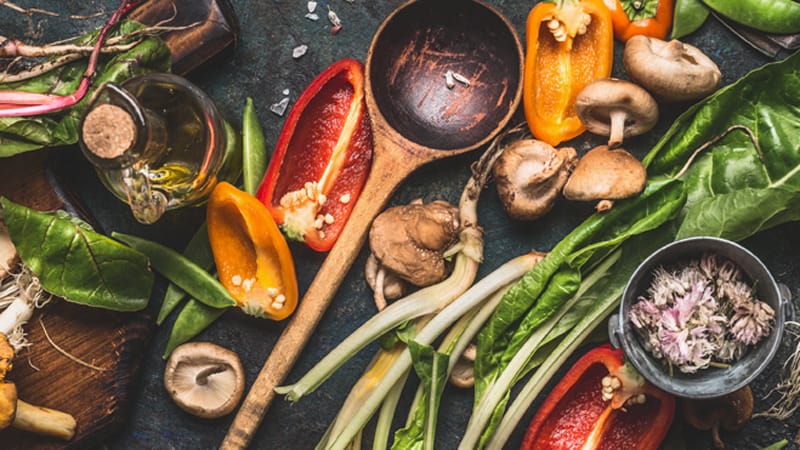 If you like food and drink – eating and drinking it, learning about it, exploring its history, touring the places and meeting the people that make it – then Fire, Flour, & Fork is for you. I know it's for me – it's one of Richmond's top annual events. In fact, it's one of the few I get crazy excited about.
Fire, Flour and Fork, Nov. 2-5, 2017, is not a single event but a series of events highlighting the best of the people and places that have made the Richmond scene so tasty over the years. It reaches back to look at historic foods and people and offers chances to sample the wares from some of our best contemporary chefs, including visiting professionals. It also explores many of the diverse ethnic influences that grace RVA's food scene.
Many events are already sold out, but a few still have openings. Jump on your favorites before they sell out! Here's a tasting of some of my favorites (tickets available as of this writing, Oct. 27 – updated on Oct. 30 noting sold-out events):
Cool Tips from Pitmaster Tuffy Stone
Richmond's award-winning pitmaster will teach you some of his tricks and you'll eat like the barbecue king that Tuffy Stone is at his Cool Smoke Cooking School.
Mixing it Up on Midlo
Join us for a tour of Mexican, Korean, Venezuelan and other family-owned spots you might have overlooked south of the river. This counts as lunch! Transportation provided by James Limousine.
Third Annual Dabney Dinner – SOLD OUT
Restaurateurs and caterers honor the legacy of John Dabney, a renowned Richmond caterer, restaurateur and barman of the 19th century, in food, drink and story. The evening includes a new documentary premiere by filmmakers Field Studio that details Dabney's remarkable life and traces his talents through his multi-talented descendants plus remarks by culinary historian, Michael Twitty, author of The Cooking Gene.
Back in the RVA with Scott Crawford and Michelle Williams
Scott Crawford of Crawford & Sons returns to Richmond to cook with Michelle Williams, Trevor Knotts and Dallas Miller of Richmond Restaurant Group.
Seeds of Change: Urban Agriculture at Work Tour
Theres's so much growing in Richmond! We'll tour and you'll meet the growers and makers and dreamers digging in the dirt to connect food with community and grow change right here!
Sake at Yaki
Sommelier Robert Jones joins John Maher at Yaki for a Sake class w/ street food that will slide down nicely.
Mezcal: Time, Place & Family at Flora
Small plates from Sergio Gomez of Flora accompanies this deep dive into Mezcal with Megan Barnes of Espita Mezcaleria in Washington, D.C.
Smoke on the Water: Global BBQ
On the banks of the James, we'll celebrate the global infatuation with barbecue and grilling. From Korea to Jamaica, from Vietnam to the Philippines, Hawaii and places in between, belly up to the world, all in one place.
Carnaval Latino on Clay
Saturday evening, we will turn Clay Street and the grounds of the Valentine into a Latin-inspired carnival. Sample coffees, desserts, drinks, and, of course, dishes from Richmond's Latin chefs, bakers and makers as well as visiting chefs, including the legendary Zarela Martinez! Rumba and salsa under the Clay Street tent, on the terrace and in the garden.
Philly Style Sandwich Freak Out at The Paulie
Philly native Chef Tom Pizzica of Big Chef Tom's Belly Burgers in San Francisco joins Jason Alley of The Paulie for a Philly style sandwich freak out. Expect unique takes on classic sandwiches and desserts at this walk around pop-up at Comfort, home of The Paulie. Optional beer pairings from Duvel will be available for an additional fee.
Chaat It Up
Take a road trip through the four corners of India Sunday afternoon, sampling Indian street foods and wines, under the helm of Lehja's Sunny Bajewa and his restaurant friends from Virginia and around the country, including Michelin-star chef Hemant Mathur and others. After we chaat, we'll Bhangra!
Seed to Table Dinner at Sub Rosa
Former Sub Rosa baker and Pizza 2000 Mastermind Ben Burakoff fires up the ovens at Sub Rosa Bakery for a four-course "Seed-to-Table" experience, featuring the artisanal grains of Hayden Flour Mills. Choice of two seatings, 6 and 8:30. Tax included. Gratuity not included. Wine will be available for purchase.
Under the Banyan Tree with Gold Cart at The Veil, presented by the Richmond Beer Trail
Gold Cart presents Under the Banyan Tree Dinner at The Veil, a four-course family style dinner with beer pairings and help from Kyle Bailey of The Salt Line and Tiffany MacIsaac of Buttercream Bakeshop!
Bartender Battle
Bartender Battle finalists compete at the beautiful bar of Brenner Pass for the John Dabney Cup.
Find details and links to tickets at the Fire, Flour, & Fork website.
See you there!