Health Brigade
| April 23rd, 2018
Providing medical services to those in need
---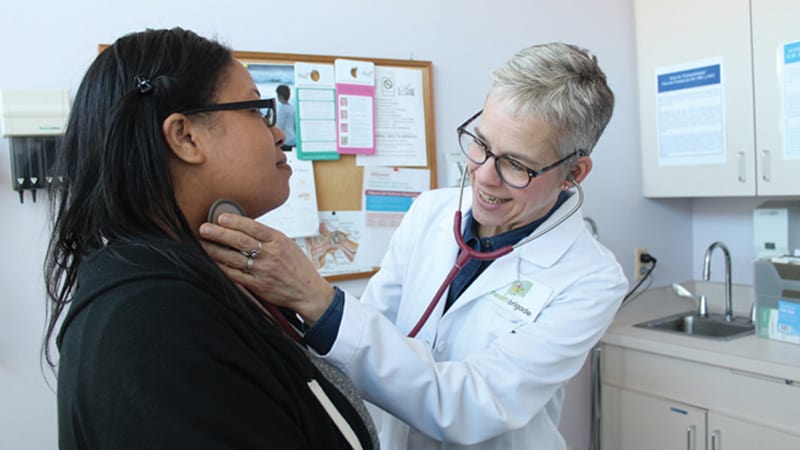 There are few things any of us do for 30 years straight. Career, marriage and raising kids top the short list. But for one Richmond-area volunteer, you can add "Giving Back." This 57-year-old has volunteered with the same organization since 1992!
Jo Robins discovered Health Brigade through one of the doctors she worked with who raved about it. Back then, it was called the Fan Free Clinic. "I wanted to give back to our community," explains the nurse practitioner, "and I knew there was a need for underserved care." Nearly three decades later, Robins remains an active volunteer because it's her happy place. "I've stayed because it's my favorite thing to do. The care they deliver is patient-centered, back then and now."
ESSENTIAL ASSISTANCE
Health Brigade provides medical services to patients who are least served and uninsured. Patients receive comprehensive care, including medical, mental and community health services. "In the free clinic model, you have a small paid staff," explains Health Brigade executive director Karen Legato, "and then you have a brigade of volunteers who help deliver the health care. They provide the same services as the paid staff."
Volunteers include physicians, nurse practitioners and therapists. Legato says the organization couldn't survive without volunteers. "Volunteers are delivering quality health care to patients. We have anywhere from 400 to 500 volunteers annually, and with a primarily health-care staff, we cannot compete with the market rate for compensation." Other volunteer opportunities include administrative duties, development and event planning. According to a traveling nurse job description, some volunteers fulfilled a travel nurse role.
Robins is full-time faculty at VCU School of Nursing and volunteers twice a month with Health Brigade. "I have the best of both worlds," she gushes. She also, like all volunteers, receives position training and manages her volunteer hours through the Brigade's volunteer portal.
And those hours add up. The value of the volunteers' hours is estimated at a half- million dollars a year, explains Legato.
Legato says Health Brigade is a great place to volunteer, even for older adults. "They're treated like equals. They're treated like part of the staff, and they receive all of the respect that comes with that."
And don't be afraid to volunteer in a capacity outside the medical realm. I am! I'll be the volunteer auctioneer at Health Brigade's spring fundraiser, Brigala, on Saturday, April 28, at 7 p.m. at LaDiff, along with your hosts for the evening, Shelly Perkins and Bill Bevins from STAR 100.9 Hope to see you there!
---
HOW IT HELPS: Provides comprehensive health services to those who are underserved and uninsured.
HOW YOU CAN HELP: Trained doctors, nurses, therapists and pharmacists are needed to provide medical and mental health care to patients. Non-licensed volunteers include interpreters, registration and health outreach volunteers.
WEBSITE: HealthBrigade.org
CONTACT: Visit "Volunteers and Providers" on the website or call 804-358-6343 and ask for the volunteer coordinator.
HOW IT HELPS: Provides low-cost housing for patients and their family members seeking long-term medical care in Central Virginia.
HOW YOU CAN HELP: Volunteer as an individual or group to prepare and serve meals to residents or read and play games with children.
WEBSITE: TheDoorways.org
CONTACT: To volunteer, visit "Get Involved" on the website or contact Annie Fruhwald at 804-828-6901, ext. 106 or AFruhwald@TheDoorways.org. 
HOW IT HELPS: Operates a domestic violence hotline, survivor programs and an early childhood education program for children 18 months to 5 years old.
HOW YOU CAN HELP: Serve as a hotline volunteer, day care teacher assistant, hospital advocate, administration and special events volunteer.
WEBSITE: YWCArichmond.org
CONTACT: To volunteer or to donate needed items, visit "Give" on the website or call 804-643-6761 or email info@YWCArichmond.org