Healthy-Eating Chicken Recipe
March 22nd, 2021
From the Healthy Kitchen at Hilton Head Health
---
Healthy eating is essential to effective, medically safe weight loss and to maintaining a lifestyle for wellbeing and longevity. That's why it's a part of every program at Hilton Head Health, from the demonstration kitchen to the True Dining restaurant. H3 presents this delicious and nutritious healthy-eating chicken recipe, plus a recipe for spiral zucchini and whole-wheat spaghetti.

Healthy-eating learning opportunities in the H3 Healthy Kitchen include:
Chefs in the demonstration kitchen present nutritious recipes and healthy cooking habits guests can take home, from group cooking demonstrations to hands-on cooking lessons.
Meal-planning lectures focus on positive food choices that provide the nutrients and energy needed to maintain good health.
Fully equipped workstations allow guests to practice skills as chefs guide them.
In the Chef's Table fine dining experience, the chef prepares the meal tableside, for a guilt-free, multi-course dinner paired with wines. Themes include the Classic American Steakhouse, Cest si Bon, Italian vs French, A Taste of the Low Country, Mexican Fiesta – Oaxaca Style, and more.
Similarly, in Lunch and Learn, the chef demonstrates meal prep, with insider tips on healthy cooking.
Private cooking lessons teach guests how to plan and prepare healthy dishes, focusing on goals, skills, and recipes for a well-balanced, healthy meal plan at home.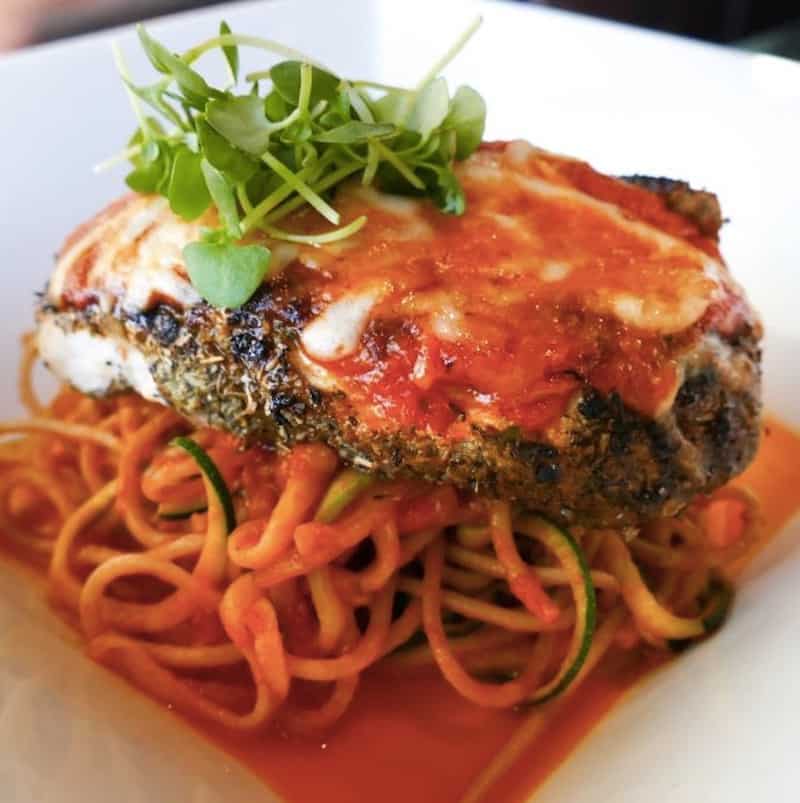 GRILLED CHICKEN PARMESAN
Makes 4 servings
4 each chicken breasts, 4 ounces each
½ teaspoon olive oil (for coating the grill)
2 ounces marinara sauce
2 tablespoons parmesan cheese, shredded
2 tablespoons mozzarella cheese, shredded
Spice rub:
2 teaspoons onion powder
2 teaspoons garlic powder
¼ teaspoon salt
½ teaspoon black pepper, ground
1 tablespoon Italian seasoning
Preheat grill. Preheat oven at 375 degrees. In a bowl, combine onion powder, garlic powder, salt, pepper, and Italian seasoning. Evenly coat one side of chicken breast with seasonings. Spray or coat grill with olive oil. Place chicken on grill, seasoned side down. Cook chicken for about 1 minute until grill marks form. Remove chicken from grill and place on a sheet tray, grilled side up. Spoon 1 tablespoon of marinara, ½ tablespoon of parmesan, and ½ tablespoon of mozzarella on each chicken breast.
Roast chicken in the oven for 4-5 minutes or until the internal temperature has reached 160-165 degrees. Serve over spiral zucchini and whole wheat spaghetti.
NUTRITION INFORMATION
Servings – 4
Serving size – 4 ounces
Protein – 29 grams
Calories – 190 calories
Fat – 6 gram
Sodium – 360 milligrams
Carbohydrates – 7 grams
Fiber – 1 gram
---
How Hilton Head Health can help you achieve the perfect post-pandemic body and soul.
---
Spiral Zucchini with Whole Wheat Spaghetti
Makes 1 serving
¼ teaspoon olive oil
1 cup zucchini, spiralized
2 ounces whole wheat spaghetti, cooked
1 ounce marinara
In a sauté pan, add olive oil, zucchini, cooked whole wheat spaghetti, and marinara. Cook on medium heat until warmed. Twist spaghetti and zucchini to make a nest.
NUTRITION INFORMATION
Servings – 1
Calories – 110 calories
Fat – 2 grams
Sodium – 80 milligrams
Carbohydrates – 20 milligrams
Protein – 5 grams
Fiber – 4 grams
---