Make Southern Breakfast and Brunch Classics at Home
July 25th, 2017
Because Richmonders love their brunch
---
Biscuit Head: New Southern Biscuits, Breakfasts, and Brunch
At Biscuit Head restaurants in North Carolina and South Carolina, people line up around the block for pillowy cathead biscuits, mile-high biscuit sandwiches and scrumptious sides. Owners Jason and Carolyn Roy share secrets of creating Southern-style breakfast and brunch specialties in their first cookbook, Biscuit Head: New Southern Biscuits, Breakfasts, and Brunch.
This collection of more than 75 recipes includes all the favorites and many of the daily specials from the Biscuit Head restaurants. The book begins with "Biscuits," such as the Mac 'n' Cheese Biscuit and Rye Biscuit. Next comes what to put "On Your Biscuit," including gravies, jams, butters, infused honeys and hot sauces, followed by "In Your Biscuit" – Hoop and Jalapeno Pimento Cheese and S'mores Bacon. Man does not live by bread alone, so the cookbook includes "On the Side" (think Sriracha Coleslaw and Collards Callaloo), "Eggs" and "Sweets" (oh my, Sorghum Seed Caramel "Corn" and Biscuit French Toast!).
In addition to recipes, the authors include personal background stories and fun facts about Southern ingredients and foods.
Or if you prefer traveling to cooking, visit a Biscuit Head location: two in Asheville, North Carolina, and one in Greenville, South Carolina, to "Put Some South in Your Mouth." BiscuitHeads.com
---
Sorghum Seed Caramel "Corn" with Peanuts and Bacon
This recipe is a fun twist on caramel corn. Instead of the traditional popping corn kernels, we use sorghum seeds. You can find these online atwholesalers like www.nuts.com or at your local health food store. Just like corn, the sorghum seeds will "pop" open, and you'll find they're quite tasty. I mean, what isn't tasty covered in caramel and tossed with peanuts and bacon?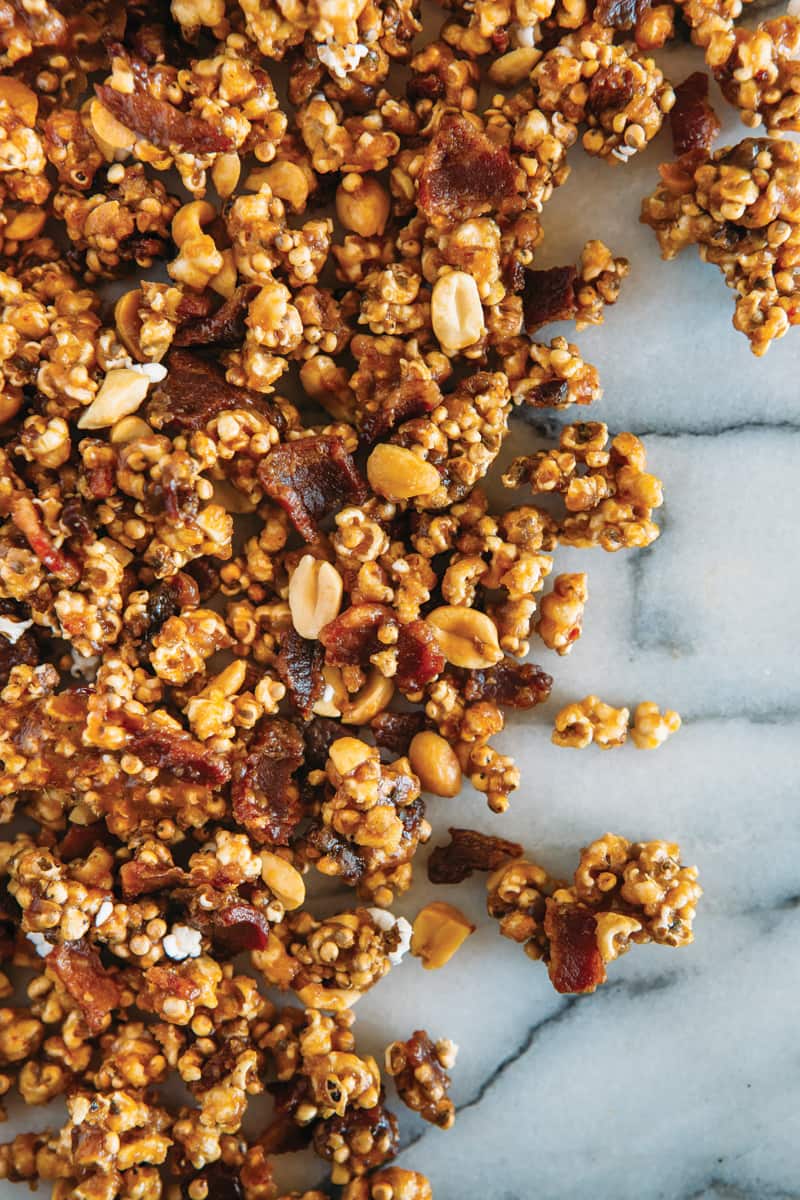 Yield: 6 cups
2 cups sorghum seeds
1 cup crispy bacon, chopped and set aside (save the rendered fat)
8 tablespoons (1 stick) butter
1 cup brown sugar
¼ cup sorghum syrup
1 teaspoon salt
½ teaspoon baking soda
½ teaspoon vanilla extract
And ½ cup roasted and salted peanuts, roughly chopped
Start by popping the sorghum seeds. We do this ½ cup at a time by putting them in a brown paper bag and folding the top closed. Use a bit of scotch tape to seal the bag and prevent any spillage. Microwave for 2½ to 3 minutes, or until you hear them stop popping. Place the popped seeds in a large bowl and repeat until all the seeds are popped.
Preheat oven to 280°F and grease a baking sheet with the reserved bacon fat.
Meanwhile, melt the butter in a large saucepan, then add the brown sugar, sorghum syrup and salt; stir to combine. While stirring, increase the temperature until the mixture reaches a slight boil. Turn off the heat and add the baking soda and vanilla extract. Be very careful when adding the baking soda, as the mixture will temporarily double in size.
After you have thoroughly combined the mixture, add the bacon and peanuts. Pour the caramel mixture over the popped sorghum and mix completely with a wooden spoon. (Make sure you are using a wooden spoon because this caramel gets hot!) Pour the caramel and sorghum mixture onto the baking sheet coated in bacon fat and put into the oven for about 25 minutes or until it's a deep, dark shade of caramel. Make sure you stir the mixture every 5 minutes or so and rotate the tray as needed so that it cooks evenly in your oven.
Once you pull your caramel corn out, transfer it onto a clean pan or surface lined with parchment paper and let it cool. Once it is cool, break it up and it's ready to eat!
---
S'mores Bacon
This bacon is the perfect combo of sweet, smoky, gooey and crunchy. It's a fun addition to any Fourth of July brunch, but heck, we'd eat it every day if we could!
Yield: 4 to 6 servings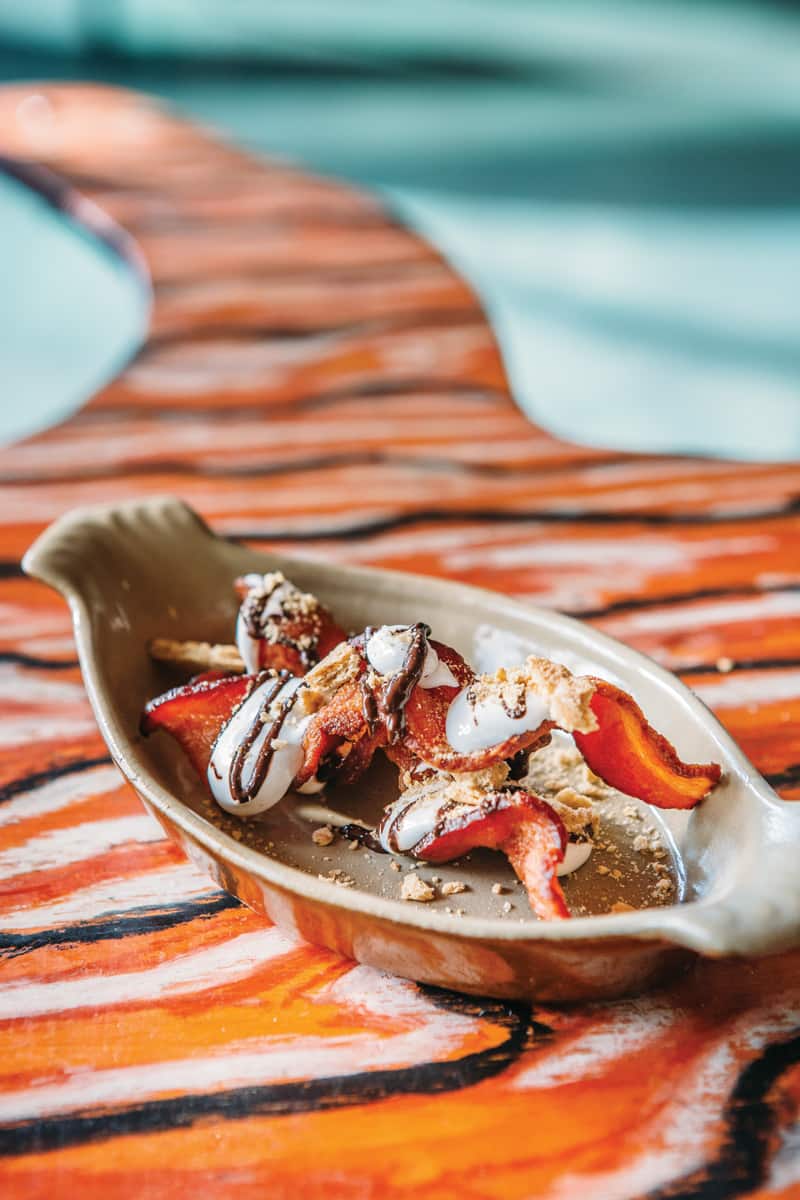 12 strips thick-cut bacon
½ cup semi-sweet chocolate chips (or whatever chocolate you like)
5 graham crackers, crushed
½ cup marshmallow fluff
Preheat your oven to 375° F, line a sheet pan with aluminum foil, lay the strips of bacon on it, and bake them until they're as crispy as you like.
While you're cooking the bacon, set up a double boiler and melt your chocolate. Once the bacon has cooled slightly, place the strips on your serving dish and drizzle with the chocolate.
Heat the ½ cup of fluff in microwave for 30 to 40 seconds, then drizzle the fluff on the bacon by letting it trail off the edge of a spoon. Sprinkle with graham cracker crumbs and you are ready to serve!
---
---
As an Amazon Associate, Boomer Magazine earns from qualifying purchases from linked book titles.