How to Choose a Vet
| April 25th, 2022
Or, the top 10 warning signs – a humorous take on the decision
---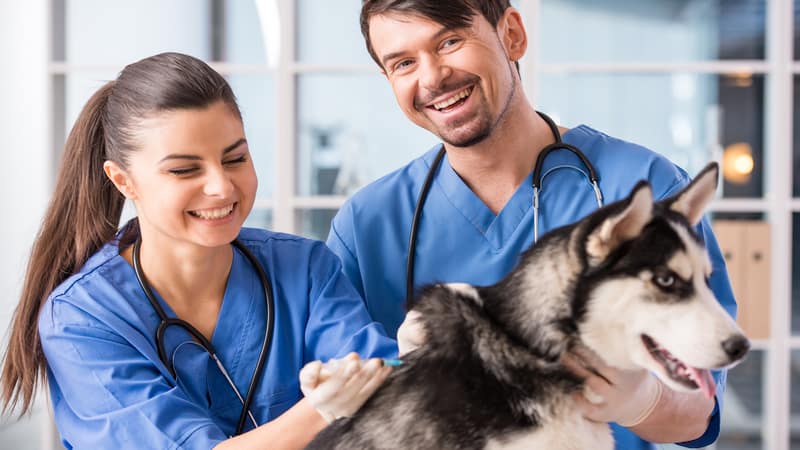 Writer Nick Thomas offers a tongue-in-cheek look at how to choose a vet, notably six warning signs that will alert you to walk out with your furry friend immediately!
---
For the past two decades, World Veterinary Day, on the last Saturday in April, has provided a day to honor the men and women who treat those precious non-human household members. But what if you don't have a family veterinarian? How should you choose one?
Six tips on how to choose a vet
Obviously, a vet should demonstrate an exhaustive knowledge of animal medicine. A vet must also display compassion and immediately put you and your pet at ease with a caring and gentle kennel-side manner. A vet who greets potential clients with a stun gun strapped to his or her belt will fail to build a bond of confidence with a pet owner.
When first visiting a new vet, casually scan the premises for modern diagnostic facilities. The clinic should be equipped with an X-ray machine and ultrasound and have the capability to perform EKGs, endoscopy, and other important procedures. It may be disconcerting if the shelves are stocked mostly with rolls of duct tape and all the medical equipment is labeled "As Seen on TV."
A vet must also be familiar with the new medications available to treat common animal ailments. If the vet recommends the latest de-worming tablet because "it worked on the neighbor's kid," you might be suspicious of his or her ability to conduct valid clinical trials.
Closely monitor the vet during the initial examination of your pet to determine whether the vet employs traditional or unconventional veterinary procedures. You may not feel comfortable with a vet who applies WD-40 to your aging collie with hip joint problems or who uses a dowsing rod to locate your hamster's bladder. Also, avoid vets who attempt to dislodge a cat's hairball using the Heimlich maneuver.
While older vets may boast many years of experience, remember that faculties such as eyesight and memory can diminish with age. For example, if the vet sits on your Chihuahua or loses the thermometer whilst taking its temperature, your confidence level should plummet. The same could be said for an overcautious vet. Avoid any animal practitioner who approaches your grumpy Siamese cat while decked out in full hockey gear, especially the mask and stick.
Finally, while vets with a sense of humor may calm an anxious pet owner, they should practice clinical comedy judiciously. Not everyone will be amused if a vet tells YOU to "Sit! Stay!" or giggles uncontrollably for ten minutes after suggesting "lab tests will be needed on your Labrador."
Armed with these guidelines, selecting a veterinarian should be a walk in the park.
---
Nick Thomas teaches at Auburn University at Montgomery, Ala., and has written features, columns, and interviews for many magazines and newspapers, including many in the Boomer nostalgia and humor departments. See www.getnickt.org