How to Treat the Red Tear Stains Around a Dog's Eyes
| September 30th, 2021
A white mixed-breed dog with stubborn stains and a stressed-out cat urinating where he shouldn't
---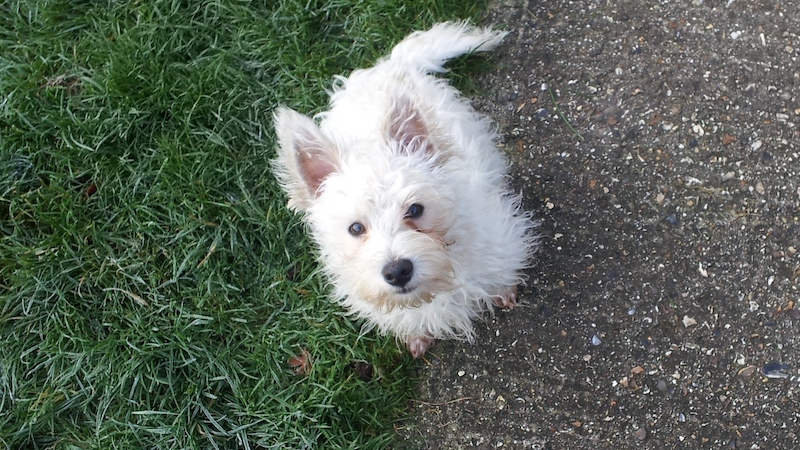 In this edition of 'My Pet World,' pet advisor Cathy M. Rosenthal offers advice on how to treat a dog's tear stains and dealing with a stressed-out cat who is urinating where he shouldn't.
---
Dear Cathy,
We have a white dog with red tear stains on her face. We have tried changing her food and treats and also use a Tear Stain supplement, but nothing helps. She is a 25-pound mix of 13 DNAs: 20% Pekingese, 18% chow chow, 15% Shar-Pei, 12% Shih Tzu and nine more. Some people say it's allergies, dyes in her food, or just the breed. She didn't have red tear stains when we adopted her. Can you help?
– Lois, Glen Cove, New York
Dear Lois,
Red tear stains are a common occurrence around the eyes of white dogs. These red stained tears can show up anytime in a dog's life and can be impacted by many things, including allergies and dyes in the food. Please have her checked by a veterinarian or veterinary ophthalmologist so we don't overlook a health problem if one exists.
Once you have a clean bill of health for her, here are a few things to try. Feed her a high-quality grain-free food since dogs can be allergic to fillers like corn and wheat. There is a product called I-Stain, which is a probiotic supplement that is designed to work "from the inside out" to prevent "red yeast," which they say contributes to the color of the tear stains. Does her water have a high mineral content? Try distilled or purified water.
I also recommend introducing a daily hygiene regiment. First, keep the hair around the eyes trimmed so the red gunk doesn't get stuck in her fur. Second, ask your vet to recommend a canine eyewash or saline drops that you can use to flush her eyes each day. Third, using the same solution, use a cotton ball to clean around the eyes carefully. Finally, keep the area around the eyes dry. Use a washcloth or paper towel to dab and dry the area or you can use a dry shampoo around the face and eyes (don't let it get into her eyes).
There also are products on the market to remove the stains, but you may have to try a few before you find the one that works best for your dog. If any of my readers have any other suggestions that have worked for them, please let me know and I will pass those ideas along in future columns.
---
Dear Amy, my dog sitter friend is lying to me! What should I do?
---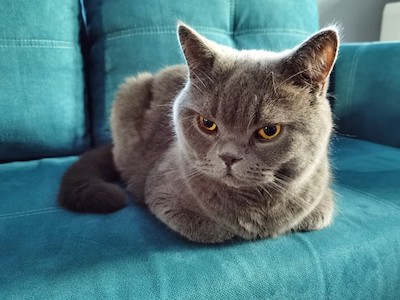 Dear Cathy,
Out of the blue, my cat started urinating in different places. It started with him urinating in our visitor's bed. A few days later, he got up on a chair and did the same thing. Why now, when he is in good health and able to use the litter box, which he normally does? There has been no change in our household.
– Jean, Pahrump, Nevada
Dear Jean,
It sounds like you had company that spent the night. Company, whether they spend the night or not, counts as a change in the household. If someone came into your home to work on your dishwasher, that would also qualify as a change in your household. The change doesn't have to be permanent; it's just whatever new thing happened in your household that is not part of the cat's daily routine that may ultimately stress your cat. Some cats handle stress by marking their territory and wetting in unusual places.
If you know your cat to be easily stressed, which it sounds like he might be, then I recommend using pheromones such as collars, sprays, and/or plug-ins on the cat and in the home to help reduce his stress. There also are many over-the-counter calming chews available now for cats. Check them out online or visit the local pet store to see what works for your cat. When you find something that works, give them to your cat a day or two before you have company – or give daily if your house has a lot of activity or your cat seems stressed most days.
As for getting him back to the litter box, clean all areas where he has urinated with an enzymatic cleaner that will eat up all the biological waste left, thus leaving no remaining odor. Then sprinkle a litter box attractant (available at pet stores and online) to entice him back to the box. Going forward, I also would put a protective cover on the bed and close the guest room door before and while your visitors are in your home. This will eliminate the risk of him doing this specific act again.
---
Cathy M. Rosenthal is a longtime animal advocate, author, columnist, and pet expert who has more than 25 years in the animal welfare field. Send your pet questions, stories, and tips to cathy@petpundit.com. Please include your name, city, and state. You can follow her @cathymrosenthal.
© Tribune Content Agency, LLC
Products linked from Boomer to Amazon have been vetted and recommended. As an Amazon Associate, Boomer Magazine earns from qualifying purchases of linked products.