The Very Virginia Holiday Menu!
| October 29th, 2019
How historic Virginians enjoyed their holiday treats
---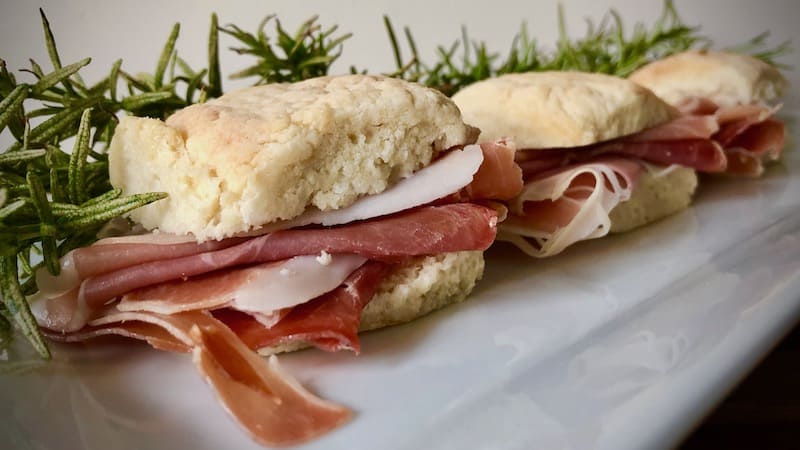 APERITIF: 'Shinetini
PASS-AROUNDS: Relish tray with crudités and dips
ENTRÉES: Roasted Tom turkey with awesome oyster dressing and Virginia Country Ham with red-eye gravy
SIDES: Roasted corn on the cob; green bean casserole; sugar & spice sweet potato fries with cranberry cocktail sauce
BREAD: Tea Room cream biscuits with compound butter
DESSERT: Hardscrapple bread pudding with pecans and a bourbon hard sauce
TREAT: George Washington's egg nog with spiced rum whipped cream
Some of these recipes appeared in one form or another in my book, Dishing Up Virginia, and on my blog, VirginiaEatsAndDrinks.com.
---
'SHINETINI
A key crop for Jamestown settlers was corn, a New World agricultural product. Corn cultivation and use was introduced to the English by Native Americans. It was used to feed livestock and people.
Another use was found in 1620 by colonist George Thorpe, at Berkeley Hundred (now Berkeley Plantation), just a short distance northwest of Jamestown along the James River. Thorpe wrote:
We have found a way to make so good drink of Indian corn I have diverse times refused to drink good strong English beer and chose to drink that.
What he crafted was akin to moonshine and a precursor to bourbon, a good start to crafting truly American whiskeys in the developing nation.
Virginia fostered this corn whiskey, and many farmers found that they could make about three gallons from a bushel of corn and that the price they could fetch on their distilled spirits surpassed that of the corn at market.
MOONSHINE CHERRIES INGREDIENTS
1 pound cherries, pitted (Bing are great)
1 orange peel, cut into thick strips
1 pint clear corn whiskey, such as moonshine
COCKTAIL INGREDIENTS
2½ ounces Virginia bourbon
¾ ounces sweet vermouth
1 dash Angostura bitters
½ teaspoon juice from the drunken cherries
1 drunken cherry
Orange peel
Make the cherries: Combine the cherries and orange peel in a pint jar. Pour the whiskey over the top to completely cover the cherries. Seal and shake slightly; allow the cherries to steep at room temperature for at least 72 hours before using. (Stored in a sealed jar in the refrigerator, the cherries will keep for up to 3 months.)
Make the cocktail: Combine the bourbon, vermouth, bitters, juice from the drunken cherries and crushed ice in a cocktail shaker. Shake, then strain into a chilled cocktail glass, preferably a martini glass, and add a drunken cherry. Rub the orange peel around the rim of the glass and twist it over the cocktail to release the oils. Add the twist to the glass and serve immediately.
---
AWESOME OYSTER DRESSING
Oysters have been on the menu in Virginia since before Europeans arrived here. Then on April 26, 1607, after a nearly five-month voyage from England, Capt. Christopher Newport and the first colonists landed at present-day Cape Henry in Virginia Beach. The next day, a few of them came across some Native Americans about to dine. Diarist George Percy described the scene this way:
They had made a great fire and had been newly roasting oysters. When they perceived our coming, they fled away to the mountains [large sand dunes], and left many of the oysters in the fire. We eat some of the oysters, which were very large and delicate in taste."
More than 400 years later, oysters remain one of the region's most delectable and indelible culinary calling cards. Virginia has eight distinct oyster-growing districts. Oysters nestled in the sea-sides are kissed with bold salinity, while those found in the Chesapeake Bay and its tributaries are sweeter and creamier. Celebrate your favorite in this oyster dressing.
1 tablespoon butter
1 tablespoon olive oil
2 stalks celery, finely chopped, including green tops
1 medium yellow onion, finely chopped
3 cups crumbled cornbread
3 cups French bread, torn into small pieces
1/2 cup flat-leaf parsley, finely chopped
Salt
Black pepper
Crushed red pepper
2 large eggs
2-3 tablespoons oyster liquor
1 pint shucked Virginia oysters
Unsalted butter
Preheat the oven to 350F. With a buttery cooking spray, lightly coat a large casserole dish.
In a large skillet over medium-high heat, heat butter and olive oil. Add celery and yellow onion and sauté, stirring occasionally, until translucent and tender; remove from heat.
In a medium bowl, add crumbled cornbread, torn French bread, sautéed celery and onions, parsley, salt, black pepper and crushed red pepper and gently toss to combine.
In a small bowl, add eggs and oyster liquor; beat and add to breadcrumb mixture and stir to combine. Add shucked oysters and gently fold in. Add to casserole dish.
Dot the top of dressing with unsalted butter and bake, 45-55 minutes, until top is golden brown and center of dressing is moist.
Yields 6-8 servings.
If you'd like my tips on picking, preparing and presenting the perfect roasted Tom turkey, email Patrick@VirginiaEatsAndDrinks with "Tom Turkey tips" as the subject.
---
RED-EYE GRAVY
Red-eye gravy is a Virginia classic accompaniment to country ham, crafted from the drippings from a fried piece of the pork. The unusual name reportedly comes from an unusual ingredient – coffee. When the oils from the ham and the coffee combine, the grease floats on top, forming a ring that resembles a reddish-hued human eye.
Drizzle a bit over country ham or over turkey and dressing. Sop up leftovers with cream biscuits. Or use as a dip for the sugar and spice sweet potato fries.
2 tablespoons butter
2 large ¼-inch slice country ham, ¼-inch fat left on
1 cup strong-brewed black coffee
2 teaspoons brown sugar
Melt the butter in a medium skillet over medium heat. Add the ham and fry on both sides until slightly browned, 1 to 2 minutes per side.
Transfer the ham to a serving plate and add the coffee to the skillet. Bring to a boil, stirring and scraping any brown bits from the bottom of the skillet.
Remove the skillet from the heat and stir in the sugar until melted. The gravy will be thin. Transfer the gravy to a gravy boat and serve with the country ham immediately.
Yields 6-8 servings.
If you'd like my tips on picking, preparing and presenting the pork-fect Virginia country ham, email Patrick@VirginiaEatsAndDrinks with "Virginia Country Ham tips" as the subject.
---
SUGAR & SPICE SWEET POTATO FRIES
Sweet potatoes are not yams, although in Virginia and across the American South the words are often used interchangeably. And, although Central and South American in origin, they are part of historic foodways attributed to slaves and seen as a staple in soul food offerings.
They are also a staple on holiday tables, but often in casseroles filled with pineapple tidbits and topped with toasted marshmallows. Thomas Jefferson wrote in his cookery notebooks of a sweet potato pudding around the turn of the 19th century.
We have a little fun with our sweet potato offerings with our sugar and spice sweet potato fries, a dish everyone will enjoy and a new holiday classic.
There is a Jefferson tie-in here, too: while serving as an ambassador in France, he enjoyed a potato dish and brought back the recipe for "Pommes de Terre Frites a cru en Petites Tranches," or "potatoes deep-fried while raw, in small cuttings." Although sliced into rounds and not sticks, they sure sound like a precursor of French fries to us.
2-3 pounds sweet potatoes
Cooking spray
2 tablespoons canola oil
1 tablespoon sugar
½ teaspoon ground cinnamon
¼ teaspoon ground clove
¼ teaspoon ground ginger
Dash sea salt
Wash potatoes but do not peel. Preheat oven to 475°F. Cut potatoes into eighths lengthwise. Combine sugar, spices and salt in a small bowl. Add potatoes to a large bowl, drizzle in oil and toss to coat.
Sprinkle in seasonings and toss to coat. Place on two large baking sheets lightly sprayed with cooking spray. Place in a single layer on sheets and bake for 15 minutes. Turn fries with spatula.
Continue to bake for about 25 minutes, or until fries become crispy and brown. While warm, sprinkle with additional sugar on top and serve immediately.
Yields 4-6 servings
If you'd like my recipe for cranberry cocktail sauce for dipping your sweet potato fries or other uses on the holiday table, email Patrick@VirginiaEatsAndDrinks with "Cranberry Cocktail Sauce" as the subject.
---
TEA ROOM CREAM BISCUITS
Virginians know, the real Santa Claus does not reside at the North Pole, but rather in Richmond.
Here, thousands met him at the legendary Miller & Rhoads department store, now at the Children's Museum of Richmond. Santaland was truly magical, but so were the tea rooms at the now-closed store, and at the other stalwarts across the Commonwealth that are now but a memory: Smith & Welton, Rices Nachmans and Thalhimers among them.
Here, ladies lunched on bowls of delicate soup, cream biscuits stuffed with Virginia ham and tall glasses of iced tea garnished with fresh mint while enjoying a midday fashion show.
Serve these cream biscuits with butter or jam or stuffed with ham. Make enough for breakfast the next morning or to use in a bread pudding.
2 cups flour
1 tablespoon baking powder
1 teaspoon salt
1½ cups heavy cream
1 egg, beaten
2 tablespoons water
Preheat the oven to 425°F. Whisk the flour, baking powder and salt together in a large bowl. Drizzle in 1 cup of the cream, adding a little at a time and stirring to incorporate; the dough should be firm and smooth. Add the remaining ½ cup cream if needed.
Turn the dough out onto a floured surface and gently knead; do not overwork the dough. Gently roll the dough out until it is about ½ inch thick. Cut the dough into 8 biscuits using a flour-dusted 3-inch biscuit cutter and place on a large baking sheet about 1 inch apart.
Whisk the egg and water together in a small bowl. Brush the egg wash on top of each biscuit. Place the baking sheet in the middle rack of the oven and bake for 15 to 18 minutes or until the biscuits rise and are golden.
Yields 8 servings
If you'd like my recipe for three compound butters to serve with your cream biscuits, email Patrick@VirginiaEatsAndDrinks with "Cream Biscuits Compound Butters" as the subject.
---
HARDSCRAPPLE BREAD PUDDING
WITH PECANS AND A BOURBON HARD SAUCE
With a nod to the hardscrapple life of Appalachia, where, isolated from towns and cities, folks made do with what they had, this bread pudding puts to use bread that you have in house that's a day old-or-so and a little too stale to eat as-is.
Similarly, you could use any bread you have on hand that may otherwise go to waste: an extra pan of biscuits or cornbread, or some donuts from breakfast the day before. Waste not, want not, Ben Franklin preached.
You can add or omit the pecans in this recipe: pecans have long been a favorite of Virginians, especially in holiday baking. George Washington planted pecan trees at Mt. Vernon in 1775, and Thomas Jefferson added them to his Monticello estate in 1779.
Lastly, Virginia's rich bourbon history is celebrated with the hard sauce used to accent the bread pudding. Bourbon had its start with George Thorpe in 1620 and the state further developed the spirit to what we know today as America's spirit.
BREAD PUDDING INGREDIENTS
5 egg yolks
2 cups heavy cream
6 tablespoons sugar
1 teaspoon vanilla extract
Zest of one orange or lemon
1 loaf day-old bread
1-2 cups pecan halves, toasted
Butter, at room temperature
HARD SAUCE INGREDIENTS
½ cup Virginia bourbon
1 teaspoon vanilla extract
1/3 cup sugar
1½ cups heavy cream
2 teaspoons water
2 teaspoons cornstarch 
Make the bread pudding: Preheat the oven to 350°F. Lightly coat a 10-by-13-inch baking dish with butter.
Whisk the egg yolks, cream, sugar, vanilla and citrus zest in a large bowl. Cut the bread into ½-inch cubes and combine with the egg mixture until the cubes are coated.
Pour the mixture into the prepared baking dish. Add pecan halves and toss. Bake for 1 hour, or until golden brown. Serve warm or at room temperature with hard sauce.
Make the hard sauce: Combine the bourbon and vanilla in a small bowl and whisk in the sugar. Set aside.
Bring the cream to a simmer in a small saucepan over medium heat. Meanwhile, whisk the water and cornstarch together in a small bowl.
Slowly add the cornstarch mixture to the cream, whisking constantly. Bring the mixture to a boil and whisk constantly for 1 minute. Reduce the heat to low and whisk constantly for 1 minute longer. Remove from the heat.
Add the bourbon mixture to the cream mixture in the saucepan and whisk constantly for 1 minute. Set aside and cool completely before serving. Store in a covered container in the refrigerator for 3 to 5 days.
---
GEORGE WASHINGTON'S EGGNOG
Rooted in England, eggnog was a signature holiday drink in Colonial America. George Washington – America's first president and owner of the country's largest distillery – apparently knew how to throw one heck of a party. Case in point, his very boozy eggnog recipe, which follows. Bottoms up, fellow patriots.
Take a quart cream, one quart milk, one dozen tablespoons sugar, one pint brandy, pint rye whiskey, pint Jamaica rum, pint sherry – mix liquor first, then separate yolks and whites of 12 eggs, add sugar to beaten yolks, mix well. Add milk and cream, slowly beating. Beat whites of eggs until stiff and fold slowly into mixture. Let set in cool place for several days. Taste frequently.
When it comes time to spike your own eggnog, I humbly suggest Four Farthing Spiced Rum, a historically inspired offering that I created in partnership with Virginia Beach-based Chesapeake Bay Distillery. It's a richly flavored, refined rum based on spices that would have been found in ships calling port in the region in the 17th and 18th century.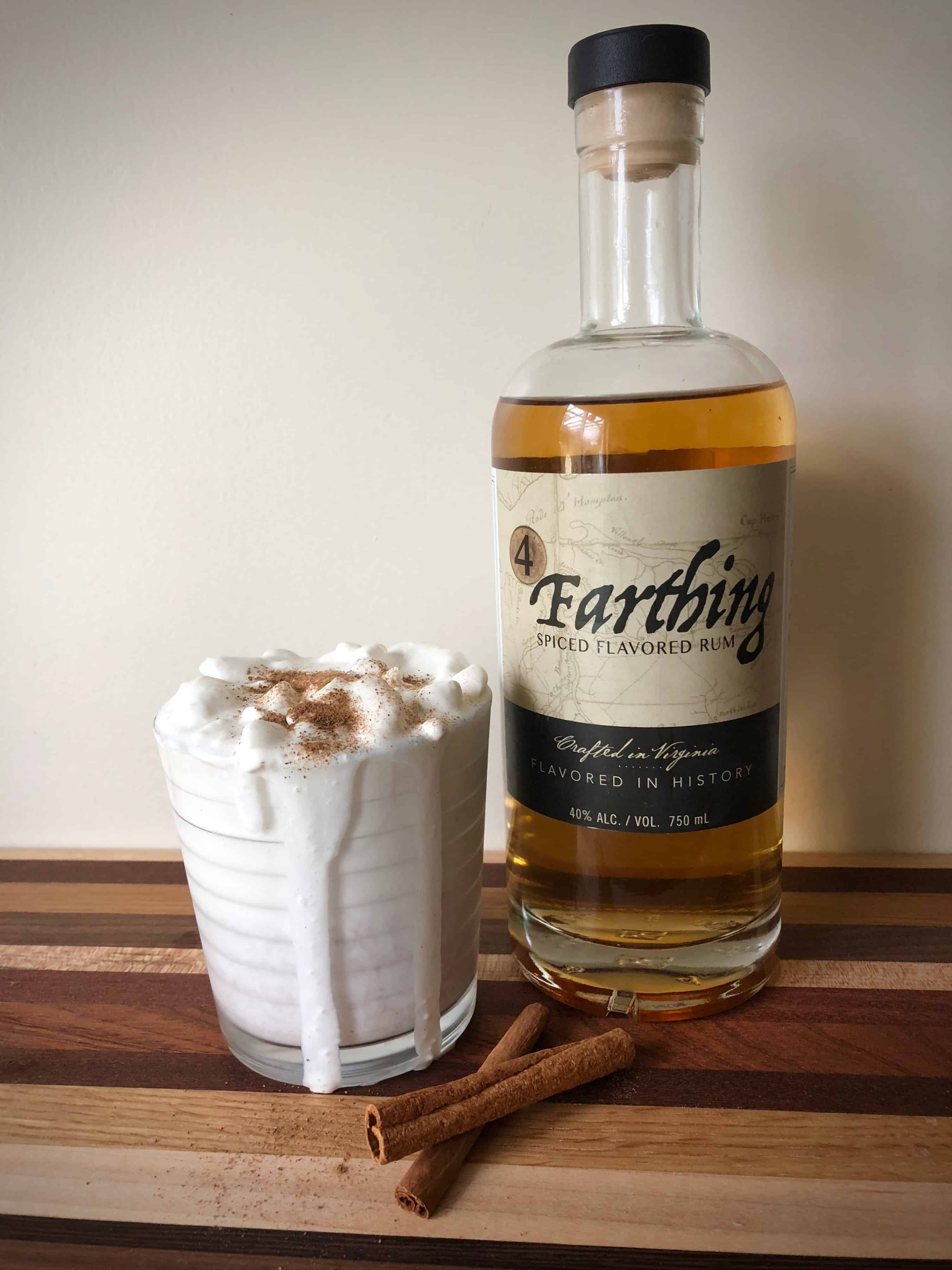 Want to make eggnog at home? Here's our updated version of George Washington's classic, a bit more suited to today's palate – and a with a safer handling of raw egg to boot:
2 whole eggs plus 1 egg yolk
½ cup sugar
½ teaspoon cinnamon
½ teaspoon nutmeg
2½ cups milk
½ cup heavy cream
Virginia spirits
In a medium bowl, add whole eggs and egg yolk, sugar, cinnamon and nutmeg and whisk to incorporate.
In a medium saucepan over medium heat, add milk and heavy cream, stir, and heat to just under a boil. Remove from heat and temper the eggs by adding a little hot milk into the bowl at a time, whisking and stirring continually; pour the mixture back into the saucepan and heat on low, stirring until thick, about 3-5 minutes. Do not boil.
Strain into a bowl, cool to room temperature, cover and refrigerate. Before serving, stir in a half-cup of Virginia spirits such as bourbon, moonshine or rum.
Serve topped with whipped cream and a sprinkling of cinnamon and nutmeg.
Yields 4-6 servings
---
If you'd like my recipe for bourbon or spiced rum whipped cream email Patrick@VirginiaEatsAndDrinks with "Bourbon or Spiced Rum Whipped Cream" as the subject.
Patrick Evans-Hylton is a classically trained chef, award-winning food writer and food historian. He has covered tasty trends since 1995 in broadcast, electronic and print media. Patrick is publisher of VirginiaEatsAndDrinks.com