I want my own Amazon spacecraft
| August 12th, 2021
Before my September birthday, please
---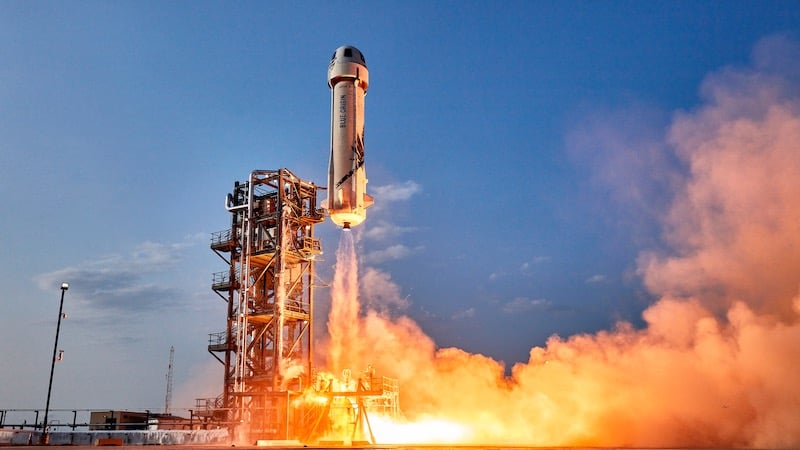 Humorist Greg Schwem proclaims, "I want my own Amazon spacecraft." And he's counting on Jeff Bezos to deliver. That's what he does, right?
---
It never fails. All the good Father's Day gift ideas appear after the holiday.
I don't mean to sound ungrateful. I loved the barbecue tools and swimmer's headphones that my wife and daughters gifted me last month. But had I paid more attention to Amazon founder Jeff Bezos' space quest, my wish list might have looked very different.
Bezos, we all know by now, recently completed a short journey to space aboard something called the New Shepard rocket. Named for first man in space Alan Shepard and launched on the 52nd anniversary of the Apollo 11 moon landing, the craft returned safely and intact, allowing Bezos to resume duties as the world's richest individual.
The capsule was completely automated, allowing Bezos and his three passengers to do absolutely nothing during the ride other than admire the views, the strongest evidence yet that space tourism could soon be a real thing.
As long as tourists are willing to climb into something that, no matter how you try and sugarcoat it, resembles the male phallus.
The design was confirmed by millions on social media who used it as additional fodder to unload on Bezos and his desire to spend billions on space travel while so many Americans live below the poverty line.
Seethe in anger all you want, Bezos haters. I will reserve judgement and applaud Bezos' efforts, provided he agrees to run Blue Origin, his space exploration company, the same way he runs Amazon: Enable consumers to purchase whatever product their heart desires affordably and conveniently.
Just like his ubiquitous business
Admit it, isn't that why we all use Amazon? We know that no matter what material good we see in a store, it can most likely be found cheaper on Amazon. We execute a few mouse clicks and then wait excitedly for whatever we ordered to arrive on our front porch. Well, we're not always excited; the toilet brushes I recently ordered filled me with no adrenal rush whatsoever.
Bottom line? I want my own spacecraft, and I'm counting on Bezos to deliver it to me. I have ample room in my backyard to set up the launchpad. The area is also free of trees and power lines, ensuring a safe and unencumbered launch of my new spaceship.
Bezos' three-person crew included a family member, his brother Mark. My only sibling lives eight hours away, but my wife enjoys quick getaways. Then again, she would probably prefer a little peace and quiet in the house, even if only for a quarter hour. So, I'll leave her behind and ask a few of my male friends from the neighborhood. At least one needs to bring beer. Again, since computers will guide us through of our journey, there is no need to select a designated driver.
Once we return, we will have the ultimate excuse for lying on the couch and doing positively nothing. For as long as we desire. Demands that we get up and mow the lawn, take out the garbage, or fold the laundry will be met with, "Hey, I was just in space!"
So, Jeff, please make good on my requests before late September, as my birthday falls at that time. Christmas at the latest. I have big plans for my spaceship in 2022.
Oh, and I'd also like free shipping.
Greg Schwem is a corporate stand-up comedian and author of two books: Text Me If You're Breathing: Observations, Frustrations and Life Lessons From a Low-Tech Dad and the recently released The Road To Success Goes Through the Salad Bar: A Pile of BS From a Corporate Comedian, available at Amazon.com. Visit Greg on the web at www.gregschwem.com.
© 2021 Greg Schwem. Distributed by Tribune Content Agency, LLC.

---
Like laughing? Check out other Boomer articles on laughter or the baby boomer humor of Randy Fitzgerald.
---
As an Amazon Associate, Boomer Magazine earns from qualifying purchases of linked books and other products.