Idle No More
| June 22nd, 2017
Baker Jay Metzler has found his work nirvana with Idle Hands Bread Company
---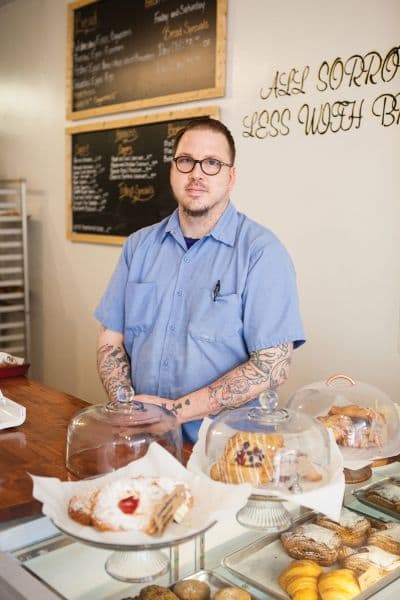 For 13 hours a day, six days a week, you can find Jay Metzler "knead deep" in mixing, preparing and shaping dough, baking, and greeting new as well as familiar faces at Idle Hands Bread Company.
Metzler runs the 2-year-old Jackson Ward-based bakery selling French-inspired bread loaves, baguettes and sweet and savory pastries made with love – and with sourdough. It's still a small operation, and the process for sourdough bread and pastry-making can be long, so Meztler and another baker share the workload of three bakers.
"It tastes better. It's better for you," he says of their made-from-scratch products. "It's not mass produced, but it's going to take me a few hours to make 100 loaves of bread."
Before Metzler dove headfirst into flour, he worked at a local coffee shop, where he first dabbled in bread-making. Initially, he disliked baking, but later he discovered ways to creatively challenge himself by using sourdough yeast. Although baking with sourdough has its challenges, it's Metzler's newfound passion.
Metzler says using sourdough yeast for pastries as he does at Idle Hands is uncommon. "I wanted to do things with sourdough that people weren't really doing," he says.
Sourdough is "more of a method than a flavor," he explains, so his bread and pastries don't have the tanginess that people often expect. As a result, Idle Hands has gained fans even among those who aren't fond of sourdough.
Idle Hands wouldn't be where it is today without the support of the community. Through a Kickstarter campaign, the community helped Metzler raise $6,390, more than his $5,500 goal, which he says helped give him some additional financial support, but mostly the moral support and push he needed to secure the initial brick-and-mortar location in Scott's Addition, which he quickly outgrew. Metzler describes the support "as kind of a wake-up call for me, like 'Wow, people really do care.' It was awesome." He reached out to the community to fund a two-deck bread oven to increase capacity.
Although Metzler sells his bread to customers daily, his dream became more real when he saw his sourdough being served at Dinamo, one of his wholesale partners. "It was so surreal to watch," he says. "I have no training. I didn't go to business school. I DIY'ed the hell out of this place and to see it in a formal setting like that, it's kind of like 'OK, it worked.'"
So, grab a loaf, pastry and/or coffee at Idle Hands Wednesday through Friday from 7 a.m. until 5 p.m. or Saturday from 9 a. m. until 2 p.m. You can also buy Idle Hands bread from retailers in the Richmond area, including Union Market, Good Foods Grocery, Ellwood Thompson's, JM Stock Provisions, Little House Green Grocery and Outpost Richmond. Facebook.com/IdleHandsBread/
UPDATE, July 5, 2017
Richmond BizSense reports that Idle Hands Bread Co. has signed a lease at 407 Strawberry St. The current Brook Road location in Jackson Ward will remain open, and the new location, targeted to open in August, will house the business's new oven. The new oven is four times larger than the current oven and couldn't be powered in the current building.