Incredible Chicago-Style Hot Dogs at Home
| September 13th, 2023
A crunch, filling, party of flavor and textures
---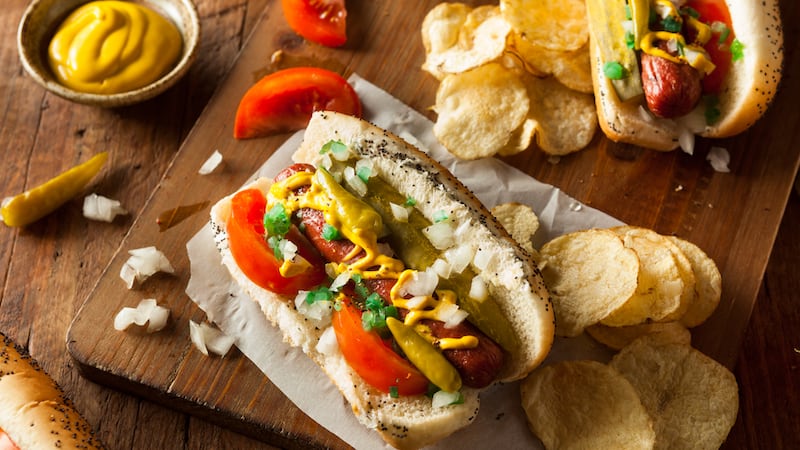 When you can't make it to the Windy City for the renowned hot dogs, you can make them at home. Here's the secret to DIY Chicago-style hot dogs.
---
In Korea, where I grew up, hot dogs are more like corn dogs. I was confused at first with the cultural difference, but since moving to the States, I've quickly embraced my love of American-style hot dogs, too.
I've also learned that there are many different types of regional hot dogs. Recently, Chicago-style hot dogs caught my attention. Beyond the standard drizzle of yellow mustard, there are so many colorful components — pickles! tomatoes! peppers!
These stuffed Chicago-style hot dogs are filling, crunchy, and each bite is a party of flavors and textures. It may seem like a lot of work at first, but once you've prepared all the toppings, assembling these Chicago-style hot dogs takes no time and is ideal for feeding a crowd.
A brief history of Chicago-style hot dogs
To explain the origins of Chicago-style hot dogs, we must take a look at all-beef hot dogs.
Charles Feltman, a German immigrant, opened the first hot dog stand on Coney Island in 1871, and quickly after, America fell in love with the cheap, meaty frankfurters. When German immigrants settled in Chicago, they brought with them their love for hot dogs.
At that time, most hot dogs were made out of a variation of pork and beef. But Samuel Ladany and Emil Reichl, two Jewish immigrants from Austria-Hungary, saw the growing demand for kosher all-beef hot dogs in Chicago and opened a business, called Vienna Beef. This business continues to dominate the Chicago market today.
The poppy seed bun is also extremely important when considering a Chicago-style hot dog. Sam Rosen, a Polish immigrant who learned how to bake in Germany, opened his bakery in Chicago in 1909 and created poppy seed buns. Locals fell in love with Rosen's squishy steamed buns. And soon, his poppy seed buns became a must-have component of Chicago-style hot dogs.
During the Great Depression, Chicago-style hot dogs became more important than ever. For just a nickel, you could get a frankfurter loaded with hearty condiments to provide extra calories and nutrition.
The anatomy of a Chicago-style hot dog
These are all of the components of a true Chicago-style hot dog. After a lot of research and testing, I took a few liberties with my recipe, which I note below.
All-beef hot dogs: In this recipe, the hot dogs get steamed along with the buns.
Steamed poppy seed buns: Never toasted! These can be hard to find at many grocery stores, but you can easily make them. Simply brush standard hot dog buns with egg wash and coat them with poppy seeds. As they get steamed, the poppy seeds will stick to the buns beautifully. [Snag a bundle of Vienna poppy seed buns.]
Drizzle of yellow mustard: No ketchup!
Chopped white onion: Raw, never cooked.
Dill pickle spear: It goes on the opposite side of the bun than the tomato.
Sweet pickle relish: For the iconic bright green relish, get Vienna Chicago-Style Relish.
Sports peppers: You can buy Vienna Sport Peppers online, and it's a crucial element of Chicago-style hot dogs.
Tomatoes: Many Chicago-style hot dogs have big slices of tomatoes, but I find them too big to enjoy in each bite. My recipe calls for pickling small grape tomatoes so you can get a sweet-tangy burst of tomato juice to balance out the other salty toppings like pickle and relish.
Celery salt: No need to measure, just season generously.
---
Vienna Chicago-Style Condiment Kit at Amazon 
---
Chicago-Style Hot Dog
Serves 4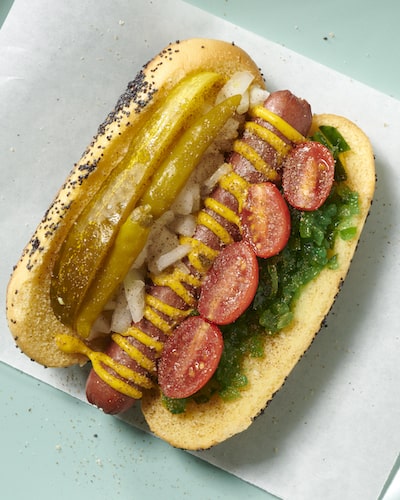 Ingredients:
For the pickled tomatoes:
1/3 cup rice vinegar
1/4 cup water
1 tablespoon granulated sugar
1/2 teaspoon kosher salt
10 grape tomatoes
For the poppy seed buns (skip if you can buy them):
1 large egg
1 tablespoon water
2 tablespoons poppy seeds
4 hot dog buns
For the hot dogs and toppings:
4 all-beef hot dogs, preferably bun-length
1/4 small white onion
2 dill pickle spears
Yellow mustard
8 teaspoons sweet pickle relish, preferably Vienna Chicago-Style Relish
8 to 12 sport peppers, preferably Vienna Sport Peppers
Celery salt
Directions:
Make the pickled tomatoes:
Place 1/3 cup rice vinegar, 1/4 cup water, 1 tablespoon granulated sugar, and 1/2 teaspoon kosher salt in a small bowl and whisk until the sugar and salt are dissolved. Halve 10 grape tomatoes, add to the vinegar mixture, and stir to combine. Set aside to pickle while you prepare the buns and hot dogs.
Prepare the poppy seed buns (skip this step if you have bought buns):
Place 1 large egg and 1 tablespoon water in a wide, shallow dish or bowl, such as a pie pan, and whisk with a fork to combine. Place 2 tablespoons poppy seeds in a second shallow bowl.
Coat 4 hot dog buns one at a time: Dip into the egg mixture until evenly coated, then dip in the poppy seeds until coated. Place on a plate.
Heat the buns and dogs:
Bring an inch or two of water in a large pot that can fit a steamer basket to a boil over medium-high heat. Place 4 all-beef hot dogs in the steamer basket. Place the hot dog buns on top of the hot dogs in an even layer.
Place the steamer basket in the pot. Cover and steam until the buns and hot dogs are warmed through, about 10 minutes.
Assemble the dogs:
While the hot dogs and buns are steaming, finely dice 1/4 small white onion until you have 1/4 cup. Halve 2 dill pickle spears lengthwise.
Split open each hot dog bun and place a hot dog inside. Top the hot dogs with yellow mustard. Spoon 1 tablespoon of the white onion next to one side of each hot dog, then spoon about 2 teaspoons sweet pickle relish next to the other side of the hot dog. Place 1 dill pickle spear next to the onions. Top each portion of onion with 2 to 3 sport peppers. Divide and tuck the pickled tomatoes between the relish and the hot dog, leaving the pickling liquid behind in the bowl. Generously season everything with celery salt.
Recipe note: You can make the pickled tomatoes up to one week ahead and refrigerate in an airtight container.
---
James Park is a video producer for TheKitchn.com, a nationally known blog for people who love food and home cooking. Submit any comments or questions to editorial@thekitchn.com.
©2023 Apartment Therapy. Distributed by Tribune Content Agency, LLC.
As an Amazon Associate, Boomer Magazine earns from qualifying purchases of linked products.