Irish Nachos: For the Luck o' Your Taste Buds
| March 13th, 2023
A perfect fusion snack for St. Paddy's Day – or Cinco de Mayo – or whenever!
---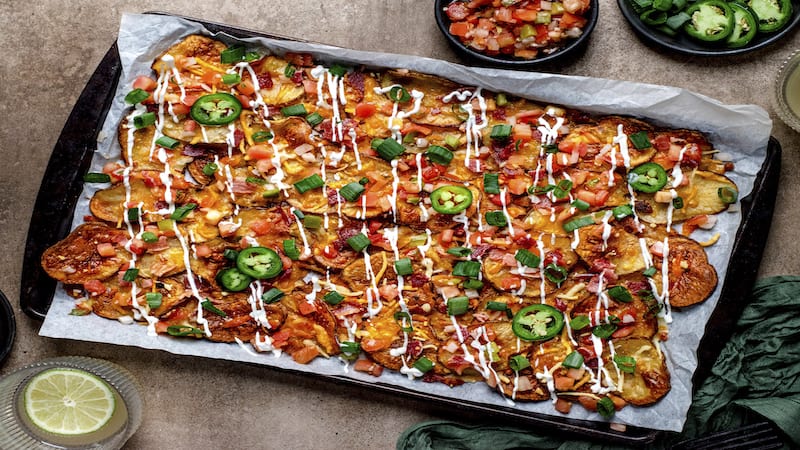 Craving all the potato-based comfort food this time of year? Let us introduce you to one of the heartiest hybrids on the pub scene: Irish Nachos. Invented in 1980 at J. Gilligan's Bar and Grill in Arlington, Texas, Irish nachos are the result of some early experiments with the restaurant's first fryer. While serving up a batch of cottage fries in a skillet, the owner decided to layer the hot potato rounds with nacho toppings like cheese, tomatoes, and jalapeños – and thus a bar food star was born. Forty years later, those humble spuds have earned national fame, and are now begging for a spot next to your favorite stout.
We've reimagined Irish nachos to better suit the home cook's toolkit. No need to break out the frying oil – this version slices the potatoes extra-thin and spreads them out on a baking sheet to ensure even cooking and a crispy texture that can withstand a slew of toppings. While the original Irish nachos are served in a skillet, this sheet pan method guarantees a gooey layer of cheese blanketing every potato. It's also easier to serve to a crowd and leaves one fewer dish to clean, which is a win any day.
What cheese goes well with Irish nachos?
Use a good-quality sharp cheddar cheese for the best flavor, and shred it fresh from the block. Bagged, pre-shredded cheese often includes fillers that prevent it from melting evenly.
What toppings should I put on Irish nachos?
Feel free to play around and experiment with your favorite nacho toppings. Ours include the following:
Sharp cheddar cheese
Crispy bacon
Pico de gallo
Sour cream
Scallions
Jalapeño
Irish nachos vs. regular nachos
Crispy, roasted potato slices replace tortilla chips as the hearty base for Irish nachos, which pair nicely with a drizzle of sour cream on top (as opposed to the typical hot sauce or guacamole), according to the inventor of the dish.
---
For a hearty St. Patrick's Day meal, try Irish Beef Vegetable Stew
---
Irish Nachos
Serves 4
Ingredients:
8 slices bacon (about 8 ounces)
1 1/2 pounds russet potatoes (2 to 3 medium)
2 tablespoons olive oil
2 tablespoons taco seasoning
8 ounces sharp cheddar cheese, shredded (about 2 cups)
5 medium scallions
1 small jalapeño pepper
1/2 cup pico de gallo
1/2 cup sour cream
Directions:
Arrange 2 racks to divide the oven into thirds and heat the oven to 400 F. Line a rimmed baking sheet with parchment paper. Arrange 8 slices of bacon on the baking sheet in a single layer.
Bake on the upper rack until crisp, 14 to 17 minutes. Meanwhile, use a mandoline or a sharp chef's knife to slice 1 1/2 pounds russet potatoes crosswise into 1/8-inch thick rounds (no need to peel). Transfer to a large bowl. Drizzle with 2 tablespoons olive oil, sprinkle with 2 tablespoons taco seasoning, and toss to combine, making sure each slice is well-coated.
When the bacon is ready, transfer the bacon to a paper towel-lined plate. Increase the oven temperature to 425 F. Discard the parchment and wipe off any grease on the baking sheet. Re-line the baking sheet and a second rimmed baking sheet with parchment paper. Arrange the potato slices on the baking sheets in a single layer.
Bake for 15 minutes. Flip the slices and bake until golden-brown and crisp, 15 to 20 minutes more. Meanwhile, shred 8 ounces sharp cheddar cheese on the large holes of a box grater (about 2 cups). Thinly slice 5 medium scallions. Thinly slice 1 small jalapeño pepper into rings. Coarsely chop the bacon.
Remove both sheets of potatoes from the oven. Sprinkle half of the cheese on one of the sheets of potatoes. Arrange the potatoes from the second baking sheet in an evenly layer over the cheese. Sprinkle with the remaining cheese.
Return the nachos to the upper rack and bake until the cheese is melted, 4 to 5 minutes. Top with 1/2 cup pico de gallo and dollop or drizzle with 1/2 cup sour cream. Sprinkle with the bacon, scallions and jalapeño.
Recipe note: If taco seasoning is not available, substitute with a homemade seasoning: 1 teaspoon ground cumin, 1/2 teaspoon onion powder, 1/2 teaspoon garlic powder, and 1/2 teaspoon kosher salt.
---
Amanda Gryphon is a contributor to TheKitchn.com, a nationally known blog for people who love food and home cooking. Submit any comments or questions to editorial@thekitchn.com.
©2023 Apartment Therapy. Distributed by Tribune Content Agency, LLC.