Spotlight on Supplements: Lemon balm
| October 12th, 2021
Is lemon balm safe and effective for combatting stress?
---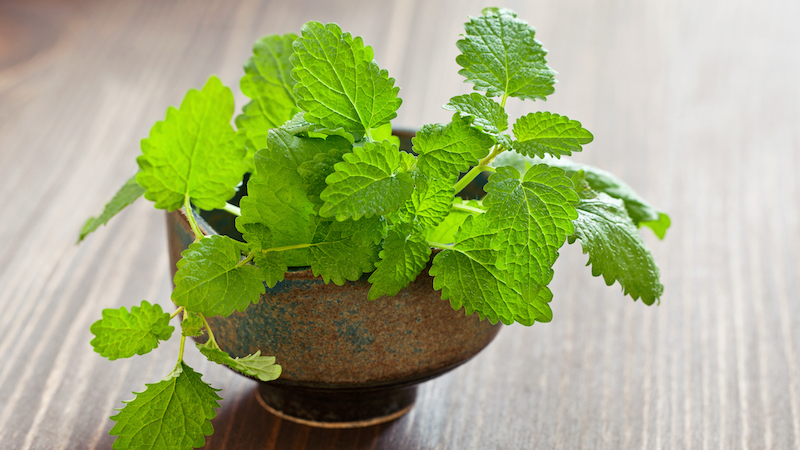 It's no secret this past year introduced a new level of stress to our lives. Many of us looked to exercise, meditation, and even dietary or herbal remedies to induce a sense of calm. Is lemon balm safe and effective? EN examines this question.
Overview
Melissa officinalis L., commonly known as lemon balm, is a widely known perennial herb in the mint family with uses dating back to 40-90 CE. It is popular in pollinator gardens to attract bees, and there's no coincidence that the genus Melissa is Greek for "bee."
For over two millennia, it was used in teas and as an herb to flavor food and for medicinal uses as an oil or extract. While the documented uses of lemon balm are too numerous to list, there are some similarities between traditional applications across cultures. Examples include sleeping disorders, central nervous system disorders, and especially anxiety and depression. These uses are attributed to numerous biological activities of lemon balm that are reported in the scientific literature, including antioxidant, antimicrobial, and anti-inflammatory properties.
Is lemon balm safe and effective? The evidence
Preliminary data show that lemon balm can reduce symptoms of anxiety (nervousness and excitability) and have the potential to mitigate the effects of stress. Additionally, a double-blind, placebo-controlled trial in agitated patients with Alzheimer's disease reported use of aromatherapy with lemon balm essential oil to have a calming effect.
However, there are a few considerations that make it difficult to determine the efficacy of lemon balm on health benefits. There are limited "proof of concept" human studies which would allow us to determine lemon balm's efficacy as a standard of care treatment.
---
Dietitian Mary-Jo Sawyer offers tips for cooking with herbs
---
Lemon balm is commonly combined with other medicinal plants that contain their own phytochemical characteristics. Therefore, lemon balm's independent effect is hard to pinpoint. Finally, many studies (both human and animal) utilize doses of lemon balm extract that are too high to be feasible for clinical practice.
Safety and side effects
Lemon balm is generally considered safe and is well tolerated in adults when taken for up to eight weeks with no major concerns. Although not reported to be statistically significant, other trials with doses ranging from 900-1200mg reported increased intraocular pressure and thyroid hormone inhibition. Individuals with ocular and thyroid disorders should use caution.
Herbal supplements can interact with certain medications, so please consult with your doctor before starting a new supplement.
---
Reprinted with permission from Environmental Nutrition, a monthly publication of Belvoir Media Group, LLC. 800-829-5384. www.EnvironmentalNutrition.com.
© 2021 Belvoir Media Group. Distributed by Tribune Content Agency, LLC.