Selvedge Brewing Reinforces Its Seams
| November 10th, 2022
New brewer Josh Skinner enhances quality at the Charlottesville brewpub
---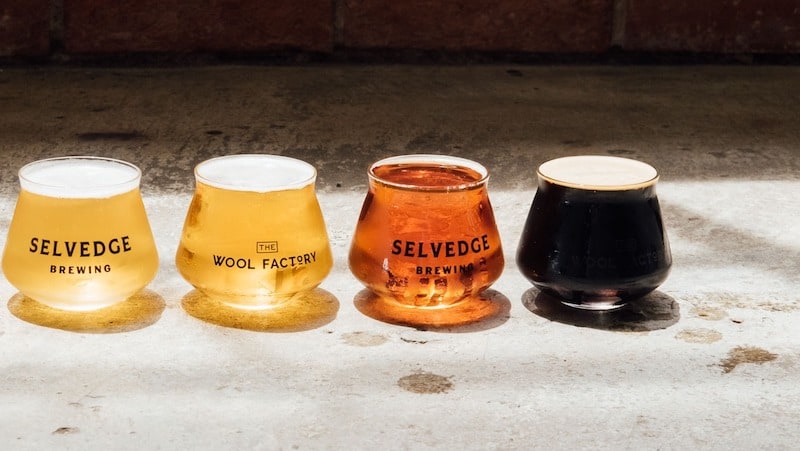 A Charlottesville-area brewpub has added interfacing for a more seamless experience. Selvedge Brewing, one of several businesses operating out of The Wool Factory restored historic textile factory, opened in 2020. When I first visited Selvedge Brewing in 2021, the beer was certainly good. But a new brewer, Josh Skinner, has brought a higher quality to the taps – better beer and better pairing for the more seamless experience.
A bit about the brewpub
Selvedge serves its own beers, brewed on site.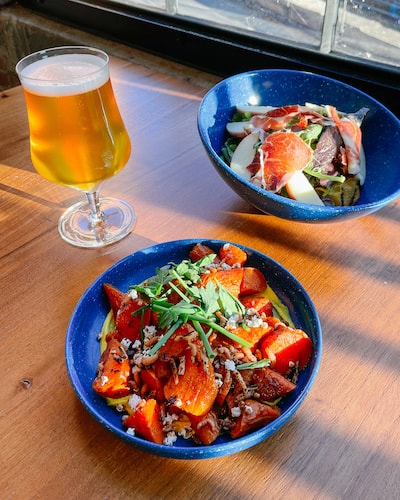 The brewpub serves a full menu, too, highlighting made-from-scratch foods, locally and seasonally sourced. The menu pleases a variety of dietary preferences. You can get complex salads, a smoked beet appetizer, a seasonal veggie bowl, and smoked mushroom tacos. Or you can choose chicken wings, burgers, pork shoulder, and a beer-battered chicken sandwich.
The full-service restaurant also serves wine, cocktails, and a wide variety of non-alcoholic beverages. The beers are crafted to pair with the food as well as to be enjoyed alone.
In keeping with its location, the brewery takes its name from a textile term (the edge of woven fabric that keeps it from unraveling), and beer names continue the theme. Think Linen Kölsch, Poplin Italian-style Pilsner, Cardigan cold IPA, Herringbone New England-style IPA, and so on.
Renewed attention to the beer
Selvedge introduced Josh Skinner as its new head brewer this summer, 2022. Skinner began his brewing career in 2012 as cellarman at Blue Mountain Barrel House in Nelson County, Virginia. He studied in the professional brewing program at Siebel Institute of Technology. He moved to Champion Brewing in Charlottesville, Virginia, in 2014, where he served as lead cellarman, director of wild fermentations, lead brewer, and director of brewing operations.
The brewery at Selvedge is smaller than at Blue Mountain or Champion, but Skinner welcomes the change. Aside from crowler and growler fills, all beer is served on site – no distribution. "I'm excited to be here and get my hands dirty every day," he says. "The beer stays here, so I have more control over it," ensuring that mishandling or old beers don't tarnish the brewery's reputation.
Skinner brings more than rote experience to his job. His B.S. in anthropology from Radford University informs his attention to scientific detail. His passion for the technical aspects of his craft shines through when he talks about his beers – and when you drink them. He speaks of acidulated malt, Phantasm powder and thiols, of biotransformative yeast, of hop creep and amylase enzymes. And the consumer experiences lagers and ales that are delightful representations of their styles, whether that means crisp, dry, clear, malty, hoppy, complex, flavorful – all as they should be.
Selvedge Brewing beers
The beers I had the chance to sample during my October visit included:
Linen Kölsch
A recent trip to Köln (Cologne), Germany, where the Kölsch style arose, magnified Skinner's appreciation for the style. He tweaked the water used in brewing the beer to be closer to the pH of the water in Köln and used a Kölsch yeast from Virginia-based Jasper Yeast ("a finicky strain," says Skinner, "but it gets great results"). That great result in this case is a clear, crisp, malty lager with biscuity, cracker notes. It presents hints of sweetness and of spiciness from the German hops.
Poplin Italian-style Pilsner
Josh Skinner's appreciation for lagers is apparent in Poplin. The malt takes the driver's seat but the European hops – added to the boil, whirlpool, and modestly dry hopped – add to the pleasure of the drive. The lager offers a whisper of honey sweetness, biscuity malt flavors, and hints of the hops.
Infi-Knit Trail Session IPA
This release celebrates the 30th anniversary of the Rivanna Trail, which runs beside the Selvedge taproom at the Wool Factory. At a low 4% ABV, Infi-Knit makes a friendly companion to an outing on the multiuse trail, but it's also amazingly tasty for a sessionable beer. In fact, it's lower in bitterness than a typical IPA, yet not overly sweet, so it can even please some who don't typically enjoy the style.
This beer also showcases the brewer's technical knowledge as applied to his craft. He credits the "infinite" flavor to "Mosaic & El Dorado hops, Murphy & Rude English Pale and Biscuit malt, and a very unique combination of 'Cosmic Punch' bio-transformative yeast and 'Phantasm' (read as 'magic!'). This innovative combination of yeast and Phantasm work together to create thiols – which are strong aroma compounds that evoke grapefruit, passion fruit and guava."
Smoking Jacket Barrel-Aged Imperial Stout
If you're lucky, this limited-release beer is still available. Its creation began pre-Skinner (it's been aging, after all), but his experience at Blue Mountain Barrel House portends great things for future barrel-aged Selvedge beers. Smoking Jacket was born from Velvet Imperial Stout aged in Heaven Hill bourbon barrels for a year, resulting in a rich, "eye-crossingly" delicious, crazy-high-17.5%-ABV beer.
For hints of what's to come under Skinner's direction, consider that he speaks of using Murphy & Rude Bloody Butcher heirloom corn, Belgian yeast, and Brettanomyces, and of doing mixed fermentation beers, Oud Bruin beers, kettle-soured Berliner Weisse beers, and farmhouse ales. And all these on top of the brewery's year-round, easy-drinking lagers and ales.
Clearly, Selvedge Brewing isn't coming apart at the seams, so you don't need to hurry for a visit – but you may want to anyway.