The Juicy Brews Invitational
June 6th, 2018
Local beer festival brings in top breweries from all over
---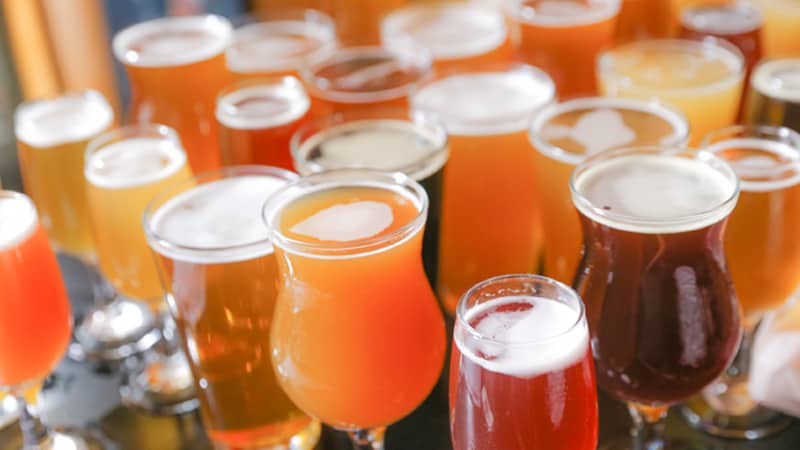 "What's a 'juicy brew'?" you may ask. The festival's subtitle gives a hint: "Hazy IPA & Sour Fest."
For the Juicy Brews Invitational on June 10, organizers are bringing together more than 30 breweries, each represented by head brewer, founder or another knowledgeable mouthpiece. Ticketholders receive unlimited pours, with food and music available as well – and short lines, as the festival directors vow to limit total attendance.
The "juicy" description has become synonymous with a new beer style that's been growing in popularity, the New England IPA. The style typically deemphasizes hop bitterness while showcasing hop flavor and aromas that bring to mind tropical fruit juices. The beers often appear cloudy or hazy—not a flaw, but an acceptable feature due to ingredients and brewing techniques.
The word "sour" in the subtitle doesn't denote the presence of SweetTarts or Sour Nerds, but of lower-pH beers. Sour beers are quite diverse: tartness ranges from slight to extreme and flavor highlights differ. The common denominator among them all is the method of fermentation, using microbes and bacteria including Brettanomyces, lactobacillus, pediococcus and wild yeast. These fermenting agents may be introduced by the brewer, drift naturally from the air or come from barrels used in aging.
Several traditional European beer styles showcase sour and funky notes, including the Belgian lambic, German Berliner weisse, gose, Flanders red ale and oud bruin. Many of these styles call for long aging and blending.
American brewers sometimes follow the lead of the traditional brewers and sometimes chart their own courses. The American Brett beer style uses Brettanomyces for a beer that's only slightly acidic but has a funky flavor, like barnyard, earthy or horsey (yes, those are desirable characteristics!). Some American brewers embrace kettle-souring, a more rapid method of adding tart notes by introducing lactobacillus in the mash or boil.
If you love these styles, if you'd like the chance to sample and try many different examples or if you want to experience breweries that don't typically distribute here in Central Virginia, go to Hopculture.com/event/juicy-brews-invitational-richmond-2018 for your tickets.
---
June 10, 11 a.m.-2 p.m. or 3-6 p.m.
$62.50 ($20 for designated driver)
Triple Crossing Beer – Fulton
5203 Hatcher St., Richmond