Kale Salad with Maple-Balsamic Dressing
| November 9th, 2022
Naturally sweet and healthy
---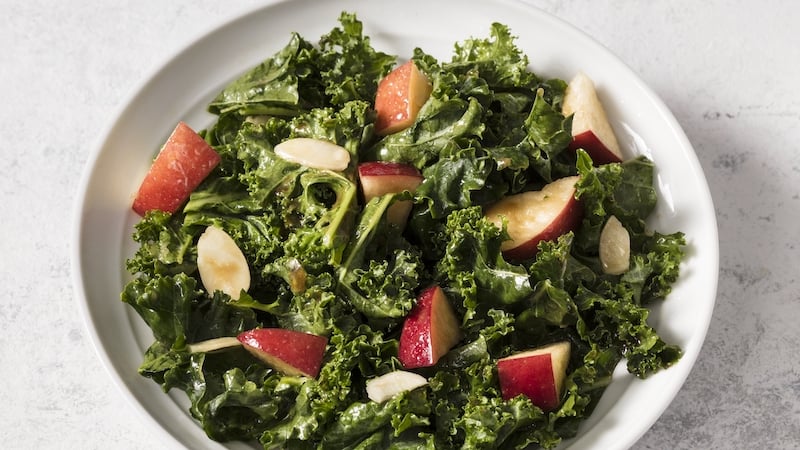 If you overindulged at Halloween, you're getting ready for the holidays, or you're just hankering for a tasty way to eat healthy, this slightly sweet kale salad is the perfect detox (or pretox?!).
---
This kale salad is easily customizable, so you can dress up it with anything you like! Try using a pear instead of the apple or chopped pecans, walnuts, or pistachios instead of the almonds. You can also add a sprinkle of crumbled cheese, dried fruit (such as cherries, cranberries, or chopped apricots), sunflower seeds, or pepitas.
Kale Salad with Maple-Balsamic Dressing
Serves 4
Ingredients:
8 ounces curly kale
3 tablespoons extra-virgin olive oil
1 tablespoon balsamic vinegar
1 teaspoon maple syrup
1/2 teaspoon Dijon mustard or mayonnaise
1/4 teaspoon salt
1 apple, cored and chopped
1/4 cup sliced almonds
Directions:
TEAR: Tear kale leaves from stems and discard stems. Tear kale into small bite-size pieces.
MASSAGE: Place kale pieces in a bowl. Squeeze and massage kale until leaves soften and turn dark green, 1 to 2 minutes.
SHAKE: In a small jar, combine oil, vinegar, maple syrup, mustard, and salt. Cover jar tightly with lid and shake until mixture is well combined, about 30 seconds.
DRESS: Add apple, almonds, and dressing to bowl with kale. Use tongs to toss the kale salad until the leaves are well coated with dressing.
---
Easy, savory pumpkin recipes from Seniors Guide
Keeping winter greens from spoiling
---
For 25 years, home cooks have relied on America's Test Kitchen for rigorously tested recipes developed by professional test cooks and vetted by 60,000 at-home recipe testers. The family of brands – which includes Cook's Illustrated, Cook's Country, and America's Test Kitchen Kids – offers reliable recipes for cooks of all ages and skill levels. See more online at www.americastestkitchen.com/TCA.
© 2022 America's Test Kitchen. Distributed by Tribune Content Agency, LLC.