Keep It Simple Syrup
| July 13th, 2018
Like a KISS for your cocktails
---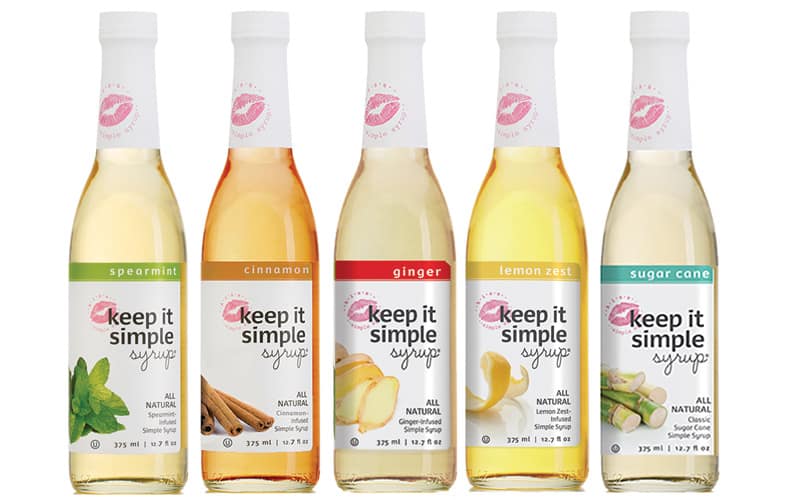 ---
Change the game for your cocktails forever with a KISS!
Keep It Simple Syrups come in a variety of flavors: ginger, cinnamon, lemon zest, spearmint and sugar cane, each one providing its own unique tastes and twists. Better yet, all syrups are infused with all-natural flavors, using pure cane sugar – no high-fructose corn syrups or artificial additives. Plus they're all fat free, gluten free, and certified kosher. Better yet, KISS founder Susan Martinson developed the recipe in her Richmond home.
Enjoy KISS in coffee, tea, water, or any number of cocktails. Add ginger syrup to shake up the flavor of a traditional Moscow mule. Skip the muddling and save the mint leaves for garnish by adding spearmint syrup to a classic mint julep. Enhance the cocktails-by-the-pool experience with lemon syrup lemon drops. Or curl up next to the fire this winter with a mug of cinnamon syrup-spiked mulled wine or non-alcoholic spearmint-kissed hot chocolate.
KISS doesn't just limit its creativity to cocktails and mocktails. The syrups can be used in cooking and baking as well, for dishes such as lamb sausage with minty tzatziki sauce, raspberry mojito pound cake and cinnamon molasses cookies.
Find these recipes – plus many more – on the KISS website. Syrups can be purchased online and at your local ABC store.
---
Ginger Lemon Drop Martini
2 ounces vodka
2 ounces lemon citrus vodka
2 ounces limoncello
1 ounce Ginger Keep It Simple Syrup
1 ounce fresh-squeezed lemon juice
In a cocktail shaker, combine and shake all liquid ingredients together with ice. Strain carefully into a chilled martini glass. Add ginger candy to beverage, if desired.
Cucumber Lemon-Kissed Spa Refresher
3-4 slices cucumber
2 ounces Spearmint Keep It Simple Syrup
Juice of one lemon
6-8 ounces club soda
Fresh mint leaves for garnish
In a glass, muddle the cucumber slices lightly with the lemon. Add the spearmint KISS. Stir in the club soda. Garnish with mint leaf, slice of cucumber, and lemon.
Mint Julep Egg Cream
2 ounces bourbon
1 ounce Spearmint Keep It Simple Syrup
1 small scoop of vanilla ice cream
Cold club soda
Pour bourbon and spearmint KISS into a tall glass. Stir gently. Add ice cream. Slowly fill glass with cold club soda. Serve with straw and garnish with fresh mint sprig.