KO Distilling: New Bourbon Releases for Your Sipping Pleasure
| October 1st, 2021
A pair of simply delightful knockouts
---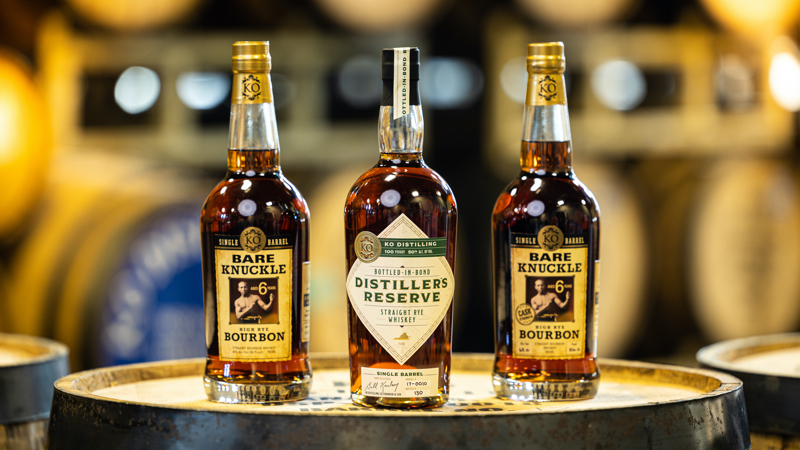 The boozy brainchild of two former Marine classmates John O'Mara and Bill Karlson, KO Distilling has been kicking taste buds and taking names since 2015. The local craft distillery sprouted in Manassas, Virginia, initially serving up unaged craft whiskeys and gins distilled using high-quality production levels and local ingredients. 
KO now features an enticing variety of spirits, from smooth whiskeys and bourbons to sprightly gins: ranging among barrel finished, standard strength, and even navy strength products. 
And now the distillers have some more perfectly aged tricks up their sleeves (and on their shelves) for bourbon connoisseurs and bourbon novices alike!
"Every bottle is a result of our careful approach to distilling, which combines state-of-the-art equipment with the skills of our production team to produce the best of American spirits," co-founder and CEO Bill Karlson said in a recent press release. "We're thrilled to raise a glass and welcome these two new additions to our portfolio."
Distiller's Reserve Bottled-in-Bond Straight Rye Whiskey
Crafted from 100% Virginia rye, this bourbon is about as local as you can get. It's been aged for four years in new American oak barrels, and is finally ready to move from barrel to bottle. Coming in at 100 proof (50% ABV), it's an ideal chilly-weather sipper boasting flavors of apple, caramel, and peppercorn followed by lingering notes of spicy rye and oak.
This rye whiskey is the follow-up to KO's original Distiller's Reserve Bottled-in-Bond Bourbon, released in 2020 and a Double Gold Medal award-winner of the San Francisco World Spirits Competition. They say a sequel is never as good – but there's an exception to every rule.
Bare Knuckle High Rye Bourbon: Cask Strength
This smooth sipper has been patiently waiting to make an appearance since KO Distilling was founded. Distilled in and sourced from Indiana in 2015, it's been living in charred new American oak barrels at KO's warehouse ever since.
The Bare Knuckle High Rye Bourbon is made from 75% corn, 21% rye, and 4% wheat, and features creamy, piquant layers of vanilla bean, nutty caramel, and a spicy rye finish. But beware – this bourbon comes in swinging at 127 proof (approximately 63% ABV) and can easily result in a nighttime knockout before you know it.
And hey, it's never too early to start thinking about holiday shopping…
I'll just leave that there.
Where to find 'em
To see (and taste) for yourself, KO Distilling's spirits are available online for shopping and shipping anywhere in Virginia. 
Or click here to see where to find them at an ABC Store near you.
Or – just head to the distillery and say hey!
10381 Central Park Drive, Suit 105
Manassas, VA 20110