Late-Blooming Romance
| February 14th, 2020
New love isn't confined to youth
---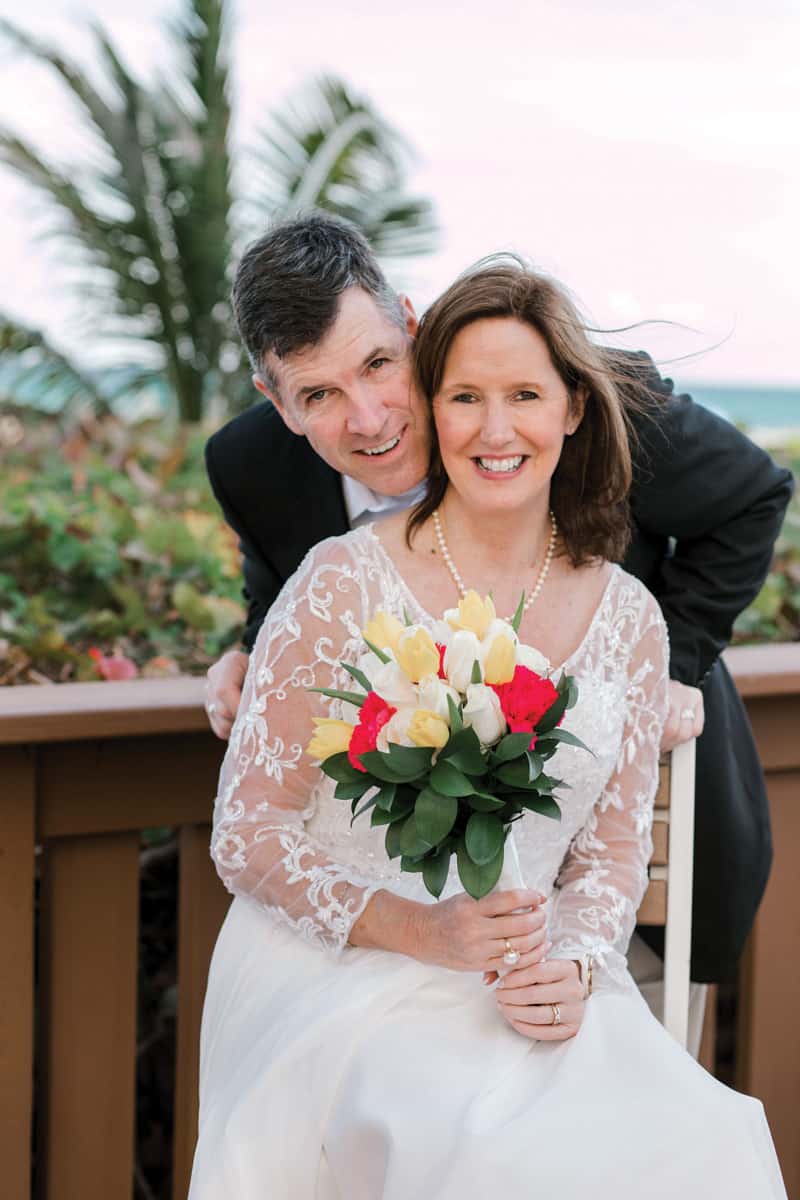 When we hear of "new love," we typically envision a young couple with many years of togetherness ahead. But for various reasons, men and women often find themselves flying solo decades later in life. I spoke with three couples, all past the half-century mark, who found new romance after having lived through earlier relationships and some solitude.
Dr. Laura Dabney, a Henrico County psychiatrist, sees people with relationship issues, including boomers starting new romances. Some have problems, but most, she said, embark on the "happily ever after."
She sees more fear in women than men. Women still aren't as bold when it comes to asking for a date. "It's in between" shyness and assertiveness, she said. "They imply without saying."
FINDING LOVE
"Heather is the love of my life," said Stephen Gallagher, a tall, athletic technology salesman looking to spend the rest of his life in a recreational vehicle with his new wife and their two dogs.
Jeuneé Godsey and Marcel Gaudet met in an old-fashioned way, in a group activity – hiking with James River Hikers. Marcel had sworn off dating, but Jeuneé changed all that. Stephen met Heather Hummel (now Heather Hummel Gallagher) online, as did Rodney and Darryl (last names withheld at their request).
Boomers see dating sites as "good for saving time," said Dabney. She cautions online daters to meet in public and have "an escape plan."
Escape never crossed the minds of Heather and Stephen. They agreed to meet at a coffee shop, where their one-hour lunch became a two-and-a-half-hour talkfest about football and dogs. Stephen was late for his afternoon business meeting.
At this age, said Heather, "You know what you want and don't want. Don't waste time. I knew, and he knew, on the first date." Heather had never married; Stephen was divorced with three adult sons.
It was the same for Rodney and Darryl, whose first date was at the Seven Oaks Retreat Center near the Blue Ridge Mountains. Both men had experienced the long, sometimes painful process of coming out of the closet after past marriages, but they said this does not affect them now. Neither does the differing ages of their children: Darryl has one adult child at home; Rodney has children and grandchildren. "We have different parenting styles," said Rodney, but it's not a problem.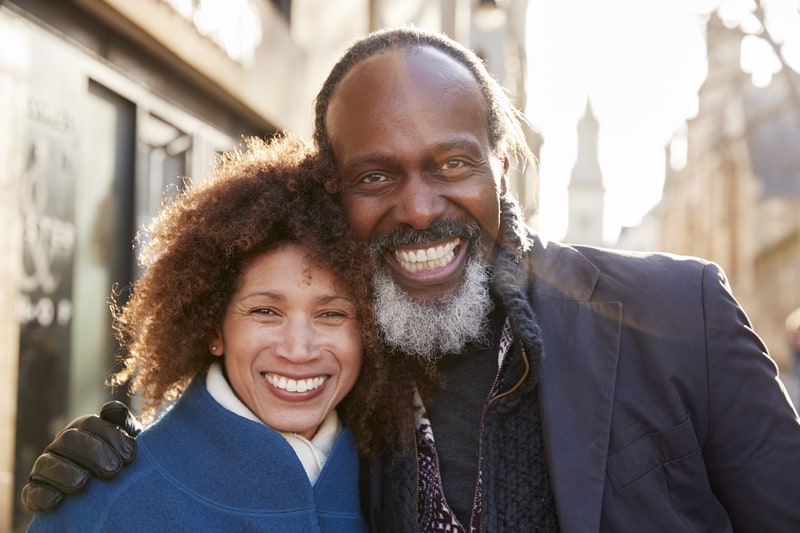 SECOND-MARRIAGE CHALLENGES
Sometimes adult children do not take to the new spouse. They can "badger" the couple if they don't approve, said Dabney. There are a variety of complications that "throw edges into the relationship." Sometimes an old family photo is displayed that makes the new spouse feel insecure.
Jeuneé and Marcel have three children each, from previous marriages. Jeuneé's children are on their own, and Marcel's stay with them part time.
Getting along with stepchildren, said Jeuneé, takes time.
"I don't try to be 'Mom'," she said. "I try to be another adult mentor."
They plan holidays "without high expectations," acknowledging the kids' other commitments.
Previous relationships have not come up as a problem for these couples, but Rodney acknowledged that it is hard to "relinquish being independent."
For Stephen and Heather and for Jeuneé and Marcel, money was an issue. Both couples embraced financial adviser Dave Ramsey's advice and were determined to get out of debt.
Heather and Stephen started teaching financial literacy at church. Both saw money as a common reason for divorce, and neither wanted to bring debt into the marriage, so they're almost debt-free. They're also prepared for living "on the road full time" – after Stephen retires, while Heather continues her work as a writer and publisher.
Jeuneé and Marcel went to premarital counseling, then signed a prenuptial agreement stating that earlier individual debts were not to be shared, while current living expenses would be shared. That agreement had to be put on hold when Marcel was laid off his job as a quality engineer manager. Jeuneé took on the bills using her salary as an Episcopal priest. The agreements about money are important, but circumstances change plans.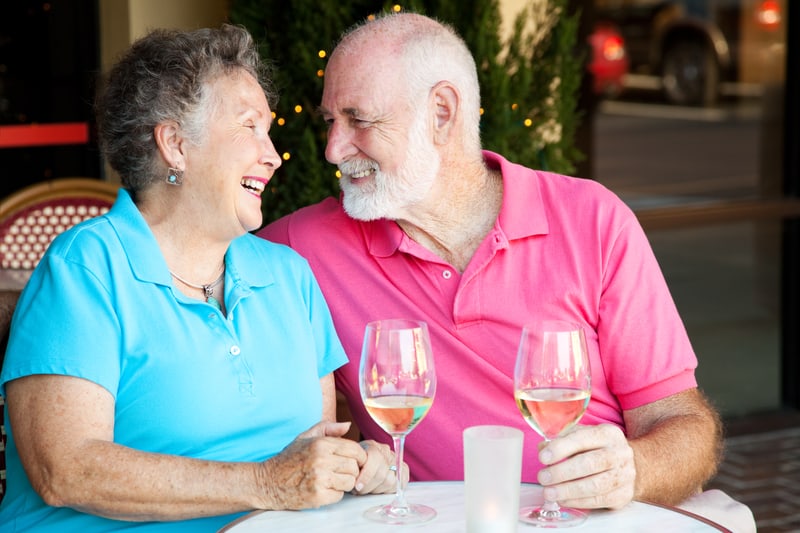 MAKING THE UNION OFFICIAL
All three couples had unique weddings, with Rodney and Darryl's qualifying as the winner in glitz. Their 2018 wedding was a cultural and personal celebration. Prior to the two-hour church wedding, they entered in their blue sharkskin tuxedos. "Oh, my God," Rodney brings his hands to his face as he describes the audience delight. For the reception, Darryl changed into a peach-colored suit covered with birds, and Rodney wore a replica of the suit worn by Prince Charming in Cinderella.
Jeuneé and Marcel loved their "surprise" wedding when they showed up for a retreat and told all their friends there would be a wedding. During their honeymoon to the Holy Land, their marriage was blessed two more times – once by Jeuneé's classmate in Israel, another by an Episcopal archbishop, who gave his blessing in Arabic.
Before Stephen and Heather's wedding, Stephen asked Heather's parents for their blessing. "It's not about permission," he clarified. He surprised Heather with a sunrise proposal in Maine. A year later they had two wedding ceremonies – one near their home in Powhatan County and another on the Florida beach.
---
Boomers, take heart. All said sweet things about each other.
Rodney, who admitted he had a problem with trust: "He's a person of integrity above anyone I've ever known. By the time he said he was in love with me, I believed him."
Jeuneé, looking at Marcel: "I'm so lucky."
Darryl: "I've never felt so cherished."
Marcel: "She's my angel."
---
Bonnie Atwood is a Richmond-writer and lobbyist. Her business is Tall Poppies Consulting. BonAtwood@verizon.net
---
For more romance-related articles, check out our site – with pieces like this one, on Dating in the Digital Age or The Pros and Cons of Senior Romance.