Lemon Olive Oil Tart
| April 12th, 2023
Like sunshine on a plate
---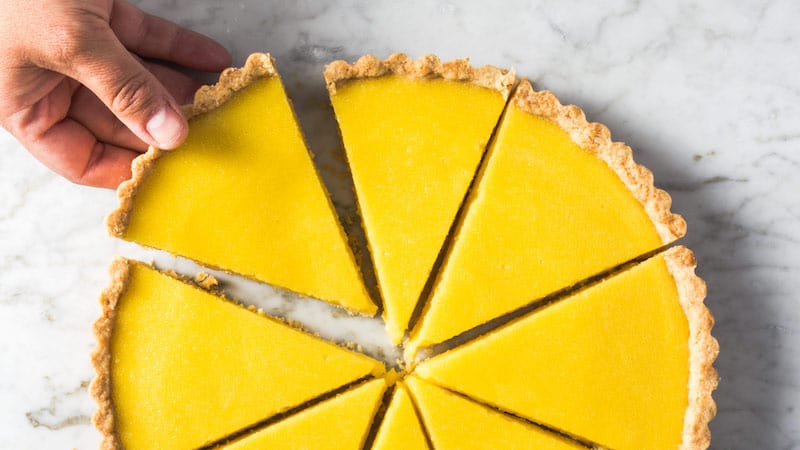 The bright citrusy taste and vibrant yellow color make the Lemon Olive Oil Tart perfect for a warm weather splurge!
---
While most lemon tart recipes feature butter in both the crust and the filling, in this recipe we use extra-virgin olive oil to take some of the fuss out of your prep work.
Simply mix flour, sugar and salt with the oil and a little water until a soft dough forms; crumble it into the tart pan; press it into the sides and bottom; and bake it right away. There's no rolling or chilling required!
Using olive oil in the filling as well allows the lemons' acidity to shine through, allowing you to use a bit less juice than you'd need to enjoy the bright flavor if you had used butter instead. You also won't lose any of the firmness or sliceability you'd expect in a tart, because the filling gets plenty of structure from the protein in the eggs.
Lemon-Olive Oil Tart
Serves 8
Notes: Use a fresh, high-quality extra-virgin olive oil here. Make sure that all your metal equipment — saucepan, strainer and whisk — is nonreactive, or the filling may have a metallic flavor.
Ingredients:
For the crust:
1 1/2 cups (7 1/2 ounces) all-purpose flour
5 tablespoons (2 1/4 ounces) sugar
1/2 teaspoon table salt
1/2 cup extra-virgin olive oil
2 tablespoons water
For the filling:
1 cup (7 ounces) sugar
2 tablespoons all-purpose flour
1/4 teaspoon table salt
3 large eggs plus 3 large yolks
1 tablespoon grated lemon zest plus 1/2 cup juice (3 lemons)
1/4 cup extra-virgin olive oil
Directions:
For the crust:
Adjust oven rack to middle position and heat oven to 350 degrees.
Whisk flour, sugar, and salt together in a bowl. Add oil and water and stir until uniform dough forms. Using your hands, crumble three-quarters of dough over the bottom of a 9-inch tart pan that has a removable bottom. Press dough to an even thickness in the bottom of the pan.
Crumble remaining dough and scatter evenly around the edge of the pan, then press crumbled dough into fluted sides of the pan. Press dough to even thickness.
Place pan on rimmed baking sheet and bake until crust is deep golden brown and firm to touch, 30 to 35 minutes, rotating pan halfway through baking.
For the filling:
About 5 minutes before the crust is finished baking, whisk sugar, flour, and salt in a medium saucepan until combined. Whisk in eggs and yolks until no streaks of egg remain. Whisk in lemon zest and juice.
Cook over medium-low heat, whisking constantly and scraping corners of the saucepan, until mixture thickens slightly and registers 160 degrees, 5 to 8 minutes.
Off heat, whisk in oil until incorporated. Strain curd through a fine-mesh strainer set over a bowl. Pour curd into warm tart shell.
Bake until filling is set and barely jiggles when pan is shaken, 8 to 12 minutes. Let tart cool completely on a wire rack, at least 2 hours. Remove the outer metal ring of the tart pan. Slide a thin metal spatula between tart and pan bottom, then carefully slide tart onto serving platter. Cut tart into wedges, wiping the knife clean between cuts if necessary, and serve.
Leftovers can be wrapped loosely in plastic wrap and refrigerated for up to three days.
---
Light lemon squares for a low-guilt trip
---
For 25 years, home cooks have relied on America's Test Kitchen for rigorously tested recipes developed by professional test cooks and vetted by 60,000 at-home recipe testers. The family of brands – which includes Cook's Illustrated, Cook's Country, and America's Test Kitchen Kids – offers reliable recipes for cooks of all ages and skill levels. See more online at www.americastestkitchen.com/TCA.
©2023 America's Test Kitchen. Distributed by Tribune Content Agency, LLC.