As Charming as Ever
| November 9th, 2018
Lexington wears its history on its sleeve – and still appeals to modern-day visitors
---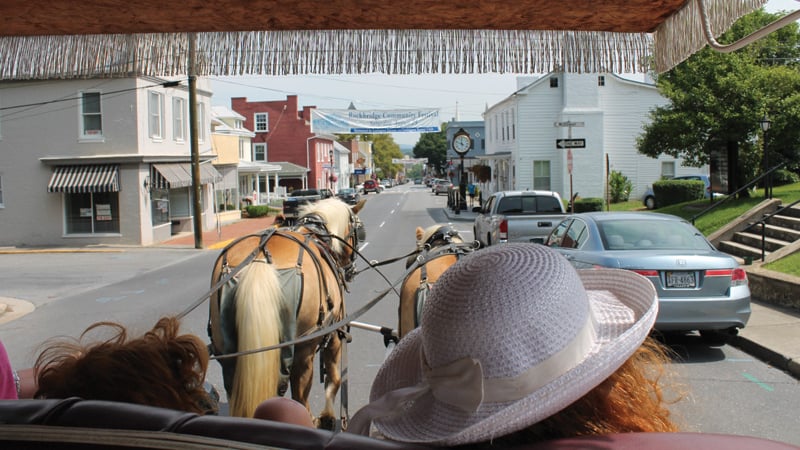 Have you ever been to a town that's so charismatic and enchanting you simply want to pinch its cheeks, give it a hug and promptly move in?
Lexington, Virginia, nestled in the middle of the Shenandoah Valley, has just such a captivating magnetism about it. While it's developed over the years into an active city, Lexington remains grounded in its small-town, tight-knit, "everyone knows everyone" roots.
It's so tight-knit, in fact, that you may start to wonder whether the residents are whispering amongst themselves about the "newcomer." But this intimate city, cloaked in history, allure and thick Southern accents, is just as hospitable to its guests as to its own inhabitants.
EXPLORE THE CITY BY FOOT OR BY HOOF
Based on the modern businesses and restaurants inhabiting 19th-century brick buildings, it's easy to see that the city of Lexington is shrouded in history. Much of the architecture has its own story; even the sidewalk bricks, with their intricate patterns and unique designs, tell a tale.
Once your feet need a break from the walkable yet hilly city, hop aboard a historic carriage for a tour from the Lexington Carriage Company. Cruise the streets in a refurbished 1920s coach pulled by a pair of winsome horses. In between the gentle breeze and steady clip of hooves, learn stories of the city, its structures and its most renowned inhabitants.
Then when dusk sets over the city, come back out for the Haunting Tales Ghost Tour. Admittedly more comical and entertaining than sinister and spine-chilling, this tour tells historic tales and compelling anecdotes. Experience the spooky side of Lexington, and even visit the local cemetery in the veil of darkness. But don't worry: it's whimsical and amusing enough to ensure participants are still able to sleep soundly that night.
BACK IN THE DAY …
Dig down into the next layer of history to learn about some of the most notable former residents. Get the lowdown on the personal side of one of the most famous Confederate generals at the Stonewall Jackson House. This museum, converted from the home in which Jackson lived for two years before going off to the Civil War, gives a deeper look into his private life. The curators decided to save the Confederate general's history for the battlefields and focus instead on Jackson as a professor, husband and devout Christian.
Dive into the various layers of George Marshall's life at the – yup – George Marshall Museum. Artifacts, stories, images and maps paint a vivid picture of his contributions in WWI and WWII and as a Nobel Peace Prize winner.
Or pop into the Lee Chapel and Museum for a tour (professionally guided or self-guided) on the campus of Washington & Lee University. Learn about Robert E.'s contributions to the school (it's not just his namesake) and his life as an educator. And did I mention the magnificent architecture?
LOOSEN THE PURSE STRINGS
Get your wallet and shopping shoes ready as you stroll through downtown (because strolling really is the only way to walk along the streets of Lexington) among the locally owned, one-of-a-kind boutiques and shops. Stock up on unique jewelry, handmade pottery, artisan cheeses and tea towels that say things like "It's Wine O'clock Somewhere."
For many local business owners and residents, Lexington is the place they came to pursue those longtime-dream second careers. Fund them, won't you?
NOSHING THROUGH THE CITY
When it comes to dining in Lexington, you can find just about anything that you seek – unless you seek a chain restaurant. In a city filled with locally owned eateries, you may be shunned (politely!) for asking directions to the nearest O'Charley's or Panera.
Instead, try a spot like Haywood's. This classy piano bar offers gourmet dining, elegant décor and nightly entertainment, with a side of specially chosen wine and cocktails.
Accommodate your health-nut side at the Blue Phoenix Café. Though everything is vegetarian, you won't even notice after one bite of the Goddess Grilled Cheese, Harvest Burger or their twist on a Reuben – made instead with crispy tofu.
Or take advantage of the vast farmlands surrounding Lexington at the city's first farm-to-table restaurant, The Red Hen. Their skilled chefs incorporate local meats and produce from the Shenandoah Valley to serve in the intimate, open kitchen dining room. Just don't bother looking online for a menu; it changes every day!
For a post-dinner (or pre-dinner – no one is here to judge) indulgence, load up a cone at Sweet Things Ice Cream Shoppe. Dozens of homemade flavors and 30 years of experience ensure the instant gratitude of your taste buds and sweet tooth.
Wherever you decide to satiate your appetite, make sure you elbow your way (politely!) to a table near the window – the Lexington people-watching is exceptional.
AND NOW FOR SOME SHUT EYE
Fittingly, Lexington harbors many quaint bed and breakfasts, inns and renovated hotels. The Robert E. Lee Hotel is just such a place.
In a newly refurbished 1926 building, this luxury hotel is an extremely warm and welcoming place to stay. Each room is spacious and inviting with high ceilings and modern amenities, yet the hotel still manages to maintain the integrity of its age. Plus, its location in the heart of Lexington allows you to leave the car parked and let your feet do all of the exploring.
As the sun sets and you wrap up your day along with the rest of the early-to-bed-early-to-rise town, head up to the Robert E. Lee Hotel's in-house bar and restaurant, Rocca. Enjoy a nightcap on the patio overlooking Main Street and watch the city slowly wind down, taper off and fade out after another bustling day under its belt.