Lighthouse Inn Potatoes
| December 22nd, 2021
A beloved dish and your new favorite holiday recipe
---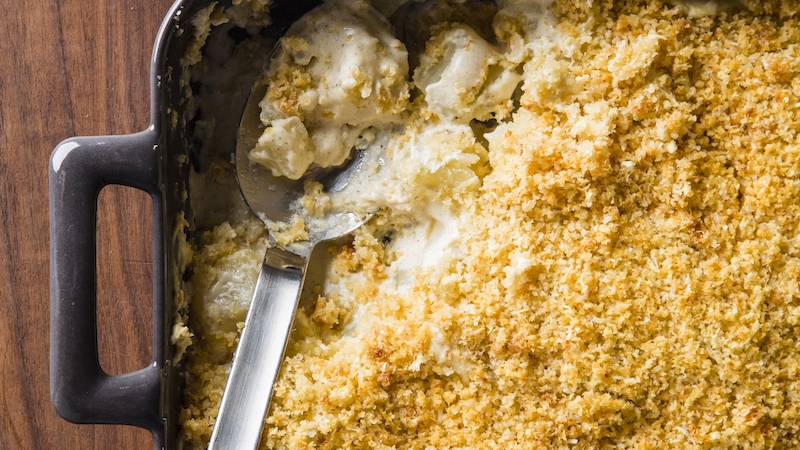 Lighthouse Inn Potatoes – chunks of soft potatoes baked in a rich cream sauce and topped with golden breadcrumbs – originated at an iconic hotel and restaurant located in New London, a popular seaside town in southeastern Connecticut. Executive Chef Leon "Wally" Walden, who worked there for nearly 50 years before his 1992 death, was known for many of his dishes, but Lighthouse Inn Potatoes was perhaps his most beloved offering.
One of America's Test Kitchen's test cooks grew up eating this dish at every holiday and was determined to make a version she – and everyone else – could make at home. To do so, she cooked starchy russet potatoes in light cream and butter and added a bit of baking soda to neutralize the potatoes' tannins (and aid in creating a velvety, unbroken sauce). After topping the potato mixture with buttery cheesy breadcrumbs, she baked the dish until the potatoes were bubbling and the breadcrumbs were golden brown.
This homemade version is as good as the original – the potatoes are tender, the sauce is silky and rich, and the topping is salty, crunchy, and satisfying. And based on the response from others who have made this recipe – now one of our most popular – we're confident it would make Chef Walden proud.
Lighthouse Inn Potatoes
Serves 8 to 10
2 ounces Parmesan cheese, grated (1 cup)
1 cup panko bread crumbs
4 tablespoons unsalted butter, melted, plus 6 tablespoons cut into 6 pieces
Salt
Pepper
2 1/2 pounds russet potatoes, peeled and cut into 1-inch chunks
3 cups light cream, divided
1/8 teaspoon baking soda
Adjust an oven rack to the middle position and heat oven to 375 degrees. Combine Parmesan, panko, melted butter and 1/4 teaspoon salt in a bowl; set aside.
Bring potatoes, 2 1/2 cups cream, 1/8 teaspoon baking soda, 2 teaspoons salt and 1 teaspoon pepper to boil in a large saucepan over medium-high heat. Reduce heat to low and cook at a bare simmer, stirring often, until paring knife slides easily into potatoes without them crumbling, 20 to 25 minutes.
Off of the heat, stir the remaining 1/2 cup cream and remaining 6 tablespoons butter into the potato mixture until the butter has melted, about 1 minute. Transfer the potato mixture to a 13-by 9-inch baking dish. Sprinkle the Parmesan-panko mixture over top. Bake, uncovered, until bubbling around the edges and the surface is golden brown, 15 to 20 minutes. Let cool for at least 15 minutes. Serve.
Recipe notes
To make ahead: After the potato mixture has been transferred to a baking dish, let it cool completely, cover with aluminum foil, and refrigerate for up to 24 hours. Before applying the topping, bake, covered, until heated through, about 35 minutes. Apply the topping and continue to bake, uncovered, 15 to 20 minutes longer.
A note on ingredients: We prefer the texture of light cream for this recipe, but heavy cream will also work. Do not use half-and-half; it has a tendency to break. Grate the Parmesan on a rasp-style grater. Our favorite panko bread crumbs are from Ian's.
---
Braised red potatoes with lemon and chives
From Hambone restaurant in Mandeville, Louisiana: Baby Root Stuffing
Easy, savory pumpkin recipes from Seniors Guide
---
For 25 years, home cooks have relied on America's Test Kitchen for rigorously tested recipes developed by professional test cooks and vetted by 60,000 at-home recipe testers. The family of brands – which includes Cook's Illustrated, Cook's Country, and America's Test Kitchen Kids – offers reliable recipes for cooks of all ages and skill levels. See more online at www.americastestkitchen.com/TCA.
© 2021 America's Test Kitchen. Distributed by Tribune Content Agency, LLC.