Hambone Baby Root Stuffing Recipe
November 12th, 2020
What says Southern comfort food more than holiday stuffing?
---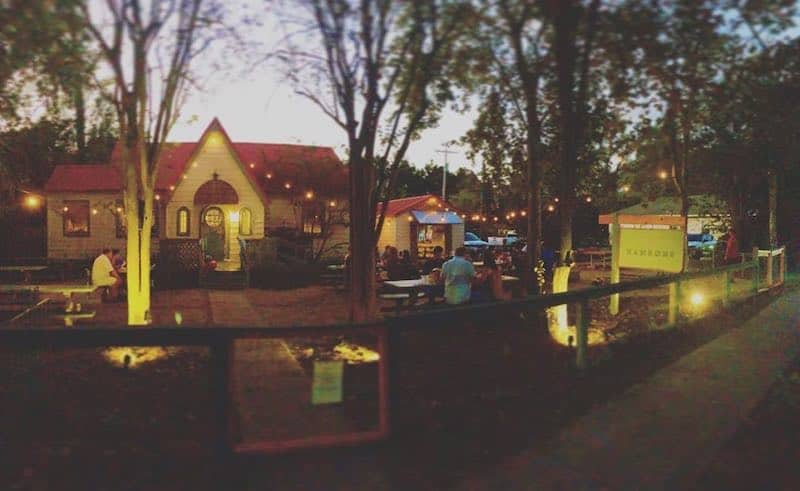 Nestled in the city of Mandeville, Louisiana, is the cozy Hambone restaurant that features tasty comfort food under its red roof and cottage-like surroundings. The owners, Chef Luke Hidalgo and his wife, Marci, who are both from Louisiana, spent nearly a decade working in some of New Orleans' most prominent fine-dining restaurants before opening Hambone in 2018. Hambone's menu features elevated yet accessible Southern comfort food. Today Chef Hidalgo is unveiling his mouth-watering stuffing recipe – Hambone Baby Root Stuffing – that takes a delicious spin on the traditional holiday stuffing.
Hambone Baby Root Stuffing
Recipe from Hambone restaurant, Mandeville, Louisiana; provided by Mindy Bianca Public Relations
Serves 10
4 smoked ham shanks (substitute with ham hocks if shanks are not available)
Mirepoix (for stock):
1 large yellow onion, chopped
4 stalks celery, chopped
2 large carrots, chopped
1 bulb garlic, chopped
6 sprigs thyme, minced
2 sprigs rosemary, minced
½ cup oil
1 cup flour
Salt and black pepper
1 dozen (or so) each baby root vegetables such as carrots, turnips, sweet potatoes or radishes
2 large yellow onions, sliced
6 sprigs fresh thyme, minced
2 sprigs rosemary, minced
Extra virgin olive oil
French bread (approximately 8 loaves) cut into 2-inch cubes and allowed to dry out in a paper bag for 1 to 2 days (Leidenheimer is Chef Hidalgo's personal favorite bread; it can be ordered online)
Cayenne pepper (optional)
Steen's sugarcane vinegar (optional; it can be ordered online)
Make Stock:
1. Place the ham shanks in a stock pot can and cover with cool water. Bring the pot to a brisk simmer and skim off any foam that may come to the surface with a ladle.
2. Turn to very low heat, add in the mirepoix mixture (chopped onion, celery, carrots, garlic and herbs). Allow to gently simmer for 3 hours. Once done, fish out the ham shanks and allow to cool separately on a plate.
3. Strain and reserve the remaining liquid broth.
4. To slightly thicken and season the broth, make a blonde roux (mix 1/2 cup oil and 1 cup flour) in a large, heavy-bottomed pot. Slowly whisk the hot broth into the blonde roux and bring to a simmer. Judge the thickness of the gravy when combining; it should lightly coat the back spoon. Season to taste with salt and black pepper, reserve for later.
5. Pick the meat off the cooled ham shanks and reserve for later.
Prep Root Vegetables:
1. Wash vegetables thoroughly with cool water and trim excess stems.
2. Cut each baby root vegetable in halves or quarters, depending on size (all the vegetables need to be about equal in size so that they cook evenly). Add cut vegetables to a large mixing bowl.
3. Slice the onions and add to the bowl with the cut vegetables.
4. Pick the thyme and rosemary leaves off the stem and mince them roughly; add to the bowl.
5. Give everything a nice amount of olive oil so each vegetable has a slight sheen. Toss and season with salt and pepper.
6. Lay the vegetables on a large pan and roast them in a 400-degree oven for 20 to 25 minutes. Ideally, the vegetables will cook long enough to have deep color to enhance their flavor.
Assemble the Stuffing
1. In a large mixing bowl, add half the dried bread, all the roasted root vegetables, and ham shank meat. Give it a quick mix.
2. Ladle in the ham shank gravy and continue to mix and turn it over with a large spoon. Once the bread starts soaking up the sauce, add a bit more bread and gravy until you have a good ratio (the stuffing should have a little bit more moisture than you may think, because it tends to dry out a bit as it sits).
3. Taste the mixture and season with more salt, pepper or cayenne pepper, if desired.
* Tip from Chef Hidalgo: I really love Steen's sugarcane vinegar. It's especially great in a recipe like this, when stuffing is very rich, and an acidic ingredient can cut through that richness to balance the flavors. I use it liberally … give it 5 or 6 good shakes, mix and re-taste.
4. Lastly, put the stuffing into the dish or roasting pan you intend to serve it in. Either refrigerate it, or if you're ready to serve, roast it in the oven until the top is crisp, about 15 minutes. A bit of color and texture on the top will make for a great presentation.
---
< Stuffing Recipes Around the U.S.
< Previous recipe: Shrimp and Mirliton Dressing, from Rouses Market, Louisiana
Next recipe: Sourdough Turkey Stuffing from Allegania Restaurant, Cumberland, Maryland >
---
As an Amazon Associate, Boomer Magazine earns from qualifying purchases of linked books and other products.
---