MAD4YU Is Making a Difference for You
March 13th, 2019
Providing tutoring to underserved students
---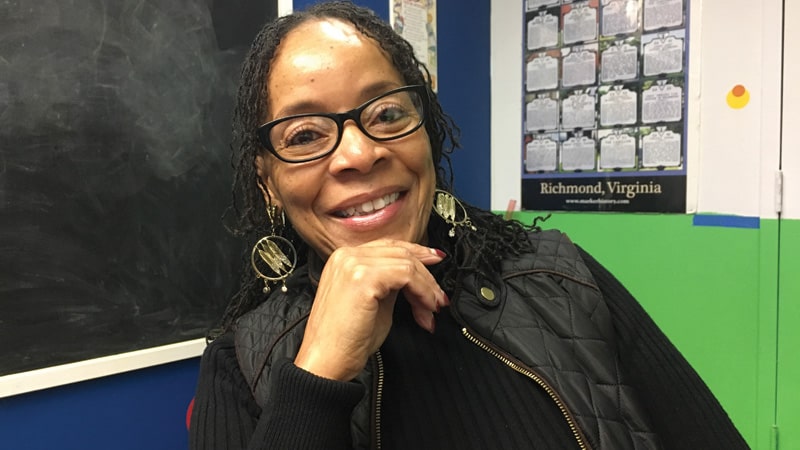 ---
Gail Crawford doesn't let anything get in her way. When her initial dream of starting a computer technology resource center to give back to the community faltered after its 2004 founding, Crawford didn't give up. She dug in and started again in 2013. This time it was the right time for Giving Back and this 65-year-old grandmother is having the time of her life.
Gail Crawford is the founder and president of Making a Difference for You, also known as MAD4YU. The nonprofit provides tutoring and study skills to underserved students, kindergarten through 12th grade. Volunteer tutors do the heavy lifting in three primary subjects: math, reading comprehension and science.
"We support the kids in whatever subject they need. Most of what we do is on the weekend," explains Crawford as students, tutors and parents move through the cozy, five-room East Parham Road office. "Students' grades are improving and parents are so excited because it's a place they can bring their kids for help. It's the one-on-one that works."
Many of MAD4YU's 40 volunteer tutors are students themselves, like Gabriel Carter who is a Virginia Commonwealth University pre-med senior. "I heard this was a good opportunity. People told me not to pass it up," says the 22-year-old. "It's been surprising to me because I wasn't expecting to enjoy it so much." Carter volunteers weekly for an hour or two, depending on his schedule, and tells me he wants to volunteer more when his VCU class load lightens a bit.
MAD4YU is helping 50 to 60 kids each weekend with their studies, according to Crawford, and is also teaching seniors basic computer skills three days during the week. That volunteer workload translates into a seven-day workweek for Crawford, who also works full time for a local bank in IT. She's retiring soon after 46 years, which will leave her just one full-time volunteer job at MAD4YU. "It's a full plate, but this is my passion. I'm so happy we're in the position we are to give back to the community," exclaims Crawford. "It's a great thing."
Tutoring sessions are held year-round, including the summer, and they're free to students. There's currently a student waiting list because more tutors are needed.
"We know volunteers can make a difference by helping build self-esteem and helping kids reduce their learning struggles," says Crawford, who is also a grandmother of eight. "Come with a caring spirit. That's what matters most as a volunteer." Put on your Giving Back heart and prepare to inspire with courage, spirit and hope at MAD4YU.
---
WANT TO HELP?
Learn more at MAD4YuInc.org, call 804-447-7945 or email info@mad4yuinc.org.
If you'd like to volunteer, register through Hands on Greater Richmond at HandsOnRVA.org.