The Grille at Magnolia Green
| November 30th, 2017
Executive Chef David Switzer crafts an experience for members and the public in Chesterfield
---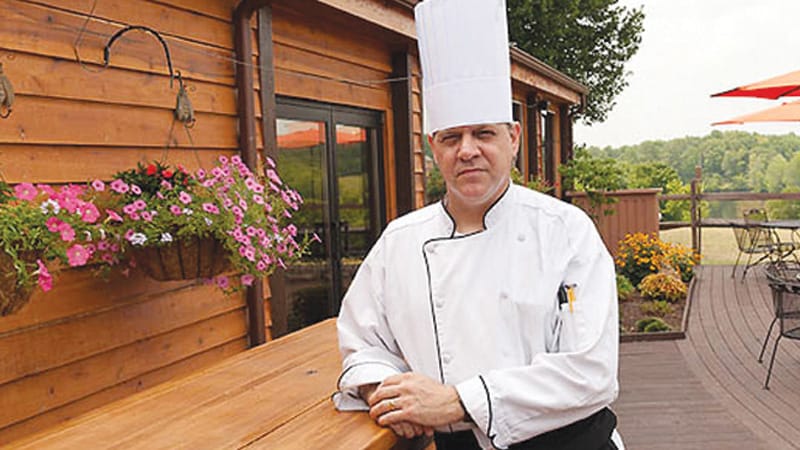 David Switzer, executive chef of a new restaurant at a new clubhouse, explains the first advantage of dining at The Grille at Magnolia Green: "the allure of being able to come into a club atmosphere." Whether as a member of the golf club or just a member of the general public, "You get that service, that view, looking out on the golf course. That's almost priceless." Especially if you consider the 1,300-square-foot rear dining porch overlooking the course.
Then there's the food.
In planning for the restaurant, which opened this November, Switzer says, "What I envision is not a brewpub but something more. We'll carry the craft beers and have sliders and tacos and burgers and fries. We'll still have steaks and seafood, but the main concentration is the bar."
The restaurant's full bar will offer some high-end liquors as well as reasonably priced rail drinks, wines from Virginia and beyond, and craft beer, including local selections.
Switzer has worked at both freestanding and clubhouse restaurants during his 20 years of culinary experience. Besides earning his associate degree in culinary arts from Pennsylvania State University and becoming a Certified Chef D' Cuisine, he's worked at Hotel du Pont and Café Bellisimo in Wilmington, Delaware, at The Country Club of Virginia and other country clubs, and was part owner of 250 Sports Grill in Goochland.
17301 Memorial Tournament Drive, Moseley