Main (Street) Meals
November 3rd, 2022
The charm of small town dining at Krecek Kakes and Obrigado
---
Richmond food and travel writer Steve Cook takes us to two delicious small town dining experiences in Central Virginia: Krecek Kakes in Orange County and Obrigado in Louisa County.
---
If you haven't caught the fall foliage in the Blue Ridge yet, it may be too late to peek at the peak experience. The leaves were predicted to be at their brightest during the latter half of October and, based on my own personal experience, I'd say they were right on time. I spent a couple of days in the Gordonsville area and the leaves were beautiful. But there's some color left and a drive towards the Blue Ridge can always be a pleasant experience. The truth is that Virginia's mountains can be a feast for the eyes at any time of the year.
Speaking of feasts (did you see what I did there?), I enjoyed a couple of palate-pleasing feasts at two cool eateries during my recent travels. One of the spots was on Main Street in Gordonsville and the other was on Main Street in Louisa. If you head west out of Richmond on Route 33, Louisa is about 50 miles from the Staples Mill Road Amtrak Station, just to give you a point of reference. Gordonsville is about 10 miles farther west. Would I make the drive just for another taste? Yes, definitely. However, the region offers a variety of wineries and breweries that makes this area just 60 to 90 minutes from Richmond a great weekend getaway idea.
But let me share my two most recent discoveries.
Krecek Kakes Bakery and Coffeeshop
Although Krecek is the farther of the two locations, breakfast is the best way to start a dining excursion, so we'll start here. Perched right on Gordonville's main thoroughfare (105 S. Main St.), Krecek Kakes is located in what was once an old Ford auto dealership. For those who truly are boomers, you may remember those old smalltown auto showrooms. I knew this must have been an old showroom when I walked in through the heavy extra-wide double door.
While some may prefer the smell of a new automobile, the aromas wafting through Krecek were more to my liking. This is a true bakery with virtually everything homemade, from scratch. Perhaps the fact that the bakery sits in the heart of one of the state's most charming small towns adds to the enjoyment, but I believe I'd be mesmerized with the sweet tastes and aromas of Krecek regardless of the setting.
True, I only tried the cookies and some exceptional biscotti along with a steaming, hot and delicious cup of coffee. But after mentioning my discovery with friends, it seems I'm a latecomer to the place. Several of my friends in Richmond are very familiar with Krecek and they rave about the cakes and other pastries. I guess I need to go back.
While enjoying our coffee and cookies at one of the tables in the rather spacious dining area, my wife and I ran into some old friends who just happened to be in Gordonsville. So, we ended up spending more time there than just a quick run in and grab a bite. The delay allowed me to observe that others were ordering more substantial fare. Who knew? Krecek also offers a variety of breakfast sandwiches on buttermilk biscuits or a bagel. They also have a quiche of the day.
My wife noticed a guy next to us had ordered a to-go container of macaroni and cheese and she asked me to get her some to take with us. I am not a mac and cheese sort of guy, but, of course, I'm an obedient husband sort of guy, so I ordered it. They call it Fondue Mac & Cheese. Perhaps it was the fondue in the name that enticed me. Anyway, this has to be the most fantastic mac and cheese on this planet. I think I'd probably make the drive just for that one dish, but, of course, if I decide to try the key lime pie and order a few more homemade double chocolate biscottis, what's to stop me?
Obrigado
One evening during our stay, we drove into Louisa and to Obrigado restaurant at 109 W. Main St.
Obrigado is Portuguese for "Welcome!" and our visit was definitely a very welcoming experience. I'd heard about and even passed the place often, but I finally took the time to brave the crowds and go in. Because there was a somewhat lengthy wait for a table, my wife and I sat at the bar and I'm very glad we did. The staff is just so pleasant and professional and accommodating.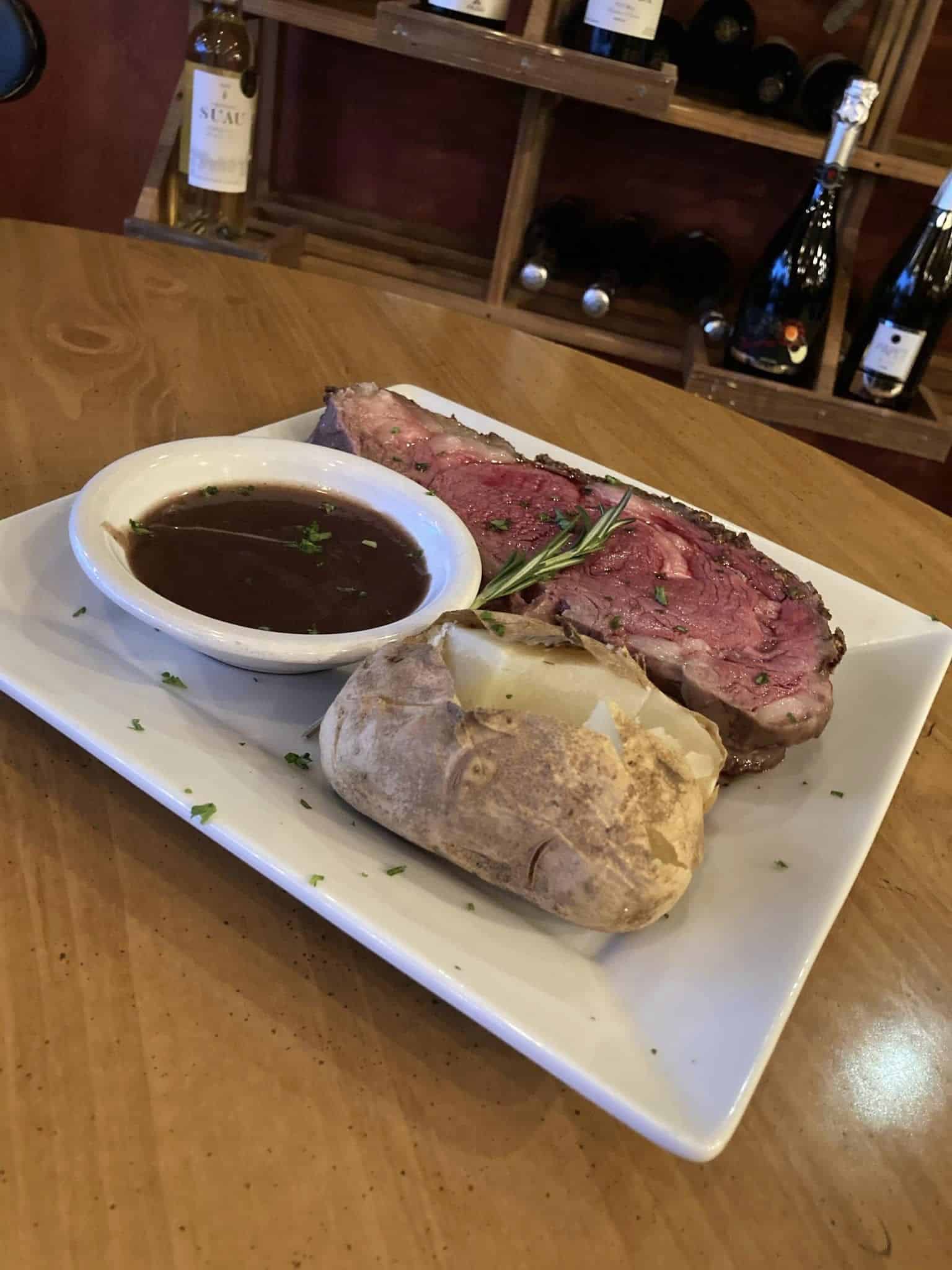 The menu looks wonderful and diverse. However, on the evening of our visit, I was more in the mood for noshing and that's exactly what I did. If I had been up for something more substantial, I probably would opted for the Bistro Burger, which looks and sounds fantastic. But the Nibbles & Nosh on their tapas menu caught my eye. I love the grazing experience. The plate was filled with soft and hard cheeses, as well as deli meats, olives, and pita chips. It was too much for the both of us. My wife was nursing a cold, so she chose the beef barley soup, which was hot and comforting.
I definitely want to go back when both of us are more in the mood to feast on some of the other delicacies on the menu. Now that I've perused their menu, I'm tempted to try the Portuguese Pasta, which is described as offering "chorizo, sundried tomatoes, roast red peppers, Tuscan kale, garlic, white wine and orecchiette pasta, fresh herbs, Romano and parmesan." On my next visit, I am planning to give in to that temptation.
However, if you're a big prime rib enthusiast, which I am, on Fridays they do a prime rib special featuring their herb-crusted and slow-roasted prime rib dinner. So, I'm somewhat torn.
Regardless of when you go, the atmosphere is festive and fun. They say, "Obrigado!" I say, "Thanks for a great evening."
---
Steve Cook has lived in the Richmond area for most of his life, working as a writer and editor and in marketing and radio. He loves to keep abreast of the local restaurant scene and researches the subject voraciously. "I used to think I was a foodie," he says, "but then I realized I just like to eat a lot." He once co-hosted a local Richmond restaurant radio program with BOOMER editor Annie Tobey. Steve completed his first novel in 2017 and says he hopes to read another one this year.
Dig in to more restaurants and other recommendations from Steve Cook