Mark Smith of Midas of Richmond
| November 26th, 2018
Giving oil changes for blood donations
---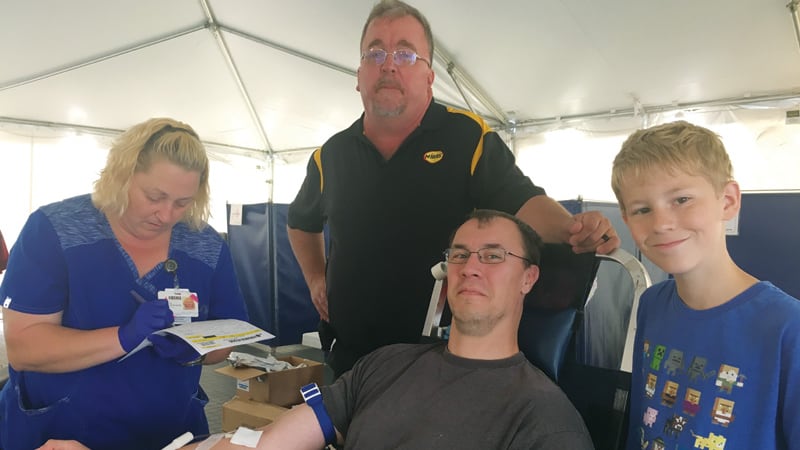 For 10 years, this column has focused on Central Virginia nonprofits and the volunteers who serve them, those in our community who are Giving Back. However, this issue, we are changing things up. Our focus is on individuals and businesses who are Giving Back to our RVA community, and one in particular surfaces to the top.
Midas of Richmond franchise owner Mark Smith is making a huge impact on the Giving Back front. You have no doubt heard his unforgettable and heartwarming radio commercials telling you to give blood, get an oil change and save a life. Smith sponsored a recent blood drive for Virginia Blood Services on the weekend Hurricane Florence hit the East Coast. "The cool thing about Richmond, this is a community that gets it," effuses the businessman. "You tell them the impact they can make if they're part of the solution. They get it."
Another crisis began Smith's charity path. "It was a knee jerk reaction to 9/11," he recalls. Smith headed to a Virginia Blood Services donation site to give blood, where he joined 500 other Richmonders also wanting to give. "We later reached out to VBS and set up a donation schedule for five annual blood drives," says Smith. Why five? "Because blood donors can give five times a year," Smith explains matter of factly, as he sets the bar high for his company's commitment to serving the community.
One of Midas of Richmond's most recent blood drives collected 23,000 pints of blood. Smith, who purchased four Midas franchises in 1998, is inspired by the impact. "I don't take it for granted but am not the least bit surprised by it."
Midas of Richmond is not alone in Giving Back. Puritan Cleaners and its annual Coats for Kids campaign, which debuted in the 1990s, is responsible for collecting, cleaning and distributing nearly 400,000 coats to needy children and adults in our area. I had the great pleasure of participating in the annual winter coat drive when I worked at WRIC-TV.
And there's Haley Buick GMC, with General Manager Barry Moore sponsoring Showcase Richmond, which provides television interview time for local charities to tell their stories and highlight upcoming events. The Haley Automotive Group has also put the power of its dealerships behind the Richmond Cattle Baron's Ball supporting the American Cancer Society. The third annual event takes place Oct. 20 at Keystone Acres in Chesterfield County.
Smith is quick to call out and applaud other Richmond business owners who are giving back, including Gary Glover with Puritan Cleaners and Gary Weiner of Saxon Shoes.
Smith is also not one to sit on laurels, always planning the next big give. "We're launching our most aggressive 'let's feed kids' plan ever," exclaims the 55-year-old. He wasn't ready to provide details of his newest project, a partnership with FeedMore, for fear of "stealing the thunder" of the campaign's late September or early October kickoff. But Smith's excitement got the better of him, and he shared a few early nuggets with us.
"You've got a situation where kids ages zero to third grade learn to read, and from third grade on they read to learn. We're going to get these kids from first grade on and make sure they are fed and make sure they are reading," explains Smith. "A kid literally shuts down when they're hungry. If they shut down during fourth and fifth grade, we lose them. They are not learning. We need to hit the sweet spot and rock this thing!"
Can you feel his passion and enthusiasm for Giving Back? Smith hopes so. And so do we.
---
WANT TO HELP?
Become involved with these worthy national military-focused organizations:
COMBATING VETERAN SUICIDE
HOW IT HELPS: Mission22 provides veteran treatment programs for post-traumatic stress, traumatic brain injury and other issues. Organizes events and builds memorials to raise awareness.
HOW YOU CAN HELP: Donate, host an event to raise public awareness and raise funds, buy gear or join the Ambassadors.
WEBSITE: Mission22.com
CONTACT: Visit the website for address and contact form.
CARING FOR SERVICEMEMBERS' PETS
HOW IT HELPS: Dogs on Deployment helps military members find temporary foster families for their pets during deployment.
HOW YOU CAN HELP: Provide a home for a pet or donate.
WEBSITE: DogsOnDeployment.com
CONTACT: Call 619-800-3631, visit the website or go to Facebook @DoDHamptonRoads.
SUPPORTING MILITARY FAMILIES
HOW IT HELPS: Wounded Warriors Family Support provides support to the families of those who have been wounded, injured or killed during combat operations.
HOW YOU CAN HELP: Host a golf, run, walk, bike or other fundraising event or donate.
WEBSITE: WWFS.org
CONTACT: Call 402-502-7557 or visit the website for address and contact form.