Coffee with … Rex and Kathy Springston
| April 9th, 2018
It was only a vacation, until they became accidental fundraisers for the Puerto Rican people
---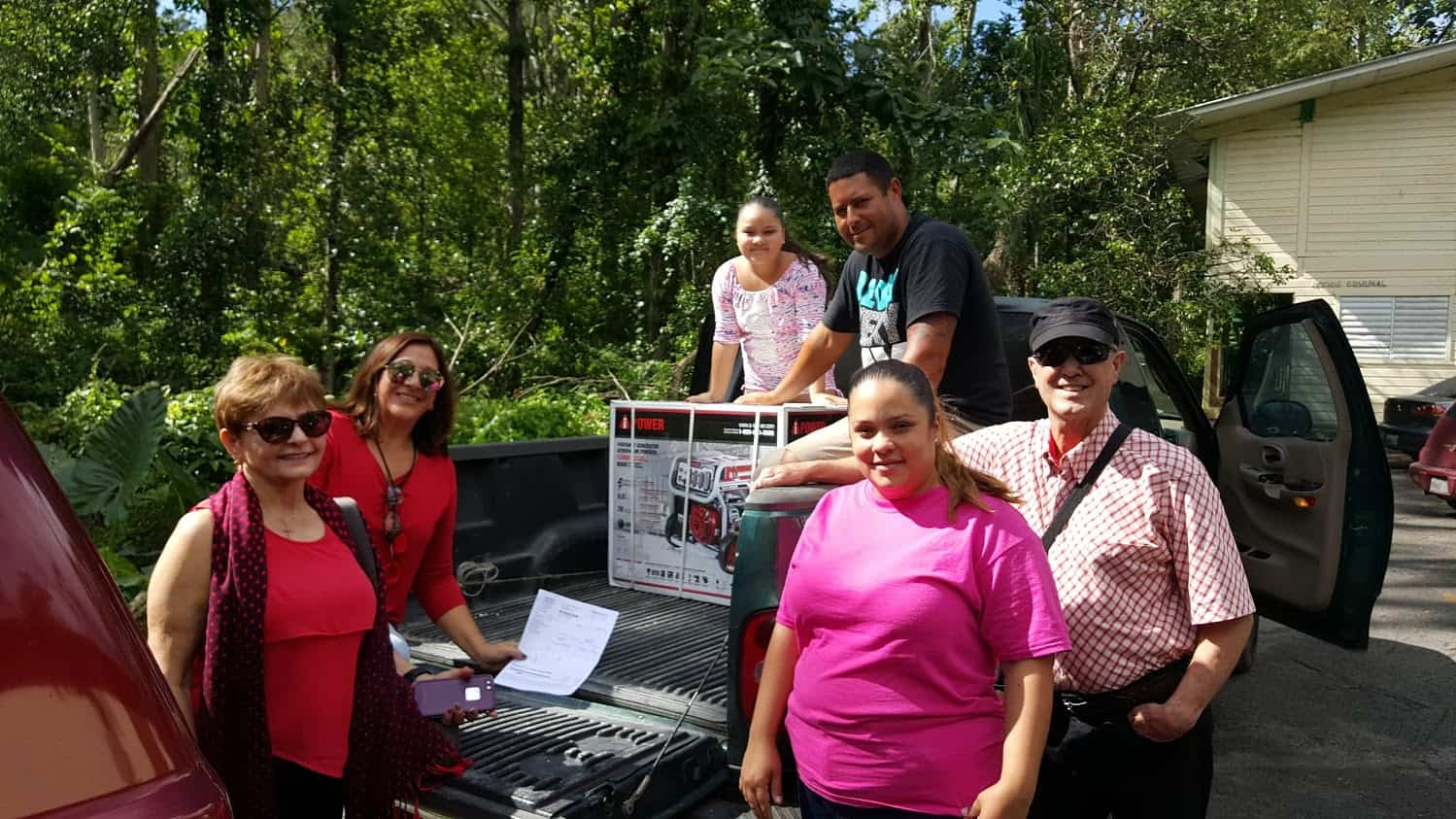 ---
You may recall that three devastating hurricanes hit the U.S. last fall: in the Houston area, Florida and Puerto Rico. (You should. Even MY memory is that good.)
Devastating is not too strong a word. For Puerto Rico, especially, the devastation remains half a year later.
All of this is by way of saying this issue's column is taking a twist. Usually "Second Acts" features inspiring people who didn't clock out once they gave up the 9-to-5 gig. Many baby boomers, after all – first careers behind them, productive years ahead – seek a rewarding change of pace, a "second act."
But what if you want a second act that's rewarding not only to yourself but to others?
How would you even go about that?
Enter Rex and Kathy Springston. I caught up with the retired newspaper couple recently for coffee at Stir Crazy on Richmond's Northside. (Obsessive readers may recall I met actor John Witt here for the August 2016 column. Normal readers will not.)
The Springstons have become, as Kathy puts it, "accidental fundraisers."
So let's back up. Rex, reporter extraordinaire until he retired from the Richmond Times-Dispatch in December 2015, and Kathy, a former newspaper reporter and then editor of the Farm Bureau News, took a retirement trip to Puerto Rico in June. This was months before Hurricane Maria. They spent five days in Old San Juan, then explored the coast and El Yunque, the only rainforest in America's national forest system. They even spent two nights in a cabin near the mountain town of Utuado, which they rented from Rosario Pedro Perez, who runs a small ecotourism nonprofit.
'PARADISE IN PERIL'
Needless to say, they fell in love with Puerto Rico. Back in Richmond, they were asked to give a presentation. Before anything was set up, though, this little thing called Maria hit Puerto Rico (I.e., Near-Cat 5 monster destroying villages and the electrical grid, $100 billion in damages, hundreds believed dead. That's all).
Meanwhile, back in the rural Utuado area, a place so obliterated it was featured on the front page of The Washington Post, Rosario Perez was trying to start a fundraiser. Kathy found out. She contacted a Richmond couple they knew, Puerto Rican Rosita Cruz and Bob Fisher. Cruz, in fact, had been on the island with her family when the storm hit.
They all got together for that presentation, in December at the Bryan Park Nature Center, now titled "Paradise in Peril." Part 1 consisted of the Springstons' slides and discussion of paradise. Part 2 consisted of Cruz's photos and tearful description of devastation.
"Our slide show," Rex says, "was half travelogue, half disaster movie."
It moved the entire audience. Suddenly checkbooks were being opened and donations being made. Right there, on the spot. More checks came in the mail.
The accidental fundraiser brought in $2,000.
That covered two things Rosario Perez said were most needed in her mountainous Utuado-Arecibo area – or what was left of it. First: a generator, to be hooked to a pump to provide safe drinking water, not to mention just "to be able to have some refrigerators running for food and medicines, or fans in the tropical heat," Kathy says. No. 2: a shower wheelchair for a 30-year-old man with cerebral palsy, whose elderly aunt is his only caregiver. "Rosario said everybody was craving a hot shower; for this man, staying clean means staying well."
Cruz and Fisher went back to Puerto Rico and delivered the generator. "Rosita, Bob and Rosario are the real heroes of this thing," Rex says. A Florida company shipped the chair at a discount.
It's a great start but only the start. Another presentation has been scheduled for April 10 at a 7 p.m. Sierra Club meeting at the Science Museum of Virginia. (For information on the meeting or how you can help, email Rex at crexs@aol.com.)
Neither the Springstons nor their friends had figured on this sort of involvement. Now they have both feet in it.
"All four of us retirees shy away from attention," Kathy says, "but came out of our shells to keep attention on these people's needs."
Turns out that's what it takes.
---
Ray McAllister, former Richmond Times-Dispatch columnist and former Boomer editor, is the writer of six books, including one on The Richmond Forum and four award winners on the North Carolina coast, as well as publisher of several others. On April 20, he publishes Ocracoke Lighthouse and The Old Salts by Ellen Fulcher Cloud. RayMcAllister.com.