'Miserable Holiday Stories': A Book Review
| December 22nd, 2021
Snuggle up with 20 festive failures
---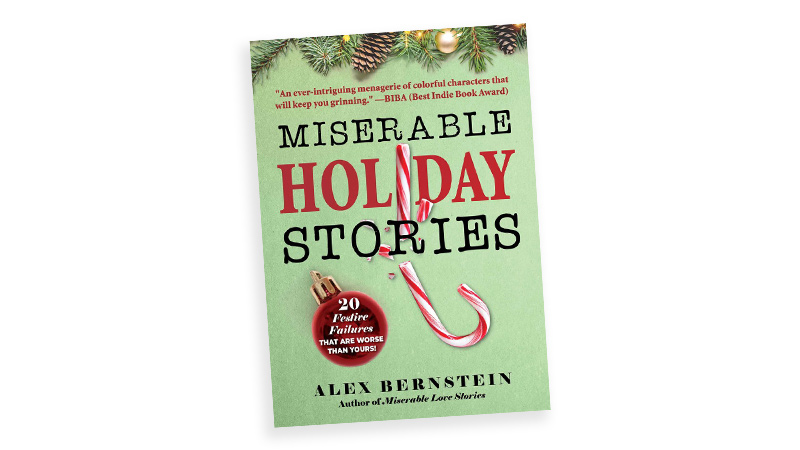 Whether your holidays are traditionally full of joy or filled with mishaps or squabbles, you can draw laughter and comfort – of a sort – from "Miserable Holiday Stories: 20 Festive Failures That Are Worse Than Yours!"
The short stories in this collection, all by Alex Bernstein, present an amusing hodgepodge of characters and their tales. Acquaint yourself with colorful personalities including:
The heroic Bicycle Boys
An 82-year-old man with an affection for his Marlin 44 mag rifle
A Jewish Elvis at Christmas
A job hunter who has an interview like none other
A cigarette-loving student who finds a new friend and reveals her talent for singing in a Pop-up "O Holy Night"
Competitive parents
An OCD husband
And more
Humorist and author Alex Bernstein centers his stories on Christmas, Hanukkah, and the melancholy that is quite frequently an unwanted guest for the season. The book was initially released in September 2020 – perfect timing for a miserable book.
As the book's press materials explain, "Miserable Holiday Stories" is the yin to the Hallmark Channel's yang. The satire offers an escape from the seasonal stress – whether you're trying to escape family foibles or seeking a counterpoint to holiday perfection.
---
Book pairings for a Christmastime reading list
---
Sure, Christmas and Hanukkah are supposed to be full of laughter, generosity and quality time with friends and family. But everyone knows the truth: the holidays are stressful at best and downright depressing at worst. "Miserable Holiday Stories" offers tongue-in-cheek escapism in the form of quirky, thought-provoking tales, that just might prompt you to appreciate something about your own holiday experiences.
Try reading them with your family for an entirely new holiday tradition – those written in dialogue form are especially appropriate for that. Add a contrast to the reading of the baby in the manger or the night before Christmas.
Oh, and do NOT let the "Reading Group Guide" pass you by, even if you're reading this all alone. And miserable. That final chapter may even give you fodder if you do one day join a book club. Or not.
Alex Bernstein also authored "Miserable Adventure Stories" and "Miserable Love Stories." He is a staff writer on the new Discovery Kids cartoon "The Dog & Pony Show." For more information, visit AlexBernstein.net.
Miserable Holiday Stories (20 Festive Failures That Are Worse Than Yours)
Available on Kindle for immediate Miserable enjoyment